After our first event, Charlotte and I met to 'debrief' or have a 'lessons learnt' session to see how we could improve for the next one. We decided that I should have a bigger front of house presence and that she'd manage the kitchen. Our second supper club also tied in with England's first World Cup match, meaning that everyone would be in high spirits and potentially, up for a bit of entertainment. Some Supper Clubs offer entertainment, which is something I wasn't overly keen on doing as I thought a four course meal would already be enough effort, but for the World Cup, I thought what better than a typically English Pub Quiz.
All in all, the night went well – admittedly, there were a few set-backs in the kitchen but nothing that would cause our guests to raise an eyebrow. Or, at least we hope! We had 19 booked in for dinner which we broke up into four tables. The guests started arriving on bang on 7.30pm  (very  polite!) and gave us their bottles of wine and beer to be refrigerated in return for an aperitivo of red pepper and cauliflower soup, with a dipping square of focaccia. The venue soon filled up with chatter and laughter, with people mingling and our photographer, Sally Edwards papping away. So, yes this means I'll finally have some 'good' photos on this blog rather than my awful display thus far!
We seated our guests, as planned at 8pm, topped up their drinks and gave out menus. We didn't have any dietary requirements tonight so menu planning was pretty straightforward. For antipasto, our guests received a platter of prosciutto e mozzarella al forno and caprese, with a bowl of steaming focaccia. Between antipasto and primo, I played quizmaster and read out the World Cup Round round of the quiz. Primo of butternut squash, sage and mozzarella arancini and polpette were dished out shortly after.
Our secondo was the MYO pizza in which guests get to virtually make their own pizza. Admittedly this proved slightly disasterous 'back stage' with a couple of pizzas falling off the paddle into the oven. Rookie error – always overdo the flour, just to be on the safe side. Oh, isn't hindsight a beautiful thing! Anyway, half an hour later, all the pizzas were served in our secretly sourced takeaway pizza boxes and everyone seemed happy. Whilst guests were finishing off their pizza, I read out the third round of the quiz, "Food and Drink", to appeal to those who weren't so hot on football.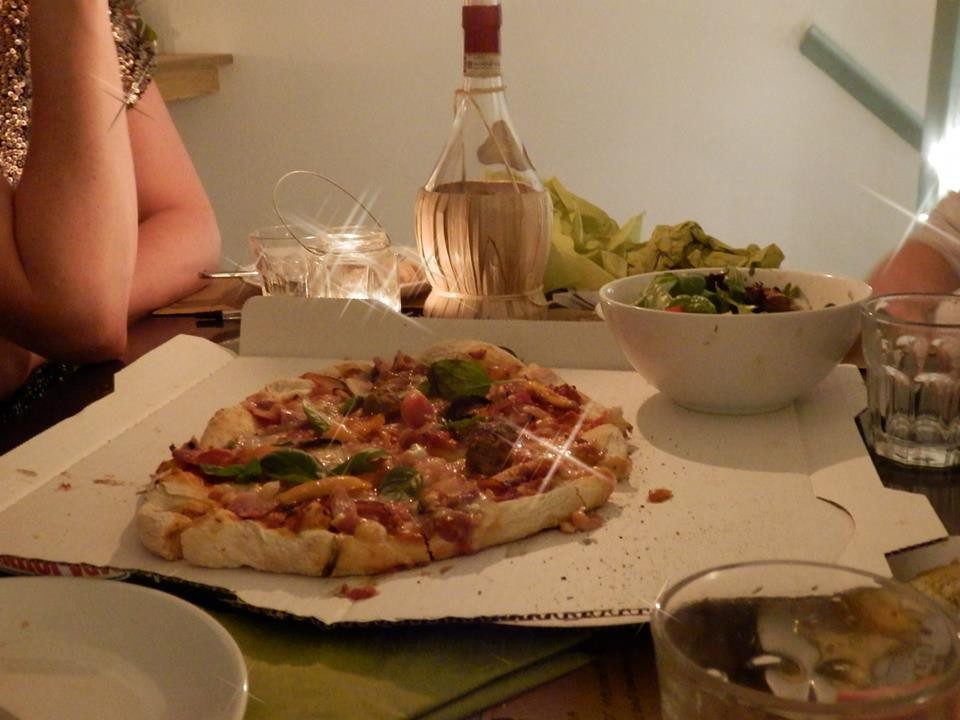 Whilst dolci of tiramisu, raspberry frangipane tart and balsamic strawberries was being dished out, I marked up the quizzes and handed out the prize of…. A plastic medal. No expense spared hey! I thought it'd suit the football nature of the evening anyway. Everyone paid up and our feedback forms implied that people were very happy and would definitely recommend it to family and friends.
After a mammoth clean up, I enjoyed a large G&T with the second half of the football. Just. What. I. Wanted. Second event over and another success! Anyway, MYO's next Supper Club (this Saturday 21st) is now booked up but if you'd like to come to a following one, we have an event on Saturday 28th June – to guarantee your ticket, please click here.