Please excuse the very vain selfie… I wanted a happy Christmas photo as this blog's featured image; and I thought, some of you may read this and think it's a little negative in places! It's not… it's just honest

Anyway… I've been in Northamptonshire for nearly six months now, so I thought it was about time I wrote an update! I thought some of you might be interested in my new life in the 'Rose of the Shires', and others might be interested in what it takes to re-locate a mobile business. For everyone else; well you can find bits that interest you

For the first few months of living here; I was driving back to Salisbury on a weekly basis, sometimes twice-weekly, for events that had been booked in prior to the move. For someone that isn't a big fan of driving, I've had to get used to it fast! I don't think I've driven as many miles in my life as I have in the past few months! The round trip to Salisbury is 230 miles. I realise that for some of you this will be nothing; but for the pre-Northamptonshire me, this would have been a killer! Anyway, I've become accustomed to it now and don't mind the odd drive… which is lucky, because in Northamptonshire – you seem to drive everywhere!
Gone is the walk to the local shops, or supermarket, or anywhere (which I realise was quite a luxury). Now, it's a forty-minute drive to the wholesalers and I definitely can't walk to the shops, or gym! I also thought it would be a lot cheaper up here. I just thought that the South was a lot more expensive for anything, so I'd be saving money up here… a bit like when you go on holiday and you get excited about the pound being higher than the currency you've landed into! Alas no; property prices, alcohol and fuel are pretty much the same.
We've moved to a beautiful hamlet, close to Towcester, called Brockhall. There's no pub, no village shop and no bus stop. There are a lot of sheep though, and a church opposite our cottage. I've sold it to you, haven't I?! Before we moved, I thought I'd find it hard. I'm a sociable person, who always needs things to do. I was about to start a new life, with no friends, no business opportunities, in a hamlet (of 30 people) with no signal and poor WIFI. Killer! However, it's a LOT better than I thought. We bought a puppy in August, a barbet called Tarka, and she keeps me occupied. She makes me find new places to go for walks, and you do start talking to people because of having a dog. I've also been able to keep updated with Long Buckby gossip at the Station Trailer, which Alice is running perfectly. It's so nice to have a successfully running business of which I have to do so little for… and for someone to make coffee for me!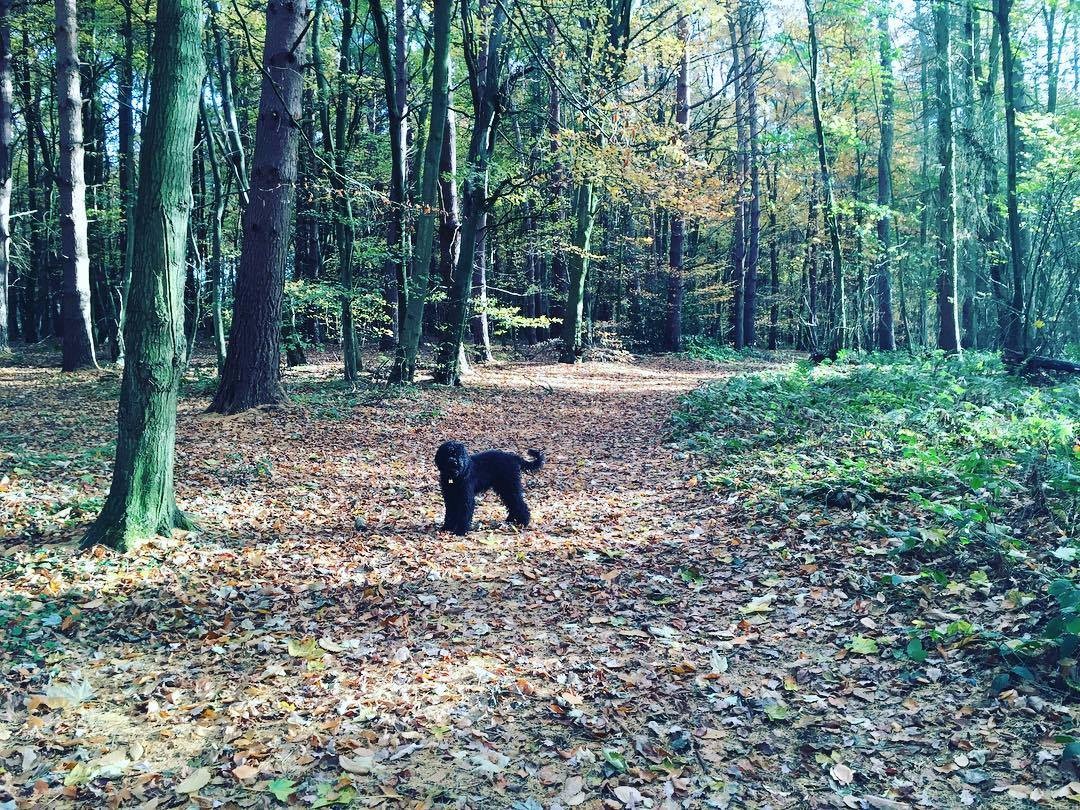 We're also surrounded by beautiful pubs; we've done our fair share of eating and drinking our way around Northamptonshire. If anyone lives nearby or is coming for a visit and wants some recommendations… here are my favourite suggestions so far! Go for a walk around Badby Woods; and then have a delicious mulled cider at the Malsters Arms. For great food; you have to go to the Red Lion in East Haddon (it never fails to disappoint), for the best pub quiz; try Towcester Brewery. This was our best find so far… tucked away by the church; it's one of the most professionally organised quizzes I've ever been to! £1 to play, and less than £3 a pint (yes, really!), you'll probably lose, but you'll have a great time! They also have a pizza man there, who does (somewhat unfortunately) serve yummy pizzas.  If you like quirky pubs; try the Ole Sun Inn in Nether Hayford or the Saracens Head in Little Brington.
Unfortunately for me, a lot of the local pubs and breweries (as showcased above) seem to already have acquired a pizza van to feed their customers on certain nights of the week! Dammit for being too late to the party! I WILL find a pub which someone else hasn't beaten me to! It is showing how popular pizza has become though… which is also a slight worry!
My biggest challenge was facing the whole 'starting again' aspect of MYO. I've spent the last three years building up my contacts; and had got to a point where people were contacting us, and I did very little applying for events. I loved being in that position! However, the winter months are always quieter, so it's given me an excuse to work hard to find new events. So far, I've secured a pitch at Northampton Football Club home football matches and Leicester Cricket Club T20 games. Pizza will be a new experience for the both clubs, so fingers crossed it'll be a success!
I've also been accepted into a few food festivals up here, and have consolidated quite a long list of local events that I will hopefully get into. However, it's always private events that I've liked to focus on… so hopefully word will soon spread about MYO up here and by 2019, we'll be booked out, like we have been before!
I'm not sure I've written about the third van being added into the MYO fleet? If I haven't, then big apologies – this is very exciting news! This van will be a mobile bar, 'MYO Aperitivo'. I fell in love with the concept of aperitivo when I was travelling around Italy, and always vowed to bring it back to the UK in some shape of form. Aperitivo is essentially an after-work drink for Italians, however, it's even better, because the majority of bars serve a little snack to accompany the drink. I found myself hunting down the best aperitivo I could find during my travels. However, instead of limiting our menu to just Italian drinks and nibbles; I'm extending it the whole world. I will try my hardest to find suitably matched nibbles for every nationality of wine/beer/lager we use… this might prove an impossible challenge at times! I am super excited about this van; and do really believe it'll be the best yet. I want to focus on the corporate and wedding market. I'm not so keen on attending too many public events with this van.
It is currently being converted. Unfortunately, it never happens as quickly as you want it. Companies give you their timings and 9 times out of 10 it ends up being at least double that. Grr. Anyway, I know it'll be worth the wait. It's going in for its spray this week; I've chosen a burgundy and cream colour tone. So, fingers crossed he'll (it is a boy, this time!) will be ready in the first few weeks of January. Fingers crossed. We already have one booking for it, and I don't even have any photos!
What else have I been up to? Well, I'm desperately trying to find a full time member of staff to join the team. I feel like I've progressed the business as much as I can with just me working full time. MYO now has three vans, and a horse trailer and it's proven quite difficult to rely on casual staff to run two, let alone three. I'm also trying to develop Just Dough; however, am wary of committing myself to too much without extra resource. With someone else on the MYO bandwagon, I am convinced that we can really become a success. It's just finding that person. Why is it so hard?!!
I'm going to stop there… I'm on a bit of a roll so I could probably type forever, but I'm wary that you might begin to lose interest if I go on for much longer! Thanks for reading, and have a lovely Christmas and New Year. Hopefully I'll be able to share some finished photos of the new van, and news that I've found the perfect candidate in my next blog post! Ciao!