(Sorry this blog took a little longer to upload – writing is actually more tiring than you'd think! So back to Italy – we're currently staying in Verona!)
As usual, I woke up far too early; possibly worrying about MYO and all of the events we had on; but also because it was just too hot in our hotel room. Note to self – always check whether the hotel has air conditioning before booking somewhere in a hot country! Fortunately, we had to wake up early because our car parking was due to run out, so we scarpered from our furnace of a B&B and retrieved our car (luckily, unclamped!) and drove to Como. I've heard so much about Lake Garda, but hardly anything about the smaller Como; so I was excited to discover what it had to offer. With over two hours of driving to endure; I decided to break it up with a stop at Lecco; at the bottom of Lake Como. We shared our first gelato – pistachio and straciatella (vanilla ice cream with milk chocolate flakes) and marveled at our first glimpse of the beautiful lake.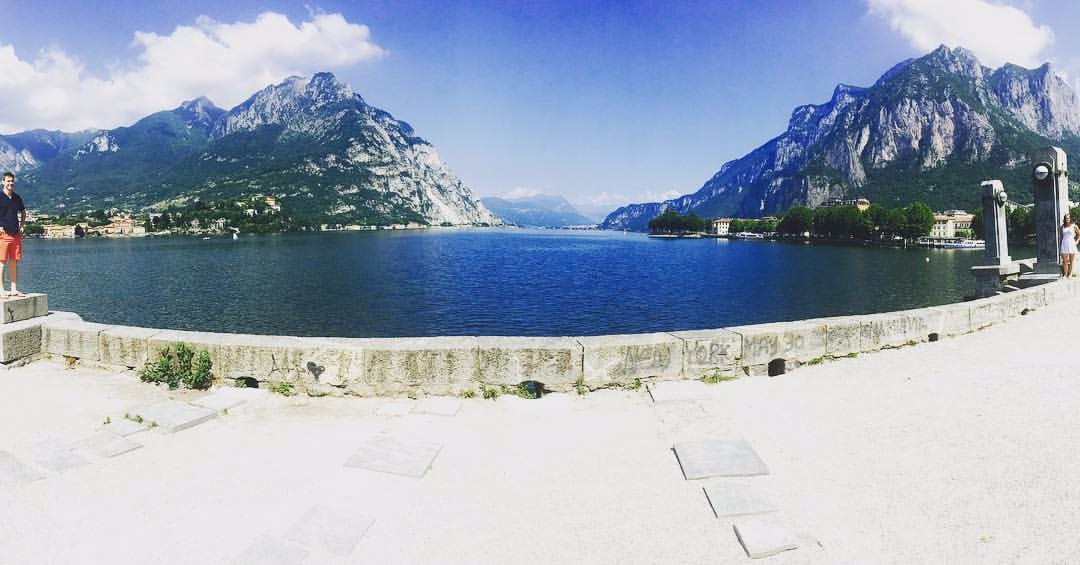 Although definitely worth a stop; we didn't stay in Lecco long because I was really excited about visiting Varenna. A slow forty minutes later; we arrived and miraculously stumbled upon some free parking just outside of the town. For anyone about to embark on a journey to Italy – look out for parking spaces marked with white lines! They're free. From the moment we arrived in Varenna; I fell in love with the place. On first impressions, its just a small quaint town with good views of the lake, but if you venture down one of the very steep paths, you uncover a different world. So many little alley ways with shops, restaurants and gelaterias lining their edges, and the lake in touching distance. It was absolutely beautiful.
I'd read that it was worth getting a ferry over to Belaggio: the inspiration for the Bellagio Hotel in Las Vegas.  So, 18 euros later (the cost of a return ticket for both of us); that's exactly what we did. There's something about ferry rides which really make me feel like I'm on holiday. You also get the best view of a place; and there's not much better than being out on the water when it's such a lovely day. The journey was only 15 minutes; and once off we headed straight for food. As usual, Tom just wanted pizza – so we found a basic restaurant with chairs with enough shade (For Tom) and sun (for me). I had a glass of wine and a mixed salad; and a cheeky slice of Tom's pizza. We then explored the town a little more; which had numerous steep cobbled streets to explore, and then got on a ferry back to Varenna.
Poor Tom was suffering from a burnt head so we decided to find our hotel; mainly to get some shade!  I was slightly nervous about what our second night's accommodation would turn out to be; especially after the disaster in Verona. However, although completely off the beaten track and half way up a mountain; we found a peaceful hotel with the best view of the lake and mountains.
After a quick nap; I marched Tom out of bed and up a mountain. I really wanted to go on a hike and find awesome views. I'm a bit of a contradiction really; I hate walking for no purpose, but if a view is in the pipeline; I will walk for as long as it takes. Tom wasn't quite on the same wavelength though. I think we made it almost half way up the mountain; before we turned around. It was a little weird; we walked up this little path with black crosses dotted all the way up it. It was slightly creepy in all honesty! If anyone is reading this, and has seen something like this on their travels before, please let me know what they signify!
Our intention was to walk the two miles into Mandello for dinner. Turns out rural Italy on a Monday is pretty quiet! Nowhere was open; well, not for food anyway. We had a few pit stops in the only bars that were open and devoured their stale crisp and nut selections in an attempt to satiate the hunger. Luckily, we found a little bistro tucked away on the journey back home; there wasn't much on the menu but as it was either eat, or starve (I am exaggerating) – we took what we were given. We shared an aubergine parmigiana and orecchiette con pesto. These are actually two of my favourite dishes, so I was quite looking forward to them.
Our food came; and it was delicious. We gobbled it down; realising the longer we took, the more wet we were soon to get! We ended up running the whole way back to our hotel, and made it back within 15 minutes; absolutely drenched. There is something quite nice about running through a storm and getting soaked through – especially when a shower is at the end of it!
After a great night's sleep; the next morning we left for Lake Garda. First stop – Sirmione. I'd been told to visit this tiny town on the south of the lake by a local; so was looking forward to what made it so 'bellissima'. Turns out everyone must be given the same recommendation because the town was heaving. In comparison to Como; there were tourists everywhere, queues for the parking and traffic everywhere. It was a little stifling from the onset. Nevertheless, we ploughed through the waves of tourists and went on a walk next to the lake, and ended up with a gelato, overlooking the castle. Although a lovely, pretty town – it was just too busy for us, and we'd already encountered similar, equally attractive towns in Como; so we only gave Sirmione one hour of our time.
Next stop: Bardolino. We found parking easily and we both loved the place. Like all the main towns around Garda; it was built around the lake, with tens of restaurants overlooking it. We chose a restaurant slightly off the main square and ordered a jug of Sangria (So un-Italian, I realise) and taglioni con gamberetti e tartufo for me and a pizza (of course) for Tom.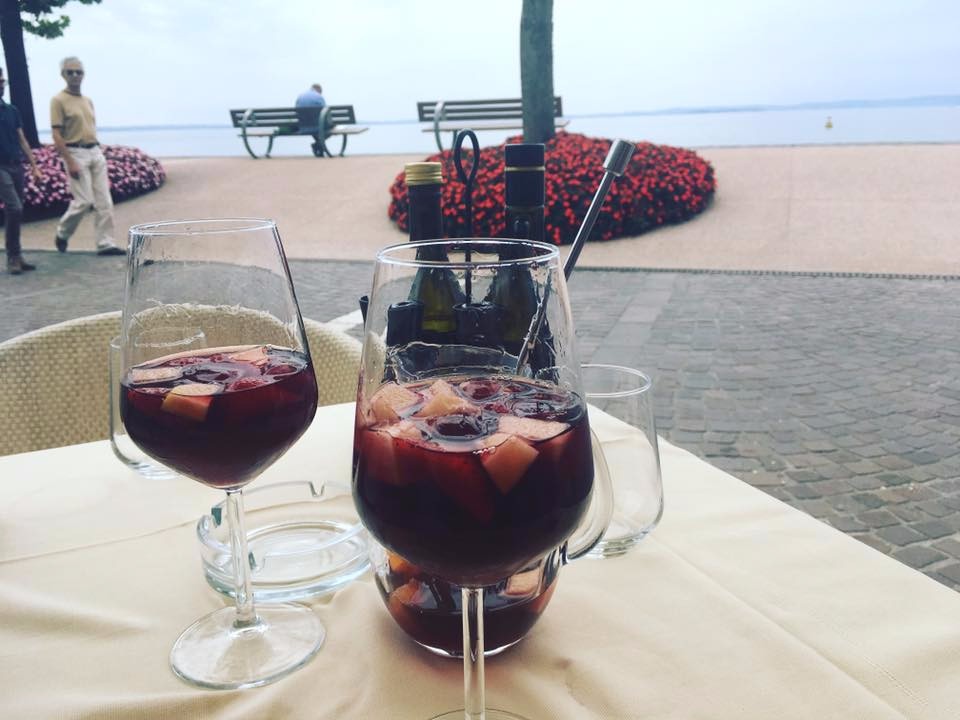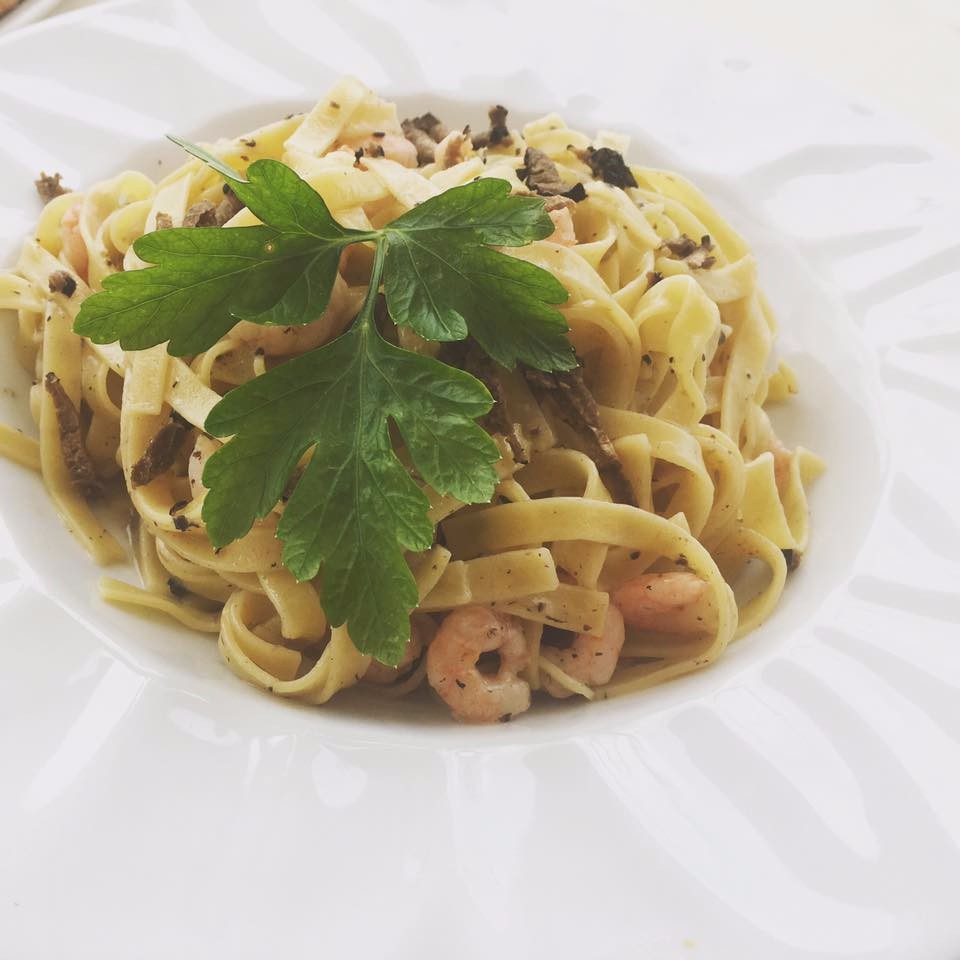 We walked around Bardolino a little more; popping into a couple of their enotecas (wine shops) and noticed that every town in Italy seems to have their fair share of tourist shops. It's a shame really; as Garda really is beautiful, but thanks to the droves of tourists – its become almost slightly tacky in places.
We spent our third evening driving around the entire lake, trying to find our hotel. Note to all reading – if a hotel advertises itself as being 2.5 miles away from a main town – please check that this means by foot! We seriously messed up because our hotel turned out to be 2.5 miles by water – meaning our drive was over an 1.5 hours, rather than the 15 minutes we were looking forward to! To make a long story short; we cancelled our hotel in the middle of nowhere, and hit the jackpot with a last minute booking in Riva Del Garda. We were greeted with an apartment which not only looked over the lake, but was perfectly located in the centre of the town.
We were hoping for aperitivo; however, the first bar we stopped in didn't even give us the obligatory ready salted crisps. Upset, we trundled on and decided to stop for starter. We chose a pizza restaurant called 'Sud' and ordered something of a pizza sandwich; including a carafe of wine each. Yes, we got slightly carried away! The food was delicious – wood fired pizza dough, with buffalo mozzarella, parma ham and basil. Yum. We both got slightly merry as a result of the over ordering of wine… and staggered home for our main course.
As the Lakes are known for hiking and cycling; I was desperate to hire some bikes. However, at 35 euros a day; we thought this was a little steep. Also, it was scheduled to thunderstorm at 2pm so we thought cycling might be a waste of time. Instead, we decided to walk to Torbole and find a gelato; where we actually found half day bike hire (Which we went for!).
We cycled to Malceisine (this was the place we initially thought we'd booked to stay in!). I don't think we were pedalling particularly fast but it only took us 45 minutes to cycle the 12 mile route from Torbole. In all honesty, it wasn't the best of cycles – you're mainly on the road; so there's not much time for chat as you're trying to save yourself from the crazy clifftop drivers! There's also a LOT of tunnels; which possibly aren't the safest, especially when you haven't got any lights on your bike. However, I'm glad that we did it – it meant that Tom didn't have to drive, and I could do some exercise

We were both slightly disappointed by Malceisine. We were told such great things, but after visiting Como and other smaller Garda towns; we found the amount of tourists and tourist shops a little overwhelming. We didn't stay long as we wanted to beat the thunderstorm; so we cycled very quickly back to Torbole and pretty much ran the whole way back (through the torrential rain) to Riva Del Garda. Phew. Our second thunder-storm run home in less than 3 days!
That takes us to the end of our trip. We had such a fantastic four days. As usual, they went too fast, but we both felt that we packed in as much as we physically could, and didn't leave thinking, 'oh we should have done that!' I can't wait to go back already. I'm just disappointed that it's taken me this long to discover the northern beauty of Italy! If you go, please try the smaller lakes – Maggiore and Como. We didn't go to Maggiore but we've been told that it's the most beautiful of the three; and I really am inclined to believe this. If you'd like any food recommendations; please do get in touch!
Sorry if this blog has been a bit of a ramble – there was just so much to fit in! Ahh, now back to the reality of work. Henley Regatta: here I come!