After years of dreaming of owning my own restaurant, Saturday 31st May gave me my first opportunity to experience a glimpse of what it'd be like. And, if you want to know the truth – it was utterly exhausting and resulted in me spending the majority of Sunday near comatose on the sofa. But, it was all made so worthwhile from everyone's amazing feedback and eight of these guests already wanting to book in for the next one.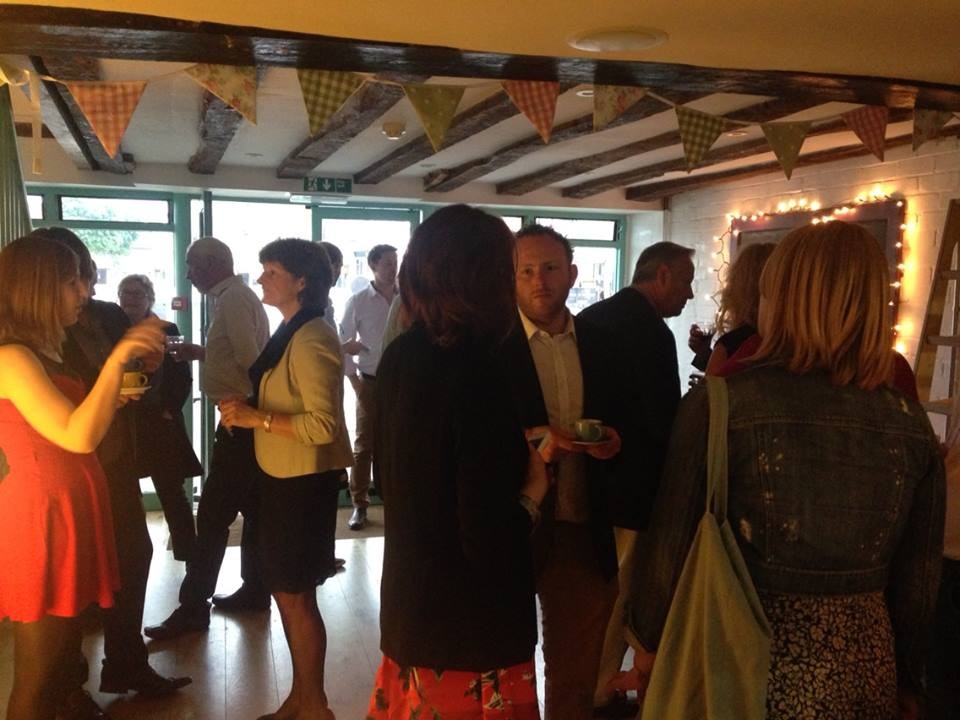 Initially, Charlotte and I were going to be the only 'staff' of the evening (including cooking, hosting, serving and clearing) but I made the last minute decision to get another member in to help – this being my younger cousin, Jessica. And, I have to say in all honesty without her, something would no doubt have gone wrong. I'd completely underestimated how hard it'd be – just simple things like labelling the wine, to providing everyone with an aperitif (in our case, roasted butternut squash and pepper soup in espresso cups, with small chunks of focaccia) to keeping things tidy. So, my advice to anyone starting a supper club – don't think you can do everything as you WILL need more help than you think!
We sat everyone in our makeshift pop-up restaurant upstairs, after they'd had 30 – 45 minutes mingling downstairs. As everyone tends to eat the same at a supper club, every guest aside from a couple who had dietary requirements, received the same menu. (see picture above). Once guests were seated, with those coming in larger groups being sat together and those coming in smaller groups being sat with new people, we started serving the antipasto. We brought out dishes of steaming focaccia and platters of caprese and antipasto misto (cured Italian meats) for the tables to share.
Our primo course was Arancini e Polpette, or in English – rice balls and meatballs. Every guest received their own portion of piping hot food and seemed very happy with both of these Italian specialities. Well, that's what the clear plates applied! I think for many, the highlight of the night was the Make Your Own Pizza concept. When MYO Pizza opens, guests will actually be given the ability to stretch (if desired) and top their own pizza, however, in 'An Evening with MYO's' case, we provide a more virtual system. Each table was given an expansive list of toppings to choose from with the option to choose up to five. I also put on some recommendations, just in case people weren't feeling inventive.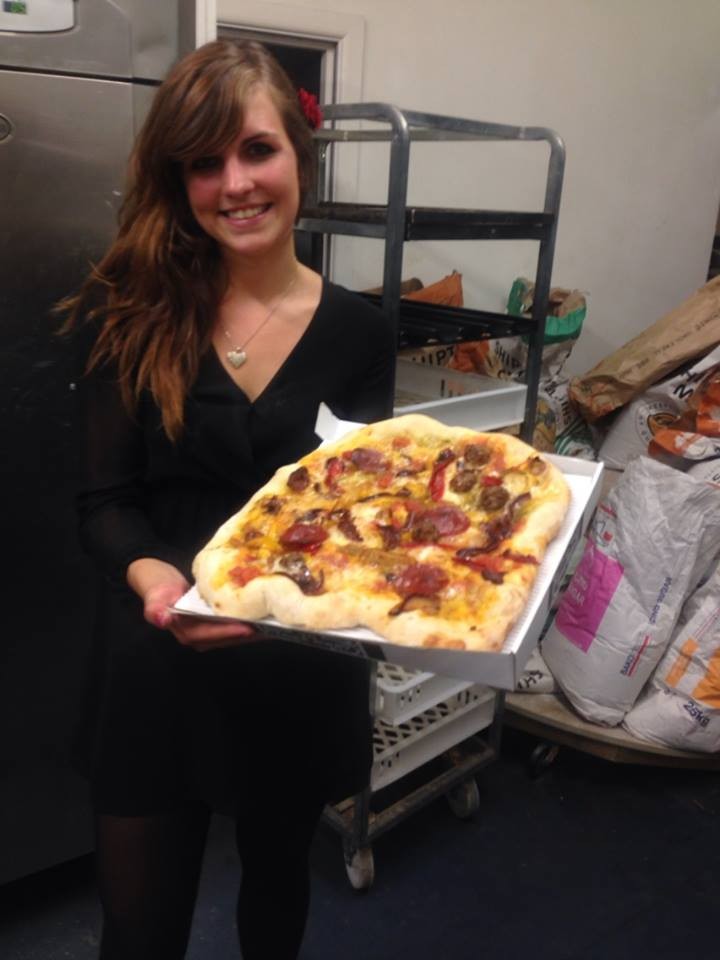 The pizza making was fun, especially when each table wanted a different style. I was also working with 'proper' ovens (rather than the domestic one at home) AND pizza paddles, meaning we could make ginormous pizzas, quickly. We served the pizza in take-away boxes and in all honesty, they did look pretty impressive – some people joked that we'd simply ordered them in from Dominos. A compliment, I say! With each pizza came an Insalata Mista (mixed salad), to be shared between the table. I don't think a single table were able to finish their pizza, and most asked to take the remainder home. Moving forward, I'll serve slightly smaller pizzas, however, I do think most of their appeal and 'wow factor' were in the size… so don't be surprised if you come to one of my supper clubs and are meet with a Man Vs. Food style pizza!
The evening ended with "MYO's Dessert Plate" which was put together by Charlotte, my partner in crime. Comprising of tiramisu, a pear frangipane tart and balsamic strawberries, was not only humongous but delicious too. We (the 'staff') allowed ourselves a break at this point and allowed ourselves a well-deserved glass of wine and a sample plate of all the leftovers from the evening. Although people were offered coffee with Italian biscuits, by the time it got to what could be seen as the sixth course, only 2 people wanted a coffee and definitely didn't want the biscuit!
So, how'd it go? Miraculously! I can't actually believe, even with my own organisation and perfectionism, and having Charlotte there, that nothing went wrong. The food was all served at the right temperature (aka nothing went cold), no-one was waiting too long and drinks were constantly topped up. Everyone was astonished at how good a value it was and couldn't stop raving about how great everything was – from the mingling and aperitivo downstairs, to the design of the pop-up restaurant, to the food and service. The only complaints we received was that there was too much food. However, backstage we do have a few things we could definitely refine to make things slightly easier for us, so – onwards and upwards! Our next "Evening with MYO" is on Saturday 14th June, if you'd like to book a ticket, please click here!