| | |
| --- | --- |
| Ambiance: | (4.5 / 5) |
| Service: | (4.5 / 5) |
| Value for money: | (5 / 5) |
| Toilets: | (3.5 / 5) |
There are few places which I would return to twice on a holiday, let alone twice in two days but Vin Allegro is more than definitely worthy of a repeat visit. I originally stumbled on it with Ben on a busy Saturday night. Lit up with fairy lights and greenery, on a corner of Trastevere, it looked unpretentious and welcoming. Going inside, it was packed to the rafters, with a brilliant buzz in the air. We soon found that it was a wine bar, with wines from all over Italy, serving by the glass and bottle from 4 euros to 9 euros.
Due to the business of the place, we had to stand at the bar with our first round of drinks. I started with a class of cold Frascati, presented in an elegant slim glass, I marvelled at the amazing sounding food menu. Starting with a whole page of bruschetta for 2 euros, I almost salivated at the bruschetta con tartufo nero (black truffle) but reading on, I really found what I was looking for – smoked scarmorza con tarfuo nero e porcini. We ordered that, with a glass of Barolo for me, and Amarone for Ben. Ben couldn't believe our reds would be decent for such a bargain of 7 euros a glass. But wow was he wrong – they were both delicious. And when accompanied by the beautiful melted cheese dish, I possibly could have gone to heaven. The truffle and mushrooms complimented the smokiness of the cheese perfectly, and the complimentary bread was a great addition to mop up the remains of the cheese.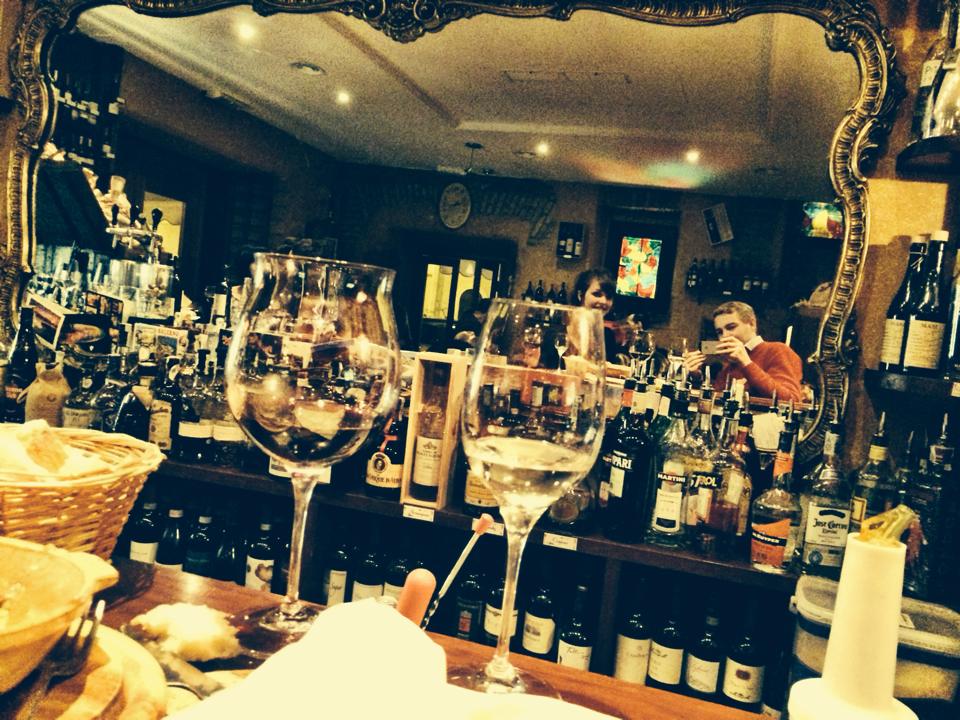 I was incredibly happy at this particular time, I realise food probably shouldn't give you as much pleasure as it does me, but there's just some moments when you eat where you forget everything else and Vin Allegro delivered with the scarmorza dish. While sipping at my Barolo, I noticed that they did apperitivo daily from 6pm, so I made a mental note to take Steph there.
So, after a busy day taking in the sites of Rome and eating far too much pizza, the next evening Steph and I went to Vin Allegro. As it was only 5pm, it wasn't overly busy so we had free reign of seats. We chose a table tucked into the corner and noticed all the bottle of wines, categorised into regions, encasing the wall of Vin Allegro. We started with a bottle of Frascati at a bargain price of 14 euros and Steph fancied the bruschetta with goats cheese and honey before the 6pm aperitivo began.
The buffet definitely didn't disappoint, stacked across the front bar, there was plenty to choose from – ranging from cherry tomato, olive and mozzarella skewers, meatballs, frittata, couscous, a range of salads to polenta and breads, we were pretty happy. The bar had also filled up with people, however, none seemed to be as excited as Steph and I about the free food! We ordered a bottle of Venetian Pinot Grigio (equally nice) to enjoy with our second, and third plates of food.
The bill came and expecting to only pay 15 each for 2 bottles of wine and bruschetta, we had the money ready. However, Vin Allegro delivered my only criticism of the evening – they'd charged us 3 euros each for 'happy hour', which we thought was pretty cheeky, but as the wine was so cheap and the food so good, we weren't too upset about it.
Recommendation
(5 / 5)
Never in my life have I given something full marks as that in my head, is perfection and you can't beat perfection. However, in this case, I don't think Vin Allegro can be bettered. The choice of wine, food and apperitivo are brilliantly priced and taste great, the location is awesome and the atmosphere on both visits was perfect. I'd absolutely recommend a visit – it gives a great opportunity to try out Italy's wines too.
Extra Information:
Address: Piazza Giuditta Tavani Arquati, 114, 00153 Roma
Phone: +39 06 589 5802
Website: http://www.vinallegro.com/
NTK: Go at 6pm for a quick aperitif and take a gamble and try a wine you haven't had before!