| | |
| --- | --- |
| Ambiance: | (4.5 / 5) |
| Service: | (4 / 5) |
| Value for money: | (4 / 5) |
| Toilets: | (4 / 5) |
Salotto 42 was mentioned in numerous reviews as being one of Rome's classier destinations for cocktails and aperitif. Owned by a Swedish model and serving a unique selection of crudites, sushi and sliders to groups of professionals and politicians, it's known for being a little more upmarket than other aperitivo places. On first impressions, it definitely didn't disappoint. With its sleek interior design and loud, lyric-less music, it did automatically exude money and class. Its location, next to one of the sides of the Pantheon and within a piazza, also adds to the appeal.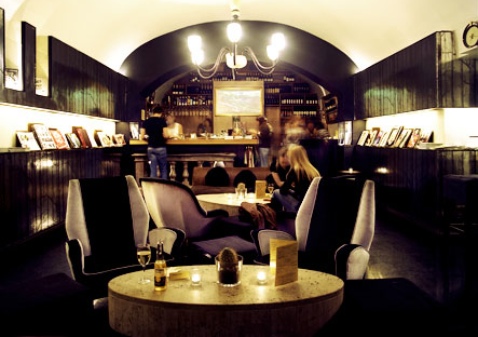 We ordered our cocktails from the 10 euro aperitif menu but there was another two pages to choose from if you fancied something different. Ranging from lavender, raspberry and sage to aniseed, Salotto would definitely have something for any taste. We settled on the Spritz 42 which was a blend of aperosol, homemade ginger beer and Prosecco. You can watch them being made at the central bar, which is always something I enjoy.
At 7pm, the buffet began and I'm afraid to admit I'm definitely one of those people who act like they haven't seen food in weeks and am first up there. Torn between crudites (baring in mind I hadn't seen a vegetable in a week due to the carb overload), parma ham and sushi, I just grabbed a selection of everything. But in my defence, the food went fast and even Ben agreed my bee-line approach was worth it.
Although fairly unsubstantial, the aperitivo selection was pretty good, the choice was decent and everything tasted fresh. The only negatives were how fast the food went, but the chef did make an effort to keep it topped up. Knowing that we were due more food at our next stop, I had to refrain from stacking up more platefuls. Instead we enjoyed a really enjoyable bottle of white wine for 30 euros. So, pretty pricey but worth it considering the trendy scene and finger food buffet.
Recommendation
(4.5 / 5)
Even if you're not staying in central Rome, I'd make the effort to go to Salotto 42. Either as a first stop venue, or a place to unwind and enjoy a few glasses, I'd say give it a go!
Extra Information:
Address: Piazza di Pietra, 42, 00186 Roma, Italy
Website: http://www.salotto42.it/
NTK: Go for 7pm, it's when the aperitivo starts!