Pizza
(2.5 / 5)
Value
(3.5 / 5)
Quality
(3 / 5)
If you HAD to live off it forever, how happy would you be?
(1 / 5)
After a week of searching everything Bari has to offer, I have come to the conclusion that they don't value pizza as much as the likes of Rome and Naples. Instead, their main passion lies in their focaccia – a circular light bread, with a crispy edge, covered in ripe tomatoes and drizzled with locally sourced olive oil. These can be bought by the slice, or whole in pretty much every snack bar, panifori and pizzeria you stumble upon.
In terms of actual pizza for porta via 'on the go', the closest thing you'll find is panzarotti (calzones), which usually contain ham and mozzarella. You can either get them baked in the oven or deep fried and for only 1 – 2 euros, they won't set you back and will keep you full for a while. However, the quality is interchangeable – in some places they have a very unappetising light brown colour, but others resemble real pizzas, simply folded in half. The best panzarotto I had was with Lucy, in Monopoli – video to come soon, as I think it was actually made fresh to order and the mozzarella just oozed out when we tore it open. Thinking about it, I can definitely see the logic behind these pizza snacks as they're compact and easy to eat, and probably maintain their fresh-ness a lot better than an open pizza.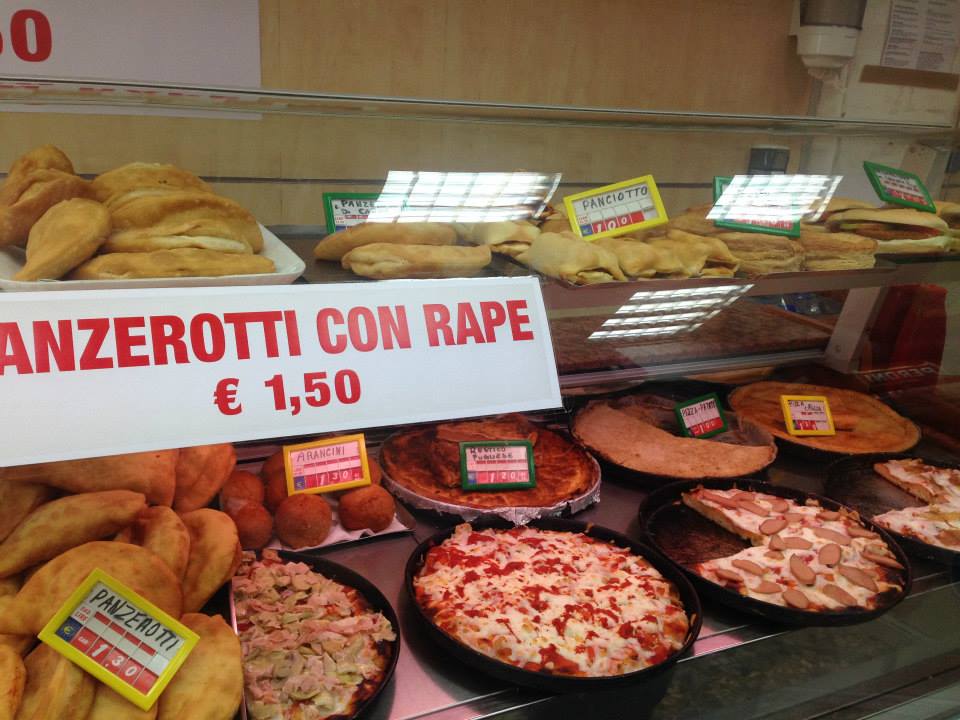 If you fancy a sit down meal, you'll find pizza on pretty much every restaurant's menu, and for a very reasonable price. Ranging from 3 – 5 euros for a margherita pizza, you can eat very cheaply in Bari. However, whether a whole pizza will keep you full is another story. In Naples, I couldn't even get through a quarter of a pizza but in Bari, I could happily devour a whole one because the crust is ridiculously thin! Possibly less than a centimetre in width, the pizza resembled more of a cracker than dough.
It's rare to find pizza by the slice in Bari, however, they sometimes have different types of focaccia. A personal favourite of mine was at La Pulpetta where I had one topped with bechemel sauce, potato and artichoke – you can see how much I enjoyed it here! I also ate a pizza pie at this place, and despite being filled with ragu and bechemel sauce, there was just too much dough. However, the focaccia makes a nice, quick lunch time snack but because of the simplicity of its toppings (tomato and oil), I can't help feeling unsatisfied after eating it. See, this is why I never order a margherita in a restaurant.
I say I never order a margherita, but if the pizza is THAT good, all you should really need is a margherita, right?! So surely it's the ultimate taste test to try a simple focaccia? With this in mind, I asked for recommendations for the best Bari had on offer and was introduced to Santa Rita and Panificio Fiori. After trying focaccia at a snack bar near the station and at La Pulpetta, I believed I had a reasonably good idea of what it's 'supposed' to taste like so I didn't go in with a completely unopened mind.
Santa Rita serves a whole focaccia for 2 euros – I still can't understand how people aren't fat here as it's so cheap to eat unhealthily. On first impressions, it looked a little thin and crisp and when biting into it, it tasted slightly like toast, in that it was quite dry and crusty. It'd also been doused in olive oil, meaning the overall effect tasted more like bruschetta. I personally prefer a softer, spongier focaccia so I hoped Fiori would deliver on that front.
And, Fiori did – I bought a small slice for a massive fee of 80 cents and automatically it looked more like my kind of dough. It was soft, thicker and had a lighter brown crust. The tomato topping tasted fresher and the olive oil was lighter. If I had any complaint, it'd be that the dough was slightly chewy and perhaps a little under-done for my likings, but in comparison to Santa Rita, it gets hands down winner's status.
Here's a video of what the locals say about their pizza!
So, what's my opinion on 'la pizza barese'? Well, I think in short that it won't be the recipe I'll be using for MYO. I liked the idea of the panzarotti but I'd focus more on the quality of the dough if I were serving them to customers, however, for only one euro, you can't really complain. The focaccia was nice, but nowhere near satisfying enough to enjoy as one of my main meals of the day. I see it more as an accompaniment to a meal, or maybe something yummy to dip into soup rather than a lunch-time staple. So I'm sorry Bari, but you can't please them all!