| | |
| --- | --- |
| Ambiance: | (4 / 5) |
| Service: | (3.5 / 5) |
| Value for money: | (5 / 5) |
| Pizza: | (4 / 5) |
Da Michele has been recommended to me by countless people, including my grandparents who bumped into an Italian couple on the train. So when encouraged to go by my hostel host, I was all set. After a bit of research, I found that it is actually famous for being the home of the true Neapolitan pizza, and even featured in 'Eat, Pray, Love' with Julia Roberts! So, I figured if I tried the pizza from Da Michele, I'd have a benchmark for all other pizza I try in Naples.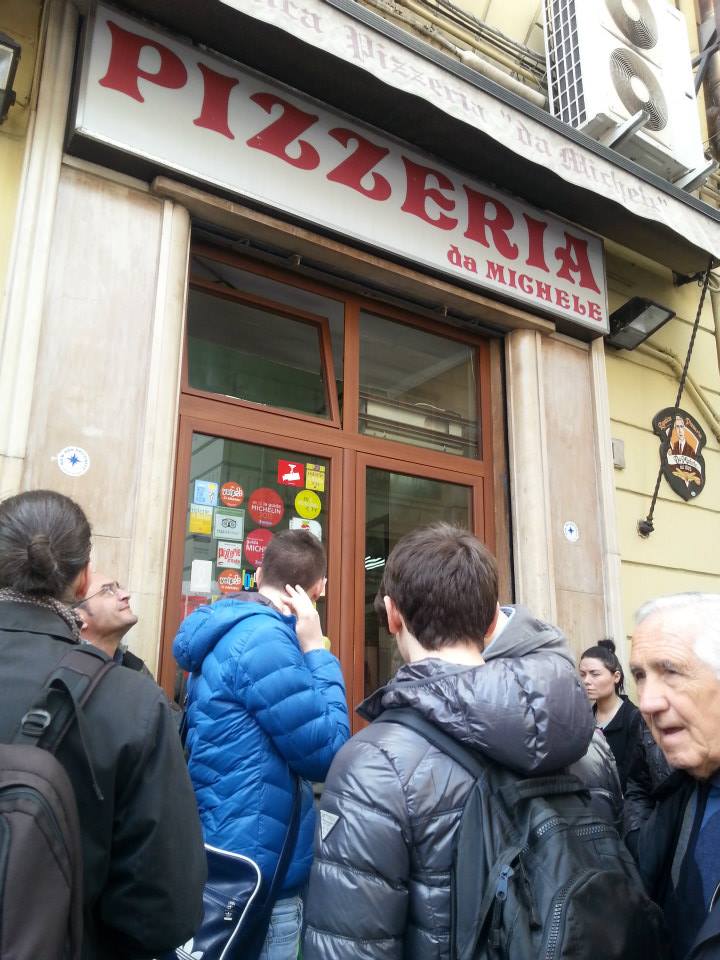 A little like Franco Manca in London, there always seems to be queues coming overfilling into the streets to get into Da Michele. I decided to go at an earlier time of 18:30 in an attempt to avoid the long wait. I predicted it correctly as, probably helped by only needing a table for one (sob), I was seated within seconds. The restaurant itself is very basic, not much money has been spent on the interior design and the tables and chairs are plastic, and pretty uncomfortable. Even the wood fired oven, despite being encased by a sort of white fence, didn't really stand out as a massive centre piece. It was very low key and could easily have gone un-noticed by the ignorant eye.
The pizza menu was very limited with four options – normal margherita, medium margherita and doppio mozzarella, all for 5 euros or less. You could have a beer, soft drink or water for 2 euros to. I ordered a normal margherita and watched the magic happen. I think the pizzaoili had noticed my interest as they called me over and let me go into the kitchen and take some photos with them (see below). I just wish I could speak better Italian and then I would have asked to potentially spend a couple of hours with them, watching them make or even help make the pizza. Ah well.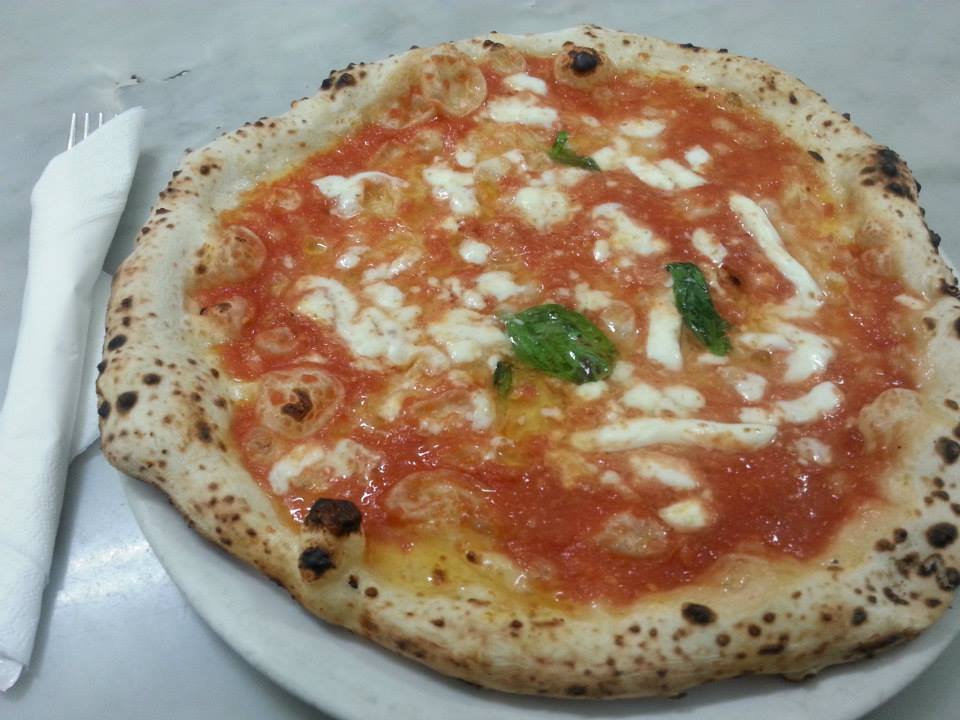 The pizza came within 5 minutes and was a pretty decent size, quite similar to the size of pizzas you'd get at Rossopomodoro. On looks alone, it didn't look as tempting as I thought it might. It didn't have much cheese on it, and the edges or 'cornichone' wasn't as charred as I'd expected. As it looked quite sloppy, I decided to use a knife and fork to taste my first bite. Verdict? It was nice, but the dough was generally a lot soggier and moister than I'd had before. It tastes incredibly doughy, with that pancake like taste that Rossopomodoro and Astoria had. It didn't have much of the normal crispiness I'd experienced with other Neapolitan pizza and there wasn't enough cheese, so it was more of a tomato pizza. However, I could've gone for the doppio mozzarella to bypass this.
I ended up taking ¾ of the pizza home as after eating as much pizza as I've been, all you really need is a small slice!
Recommendation
(4 / 5)
For price alone and the reputation it upholds, I'd definitely recommend it as a quick eat whilst you're in Naples.
Extra Information:
Address: Via Cesare Sersale, 1-3, 80139 Napoli, Italy
Phone: +39 081 553 9204
Website: http://www.damichele.net/
NTK: Order the doppio mozzarella, you'll appreciate more cheese!