Well… other than the blog post I uploaded 'MYO – One Year On' a couple of months ago, my updates have been pretty non-existent which I apologise about. Things have been pretty busy with the business, and writing for pleasure has all but gone out of the window. But, I'm back to Italy's beautiful regions of Emilia Romagna and Liguria. Parma, Modena, Bologna and Cinque Terre: here we come!
I was spoilt during my travels around Italy last year; I ate the best food, cooked with locals, was introduced to the yummiest of wine and saw the most beautiful places. However, although I did have friends who came to visit; I was effectively on my own and at points, I was counting down the days until I'd be home. Typically as soon as I was home, I couldn't wait to  go back, but to me, there's nothing better than sharing a beautiful view, or a chilled glass of white wine with someone else; especially someone who appreciates it just as much as you do. And, in this case I have Sam, and I can't remember a time when I was more excited about going on a break-away than I was about our trip to Italy.
So… let's talk about what we've done so far! We flew from the lovely Stansted Airport pretty early on Tuesday morning; benefitted from "another on time Ryan Air flight" and whizzed through passport control in Parma's teeny tiny airport. Things didn't go quite so smoothly when we went to collect our Hertz Hire car… I calculated that each customer took the Italian team of four ten minutes to deal with; which bedazzled me as I couldn't understand what they were doing. However, I thought given the customers in the queue, and how long the average processing time was, we'd be well on our way by 11.30am. No, apparently the Italians had other ideas – to cut a long story short, it took  over an hour later and many, many complaints, until we found our state-of-the-art modern car; complete with stop-start technology.
First stop was Modena. Sam had a business meeting with a customer about his nut products and I enjoyed my first meal in Italy. You will not be able to guess what I went for… pizza? No… pasta? No… Meat of some kind? No… Oh dear, I'm still disappointed in myself. I had sushi. Sushi! Ah well, it was pretty good – think YO Sushi but better quality and sit down service. I devoured tako sashimi (octopus), dim sum and some hokashi sushi. I did treat myself to the most incredible gelato afterwards though: banana and pistachio with some whipped cream (because gelato by itself just isn't bad enough for you!). Wow, I'd forgotten how much better gelato is in Italy compared to the ones you get in England. Sorry England, you do a lot well – but the Italians beat you in gelato.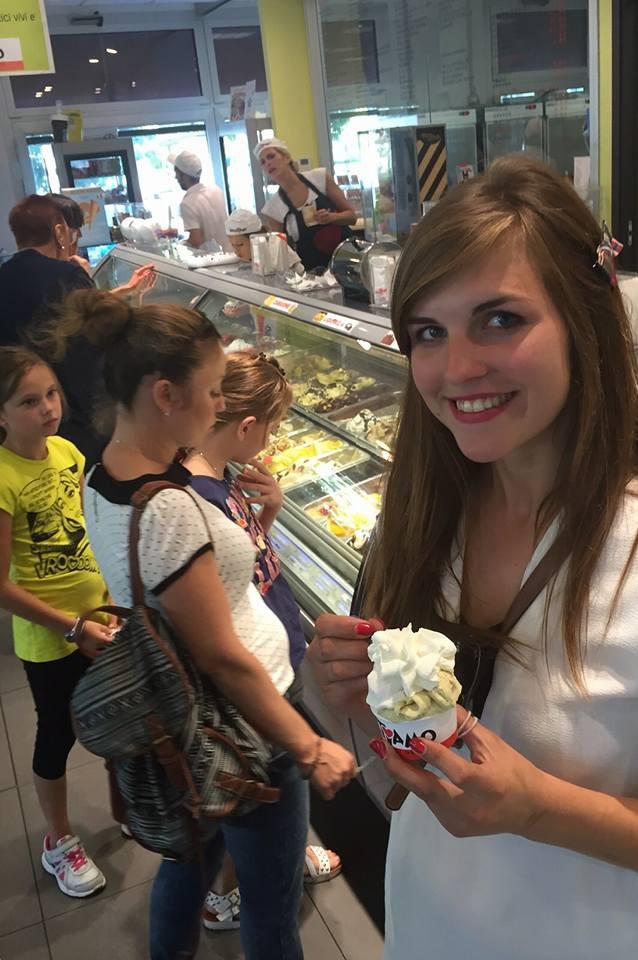 Yesterday was a busy, busy day – I wanted to achieve the maximum amount possible and show Sam three cities in one day: Parma, Modena and Bologna. Oh, and fit in a gym workout first thing. Starting in Parma, we explored the city; having regular breaks to find peanut butter (like searching for a needle in a haystack, it seems) and coffee breaks so Sam could work through his emails. I picked up a piece of pizza; focaccia style and we enjoyed gelato and affogatos (coffee poured over gelato) for our mid-morning snack.
Next stop was Modena (again) – I'd remembered the long walk from the station into the city centre, but on an empty stomach and feeling dehydrated, it felt like forever. So, first stop was lunch. When I was here last year, I really wanted to go to this restaurant in the square that did a brunch buffet, however, couldn't bring myself to sit and have a buffet by myself. It could also have been very dangerous for my stomach. As it turned out, it was possibly more dangerous with Sam. We had the standard mozzarella, tomato and parma ham for starter, and then I dived into homemade ravioli, tuna steak and salad. Yep, sounding healthy so far. Didn't last long – it all went wrong at pudding. I made the mistake of complaining that half of the dessert section had been taken away and within ten minutes, we were presented with the most ginormous, cream laden plate of food I've ever seen. It was pretty laughable. I think I felt a little sick just looking at it… anyway, we tried our hardest but left the lions share. I tell you what, I felt a right plonker for complaining afterwards… karma I guess!
We walked off the cream on the way back to the station; ready to board the next train to Bologna. Typically, like the train earlier in the day, it was delayed. Despite the delays, I'd advise anyone thinking about going to Emilia Romagna, to get the train to the major cities rather than drive; it's way more direct (so quicker, if the delays aren't too bad) and you don't have to pay the extortionate prices for parking. One thing to note though – unlike England where you can board any train to get to the same place; in Italy, there's different types of trains which charge you less, or more depending on the quality of the train. Try not to do a me, and get on the wrong train and spend the rest of the journey in fear that the conductor is going to come and kick you off! It's safer (largely for the heart, and the purse…) just buying the right ticket!
Bologna turned out to be Sam's favourite place. For me, it brought back so many memories of being here with my family, and of the few days I spent by myself. However, this time the weather was a lot sunnier and it seemed to have a different buzz to it. Four hours after our cream overload, we were both still feeling full and were no closer to wanting dinner, however, being in Bologna, aka the 'home of Italian food', we both felt like we had to eat something. We turned down the free aperitivo and just paid the more expensive pricing for drinks (post 5pm in Italy, prices go up for drinks to allow you to benefit from the free food, or 'aperitivo' that many restaurants and bars have available). However, neither of us fancied more bread, pasta or crisps so we stomached the pricier drinks (still only 5 euros for a glass of wine) and waited out for the hunger to strike.
We walked further around Bologna. I showed Sam the university district (Bologna has the oldest university in Italy), the slightly leaning towers (what is it about Italy and its leaning buildings?!) and the lovely market lanes in the centre of the city. Eventually, at around 8pm (nearly 6 hours after we had lunch), we felt a bit of hunger so we pounced on it, and felt it was time to try out the regional speciality of tagliatelle al ragu. We chose an authentic looking restaurant in the heart of Bologna and ordered a bottle of Pignoletto Frizzante (like Prosecco, but even Sam liked it) and a portion of tagliatelle. I still wasn't ready for my own food. Damn you, Cream! So, I sat back and watched Sam eat (obviously stealing his fork every now and then to get a taste – I am a girl, after all!) and knocked back the wine. I was kind of hoping drinking wine and walking over 10k would make me hungry; but nothing seemed to be working. Ha, usually I hate the fact I'm always hungry and am trying to say no to food, and then I come to Italy and can't seem to eat anything. Typical…. Probably still the Karma from me complaining at lunch.
We ended up getting back to our hotel at 11pm (After catching the illegal train, and not getting caught – phew!). Sam did a few more emails, and I just passed out. Such a good couple of days; and now enroute to Cinqueterre – it can only get better.
Ciao for now – I'll be updating you soon on our Ligurian Adventure.