A lot of people have been asking me how I'm doing lately. How's Theo? How's the business doing? What's next for MYO? Others are asking why I haven't written a diary entry in a while; well – to answer as many questions in one as possible, I've decided (hallelujah) to write a diary update.  This also ties in nicely with the fact that it's been exactly a year since I bought Theodore, came back from Italy and started the MYO journey.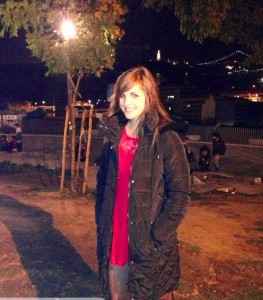 So, let's start with – "How am I?"
I've recently joined the 'Facebook Timehop' bandwagon and wow, am I glad I did – yes, there's certain things I wouldn't mind never seeing again (those hazy drunken memories from uni being among the few), but it has really opened my eyes to how this year has progressed. One year ago today, I'd just bought Theo and was full of hope about what could be the future of MYO. I was also single, and in my head, had no hopes of finding someone that could cope with my amount of energy, ambition and someone who'd happily support me through the difficult parts of starting my business. I was also about a stone smaller.
A year later, I'm doing good! It's coming up to the summer, the sun's showed its face a few times (despite me writing this while its torrentially raining). I found myself someone who, not only has as many weird quirks as me, but has been near enough perfect in supporting me through my journey to MYO. I've also successfully (after a LOT of hard work and tears) converted Theo. I'm in the runnings for the South West Young Business of the Year and business is looking good. I've been to Lisbon, Croatia and Dublin, had a birthday, and have written a few reviews – nowhere near as many as my earlier days, but that was always expected. All my pennies go to my new man now: Theo, rather than my stomach. Oh, and I've also taken up running in a bid to beat my ex-England runner of a sister in a 10K-off in July. What have I led myself into?!
I absolutely loved Croatia. Neither Sam nor I had been there before and the photos looked beautiful so off we went, on a ridiculously early 6am flight and packed as much as we physically could into a four-day trip.  We drove to Montenegro, climbed up Dubrovnik's biggest mountain/hill, went on an island trip, climbed the city walls and made sure to fit in time at our favourite place – the gym. The hotel, 'The Royal Princess' was possibly the best hotel I'd been in. We'd been upgraded to a Presidential suite with his and her sinks, a ginormous bed, living room, kitchen and separate shower room. Yes please! So yes, as you can imagine – neither of us really wanted to come home. Luckily Sam's got some trips coming up with work, so I'll be jumping at the chance of being his travel companion.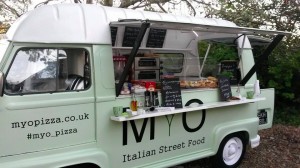 Now, how's Theodore?
Theo and I have had our arguments. We've had tears, tantrums, break downs and I've had to crack out the credit card on a few occasions. However, I wouldn't change him for the world. He looks great, and people are forever complimenting and asking for photos. In fact, I think Theo is probably more popular than me. NOTE – for anyone out there thinking of starting a mobile business, think carefully about buying a classic vehicle – they may look, but they can be a pain to run!
He also moves at a top speed of 40mph, meaning traveling to events over a certain distance isn't so feasible. However, there seems to be enough going on within a 45 mile radius here, so we're not too worried about that. Speaking of events, we've got quite the summer to look forward to. We have wedding bookings, birthday celebrations, polo, Ascot and other country/equestrian festivals. Oh, and we've just been asked to join the SFC Catering Group as one of their caterers – Twickenham, Wembley, Goodwood – here we come! If you know anyone who's hosting a party/wedding and needs yummy Italian Street Food catering, send them to www.myopizza.co.uk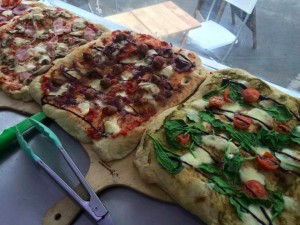 What's next for MYO?
Over the last 8 months I've been concentrating on getting the street food element of the business going. As a result, we've now got a great menu (Focaccia pizza by the slice, arancini (deep fried risotto ball), polpette al ragu (meatballs in sauce), Italian Burger and numerous other yummy Italian delights. I've also proven to myself that a) I can do it and b) people love the concept of 'MYO'. I've made "MYO" (make your own) work by allowing people to customise their pizza. So, every day I trade, I'll have the 4 – 5 most popular pizza toppings already made up, but I'll also have spare bases and ingredients for people to make their own pizza. This has proved especially popular among vegans and fussier eaters

Because of MYO Street Food's success, I've recently been looking into Stage 2 of my plan: the take-away. I want to have a fixed premise, with a wood fired oven, so people can make their own pizza and have it ready within minutes. Subway Style. Location wise, I'm either thinking Salisbury, Reading, Bournemouth or Southampton. If you're reading this, and know of any properties, please do let me know as property searching (as I'm sure many of you will know) isn't the easiest.
I'm also looking for investment. I'm currently applying and pitching to as many investor networks and sites as possible in the hope that someone will see my idea and think, "wow", I want to work with THAT. I'm also in the process of getting a video sorted as all these sites need something visual. I'm not so good at the technical/creative side of things, so I'm hoping for some friendly help. I'll make sure to share the video with you all once its complete!
So, my dreams of getting to MYO Stage 3 (the restaurant) are getting there. It's a heck of a lot slower than I ever imagined but as they say, 'one step at a time'. Argh, I still hate that expression! However, I think the worst part of starting a business is the loneliness and the huge amount of self belief you have to maintain. I'm lucky because I've got such a supportive network around me, but wow, the amount of times I've thought 'life would be so much easier if I just had an office job', but the thought of living my future in doubt is enough to push me to continue the journey to MYO.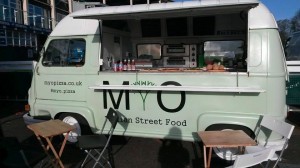 Well, I hope you've enjoyed this update – hopefully my next update will contain some great news (I'm keeping my fingers crossed for an investor!). Let's hope the rain goes away and the sun stays out

Speak soon, x