| | |
| --- | --- |
| Ambiance: | (3.5 / 5) |
| Service: | (3.5 / 5) |
| Value for money: | (3.5 / 5) |
| Toilets: | (3.5 / 5) |
West Beach had been recommended to me numerous times for serving great seafood, in the heart of Bournemouth. So, my Dad's birthday proved the ideal occasion for us to go try it out. Situated right on the pier not only made it easy to find but also an ideal setting to watch the ocean, people walking past and the sun set. On a Friday night at 8pm, the restaurant was unsurprisingly busy and had a lively, buzzy atmosphere. Initially we were sat at a table right by the door meaning we were constantly hit by the chilly evening breeze when the door opened. However, after a little coaxing, the waitor let us move to another table, enabling me to have a perfect view of the whole restaurant and open plan kitchen.
The menu was quite frankly, amazing. Although a little bit too amazing as none of us could work out what to have, as there was so much yummy stuff to choose from. Lobster omelette, red Thai mussels and truffled Camembert to start…. Fresh whole crabs, lobsters or monkfish for main. It was just impossible! And then there was a specials board to deal with too!
In the end, given our proximity to the sea, I went for shellfish. Choosing the classic mussels to start (in cream, wine and parsley sauce) and the Christchurch crab. I also persuaded my parents to try the white Irzoni wine from Sicily (given I'm an Italian wine connoisseur now!) from the very extensive wine list, and despite me liking it, they didn't

So after polishing it off (pretty quickly considering they didn't like – raised eyebrow!), Dad ordered a bottle of Muscadet.
We were given a basket of artisan breads which after being in Italy, I found it odd having to actually order bread. But, wow, it was delicious! There were three different types and each were ridiculously moreish. Our starters came out within 15 minutes and all looked mouth watering. Mums mushroom and chicken liver pate dish stole the aesthetics show though.
Unfortunately it proved one of those occasions when something looked better than it tasted as, what is so often the case with mussels, they were overcooked and resembled shrivelled up grapes. However, the sauce was really flavoursome and when mopped up with the delicious bread, I was more than happy.
My crab definitely won star of the main course. It was a monster! Served with a ridiculously huge bowl of French fries, and a generous side salad, it looked great. I was also presented with a very Dexter type tool lot (sorry if you don't get the reference!) so with my crab fork, I got underway. The meat was so subtle and was, unlike the mussels, cooked perfectly. Unfortunately it proved too much effort for me, so I ended up passing it around my family (much to their delight) and I sat back and laughed while witnessing tiny pieces of crab going flying everywhere.
The other dishes were reasonable. Mum wasn't overly happy with her "special" of John Dory and Dad's confit of pork belly lacked seasoning but it was definitely edible. The girls pint of shelled prawns just seemed a nightmare to eat for such little reward but they were happy!
We'd made Dad a birthday cake so the waitors embarrassed him with bringing the cake out for pudding. And by this point we were far too full to even consider ordering more.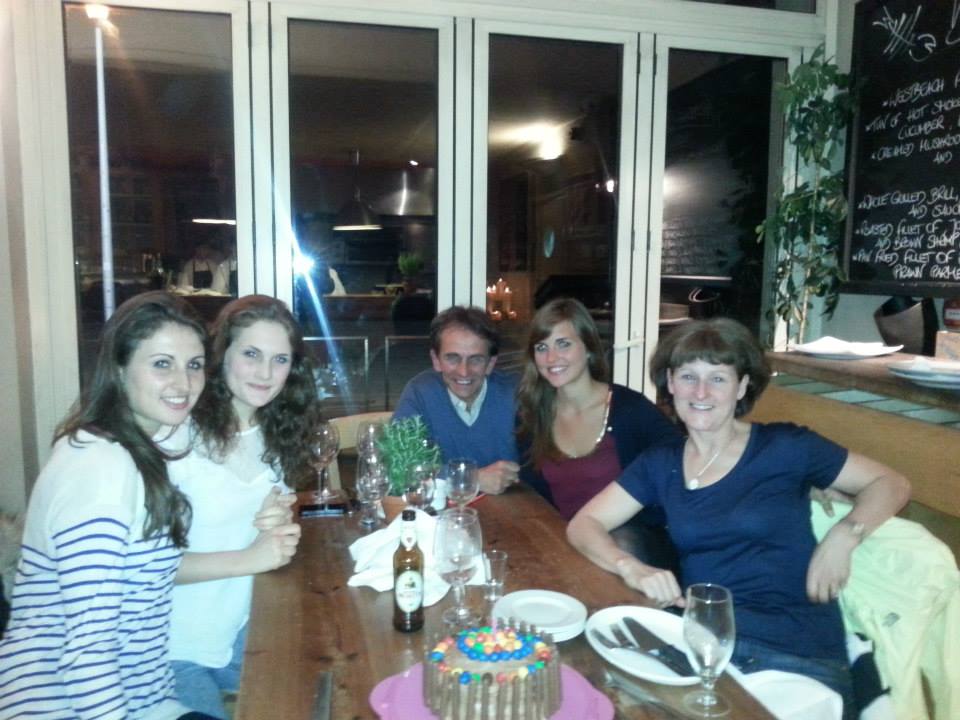 Happy Birthday Dad!
Recommendation
(3.5 / 5)
Despite having a great evening, none of the food was mind-blowing and considering how pricey it is, you'd expect a lot more. I'd definitely give it a go if you're in the area as it's central location gives it something extra.
Extra Information:
Address: Pier Approach, Bournemouth, Dorset BH2 5AA
Phone: 01202 587785
Website: http://west-beach.co.uk/
NTK: If you're stuck ordering, ask the waiter which fish is fresh today. Or, go for the crab!