| | |
| --- | --- |
| Ambiance: | (4 / 5) |
| Service: | (4.5 / 5) |
| Value for money: | (4 / 5) |
| Pizza: | (3.5 / 5) |
Last night's outing to Voodoo Ray's was very spontaneous, a word which is usually quite rare for me as I like to plan my days at least 48 hours ahead of time. Wow, I sound like such a bore, but unfortunately it's true. Anyway, an old friend from Vodafone, Scott, who'd also taken the leap and released himself from the red ties to pursue his main passion, being music, had a free Thursday evening so we agreed a catch up was in order. He suggested starting the night at his friend's cocktail bar in Liverpool Street and then trying out Voodoo Ray's for 'pizza by the slice'.
Lounge Bohemia was pretty awesome. Situated in between two kebab shops, Speakeasy in character, it was merely a grungy looking door which any normal passer-by would disregard and fail to realise the gem that could be uncovered inside. Walking down the steep, narrow staircase, it did instantly feel quite exclusive and I felt privileged that I'd been able to find out about the place. We sat down at one of the limited number of tables and selected our cocktails from a menu wedged inside a book (I liked this touch). I ordered Sgt. Pepper (Black Pepper Vodka, Elderflower liqour) and wow, was it good. You're given a 'food pairing' to go with every cocktail you order, and I got two wooden spoonfuls of freeze dried berries with balsamic vinegar, and an ice cube of elderflower cordial. I was instructed to eat these before sipping my cocktail, and oh it was yummy. And, I was surprised to find out it only cost £8.50, especially for such a trendy location in London.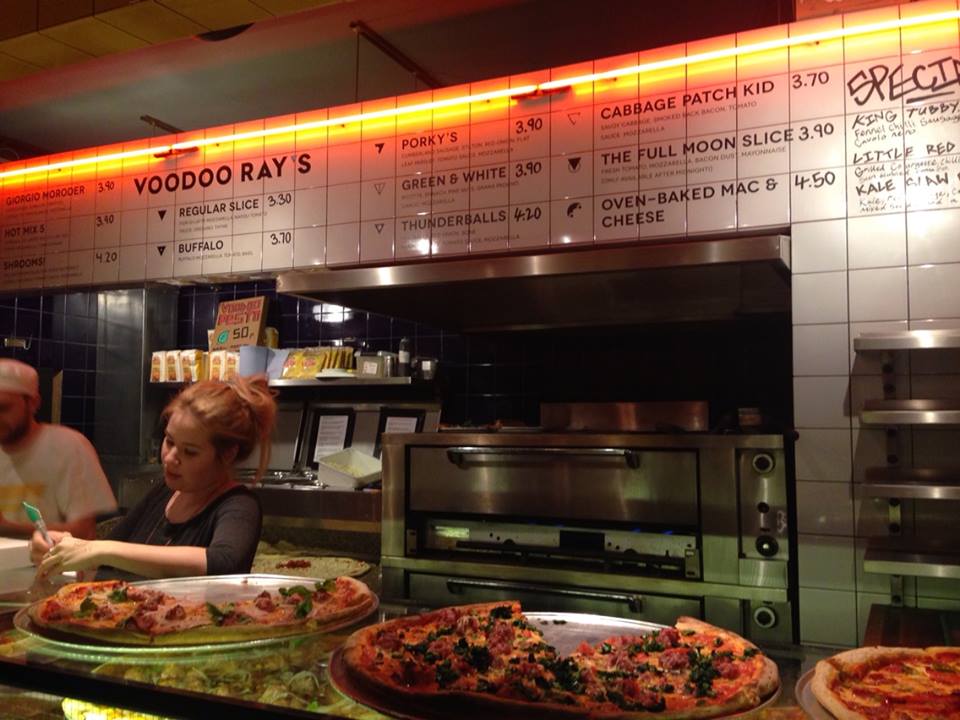 We took the bus to Dalston (seem to be doing a lot of this bussing at the moment) and ended up at Voodoo Rays. Both a take-away and eat in cafe, it reminded me of a design I have for MYO, if I took the take-away route.  It had a great location, on Kingsland High Street and it's bold, colourful lighting is definitely an attention drawer from the outside. Inside, it was pretty busy and for only £4 on average a slice, I could see why. The pizzas were enormous and the range of toppings were pretty mouth-watering. We decided on sharing 2 slices: Shrooms (wild mushroom selection, butternut squash, red onion, tallegio, mozarella) and King Tubby (fennel chilli sausage, caramelised onion, tomato, cavalo nero). We were given our receipt, with number on it and asked to take a seat while our pizza was prepared.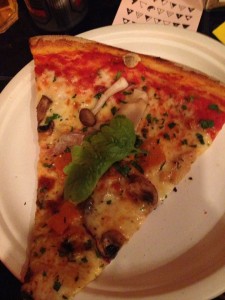 We sat on stools, to the side of the take-away, and selected a couple of oils from the interesting range Voodoo Rays offered: chilli oil, basil oil, chervil oil and others. They also offered free water. We agreed that it was the type of place where it wouldn't be weird if you came to alone, as it's quite a nice, open eating venue. Our pizzas were ready within five minutes and were very generous in terms of size and toppings. I made sure to have a bite before drizzling them in oil, but I'm afraid to say they tasted 100 times better with the addition of chilli oil (in particular). The dough was very crispy and did taste like it'd been re-heated, but when a pizzeria or restaurant is serving pizza by the slice, it'd be pretty wrong to expect them to be made fresh to order. Voodoo Ray's definitely wasn't up there in the best dough I've tried, but I think it might be in the winning stakes for best toppings.
Recommendation
(4 / 5)
If you fancy a quick bite to eat, and are in the area, I'd absolutely recommend Voodoo Ray's as the pizzas are relatively cheap, the service is efficient and friendly and the atmosphere makes the whole eating experience all the more enjoyable.
Extra Information:
Address:95 Kingsland High St, London E8 2PB
Phone: 020 7249 7865
Website: http://www.voodoorays.co.uk/
NTK: One slice would probably be enough for one person as they are pretty generous in size. But make sure you try out the oils!