Ciao

It's been a little while since my last blog post; I've barely been able to keep a record of my receipts, let alone having the time to sit down and write something. I often get messages from people around the country saying how much they enjoyed reading my blog; which is the main reason for why I write them. So, it means so much to me when people are encouraged to live out their dream, or simply want to book Theo or Bella as a result of reading about them. The other reason why I began writing this blog was actually for my own records. I often read back on bits where I think "wow, how did I do that" or, "I need to get back that initial positivity back". I do have moments of self doubt and constantly think I should be doing more. I have other days when all the rubbish stuff happens at the same time and I wonder what I'm doing. However, I read back to before I started MYO and it truly helps – as it shows me quite how far I've come, and how I've actually achieved the dream I had since a young age. So, if I can motivate others to do what I've done; then the blog will continue. Sporadically, anyway!
Anyway… back to the matter in hand… the update! This year has definitely been the busiest so far. The biggest decision was deciding to relocate to Northamptonshire. I'm in a fortunate position in which my business is mobile, so with a little bit of hard work, I can relocate anywhere really. In preparation for the move; I've spent the last couple of months establishing MYO at a local train station in Long Buckby. There were no facilities on site, and the nearest shop is a ten minute walk away; so we figured "why not". I saw it as possibly a great opportunity, so I went for it.
Rather than doing the sensible thing of hiring a trailer; I decided to drive Bella up to Long Buckby. We set off at 8am, seriously believing we'd arrive by lunchtime. We decided to stop off half way to give us and Bella a breather, and get some breakfast. Everything was going swimmingly… I even started visualising lunch, and then Bella started rapidly losing power. From driving these vans for the last 3 years, I know when things aren't right. So, I pulled over into a layby and switched the engine off. 40 miles from our final destination. I called my best pal the RAC and waited 1.5 hours for their chap Gareth to realise that he couldn't fix her. He advised me against driving her and said I should wait for their tow company to take me home. Luckily I have the benefit of this having happened numerous times before; so I've bought 'take me anywhere' breakdown cover; so my 80 mile drive still accounted for something. Where I wasn't so lucky, was waiting nearly 4 hours to be picked up by their outsourced tow company. My phone ran out of battery 3 hours into my long lonely wait, and so I just sat and prayed that I would be rescued, and not left out to starve and freeze overnight. (I am exaggerating, of course!)
So, that was another day of my life ruined by a break down. But, we soon got Bella fixed at a local garage (HD leads and condenser problem) and my trial stint at Long Buckby began. I began by waking up at 430am; driving down to the station for 515am and opening for 6am. Boy oh boy, I find early starts hard! However, they were made so much better by the happy, surprised faces of the Long Buckby commuters. I soon grew a steady stream of regulars. We served hot drinks, bacon sandwiches, toasties and other breakfast items. It was hard work being away from home, and working such unsociable, tiring hours but the reactions from my customers was more than enough to keep me going… and motivated me to continue the service.
It's never easy to find staff; especially staff that you trust with your money, as well as being personable and quick. I've struggled massively with this over the past few years and I'm sure the majority of businesses have the same issues. I've slowly found reliable, awesome staff that I hope will stick with me for as long as I can get away with! However, finding someone in Long Buckby was difficult…. Until Alice came along. So, after worrying that I wouldn't be able to provide the locals with their early morning coffees for ages, I finally found someone who I believed could run it for me. I then needed to find a unit for her to work in, as the vans were still needed down south ahead of our busy summer.
After a LOT of looking, I found a converted horsebox up in Hartlepool. Tom and I went up to see it and it was perfect. For a bargain price, we took it away (thanks to Tom having a trailer license!) and brought it back to Northamptonshire. Unfortunately it didn't come equipped with a coffee machine, so I thought maybe we could get away with some of those domestic small coffee machines. It seems not. There's a reason why you don't see small little machines in Costa… So, I quickly had to find a commercial machine and drive back up to the Midlands to install it. Ahh, it's always fun. Oh, and now the grinder has broken. Owning a business is NOT easy, but seeing something that is truly mine, and operating without me, is a proud moment. And, at least I'm never bored!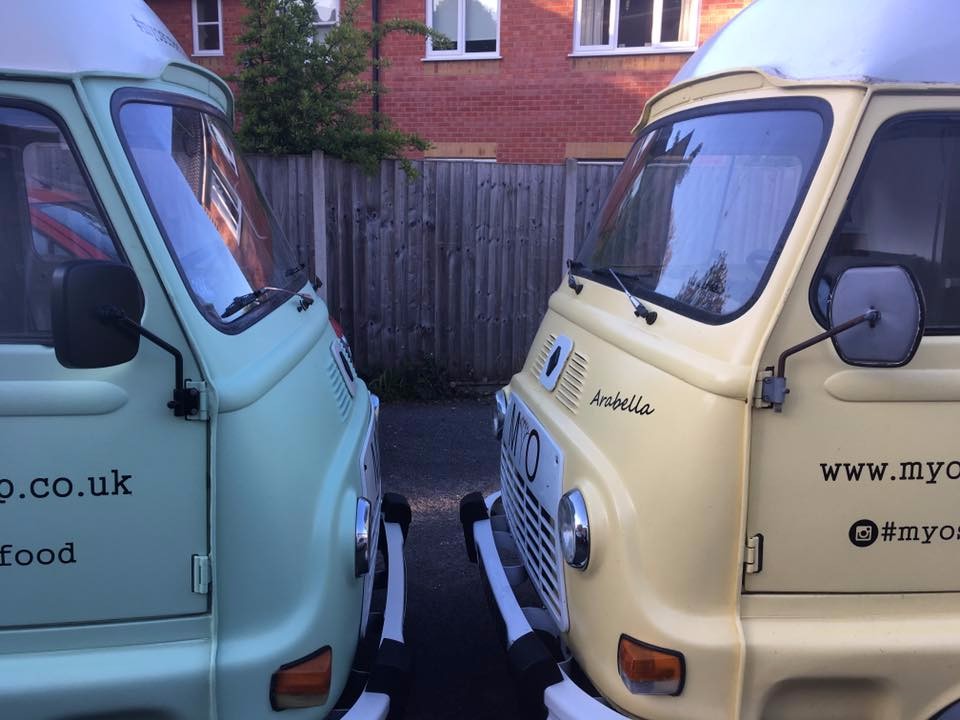 As for Theo & Bella – well, they're definitely being kept busy. So busy, that I'm struggling to take on the demand by myself. We get a lot of emails asking for bookings, and I have to turn quite a few down. I now won't get a weekend off until October, so I am desperately looking for someone to help me full time! This year, we're going to be all over the country but some of the big ones include: Barbury International Horse Trials, Cowes Week, Henley and we are considering an offer from Goodwood. I've learnt to be a lot more selective and haven't applied to a single event this year. I refuse to spend mega bucks on pitches for festivals; where you have to charge ridiculous prices to make up for all of your outlay. I'm also not ruthless enough yet to feel like I can get away with charging £5 for a slice of pizza. Also, I'd like to be at events where people enjoy the quality of our offering; rather than preferring a 50% meat greasy burger.
It's fairly evident that the vans are the biggest selling point of my business, and it is for this reason that I keep them going. Despite their constant break downs and people forever saying, "isn't it worth buying something more reliable?", I continue to spend ridiculous amounts of money on their maintenance and continue to spend hours of my life broken down on the side of the road. However, I've realised this can't go on – so I've decided to take my B & E test. This gives me the ability to drive a trailer. I've bought a 4×4 big enough to tow the vans; so all I need to do is pass… sounds easy, right?! Well, I am petrified. Do you remember how pernickety passing your driving test was? Blind spots, obvious checking of the wing mirrors etc. etc… well, it's like that, but harder. My test is today, so wish me luck. Ahhhh!
I could go on for ages, but I'm conscious that this blog has already gotten pretty long. So, I'll leave with you with some non-business updates! I've had some pretty good trips away recently; I've gone to France and Austria few times to see Tom skiing in the Army Alpine Ski Championships (his team actually won!), I've been Riga and Krakow, and have just booked flights to Verona! We're off to Lake Como and Lake Garda – I am so excited. I try to go to Italy once a year; because you know, I need to update my research an'all!
I hope you enjoyed my blog… and I hope to see some of you at an event this year