Arancini originally got their name from their orange, saffron infused colour. They're not the simplest to make but with patience and a bit of love, you can create some truly tasty balls full of rice, gooey mozzarella goodness, or whatever you fancy really.
Also, if you have any leftover risotto that you don't know what to do with, this provides the perfect opportunity to use it up.
Ingredients (makes 6)
For the rice ball:
25g butter
1 onion – grated
2 garlic cloves – thinly chopped
200g Arborio rice
Boiling water and vegetable stock – judge by eye
1 tsp saffron
Seasoning
1 egg
150g breadcrumbs
Fillings:
This is completely up to you but here's my recommendations:
100g mozzarella – cut into 6 pieces
6 basil leaves
6 cherry tomatoes – halved
Melt the butter with some olive oil into a frying pan and add the onions and garlic until slightly softened. This should take about 3 – 5 minutes.
Add the rice and coat with the oily onion mixture.
Mix 500ml boiling water with a vegetable stock cube, or equivalent and stir into the rice. Leave over a low simmer and keep stirring at regular intervals, watching to see if you need to add more water or that the rice doesn't overcook.
Once the risotto starts to take on a starchier, al dente type texture and feel, take off the heat and leave to cool completely.
When the risotto is cooled, add an egg and mix well.
6. Take a large tablespoon of risotto mixture into your hand and flatten it out, put a piece of mozzarella, basil and 2 tomato halves into the centre and carefully mould the rice into a circle. You may need to add some more of the risotto mixture to enable you to fully coat the centre. Don't get frustrated, this bit does require patience!
7. Once moulded into a perfect circle, evenly breadcrumb the rice ball.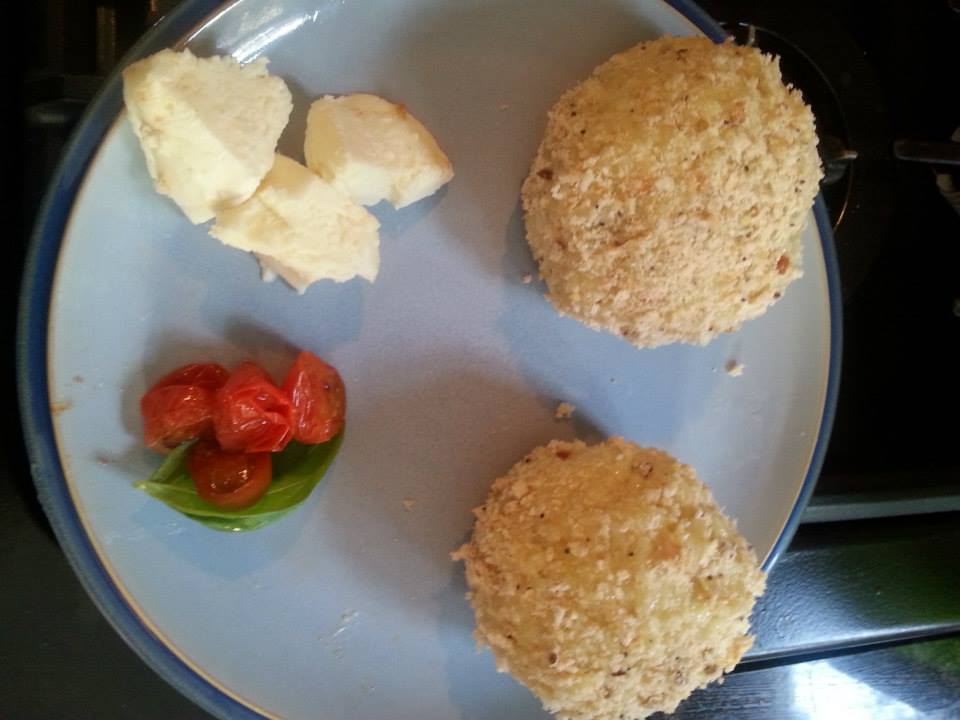 8. Deep fry in a pan of vegetable oil until you achieve an even brown colour all around the ball. This should only take 3 – 5 minutes.
9. Take out of the oil, drain the oil by putting it on a piece of kitchen towel.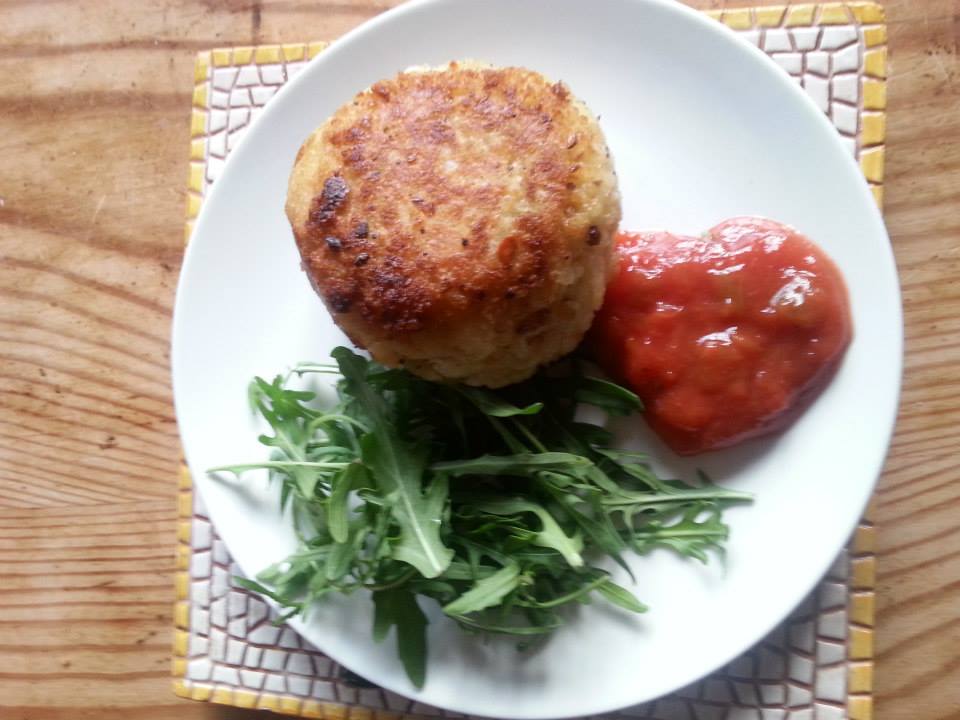 These are great eaten as they are but if it's for a sit-down meal, arancini are nice served with a tomato sauce and rocket.