| | |
| --- | --- |
| Ambiance: | (4 / 5) |
| Service: | (4.5 / 5) |
| Value for money: | (4 / 5) |
| Toilets: | (3.5 / 5) |
After a glass of wine and board games at Toscannacio; an Italian wine shop and deli, we walked a short distance to Sakura; the Benihana of Winchester. Easily located on one of the city's main streets, it had a narrow entrance which led you into the downstairs restaurant.
Considering as we were only able to get a table at 8.30, I'd expected it to be really busy, however, there were only a small handful of people in the restaurant. We soon figured out that this was due to the interactive nature of Sakura and that the 'shows' start at certain times or when there are enough people. We took our seat around a large teppayaki hot plate, with another couple and were talked through our evening's offering. As we'd chosen the 'wagyu' option, we'd get the whole four course interactive experience and the opportunity to taste some meat from, as Sam called it "a cow on a spa day". After a bit of research, I've found that the wagyu cattle were initially introduced to Japan to help cultivate rice during the second century. Beer was fed to the animals during the hot summers to stimulate appetite, while massaging was used to prevent muscles cramping on small farms in Japan where the animals did not have sufficient room to move around. So, history lesson over… moving on…
We received a menu with both the drinks and food on it and I was happily surprised with the great choices of (reasonably priced) wines on the menu. Settling with a Sangiovese (take me back to Italy!) and Sam choosing a Tiger beer, we sipped on our drinks while awaiting the show. First up was a miso soup, which in all honesty, I never overly enjoy so I gave it a fair go, and then called it a day. For what could be considered our starter, we were presented with edamame beans and Ika Karaage (deep fried squid). The squid was really tasty and had been cooked perfectly and the edamame beans made an interesting addition.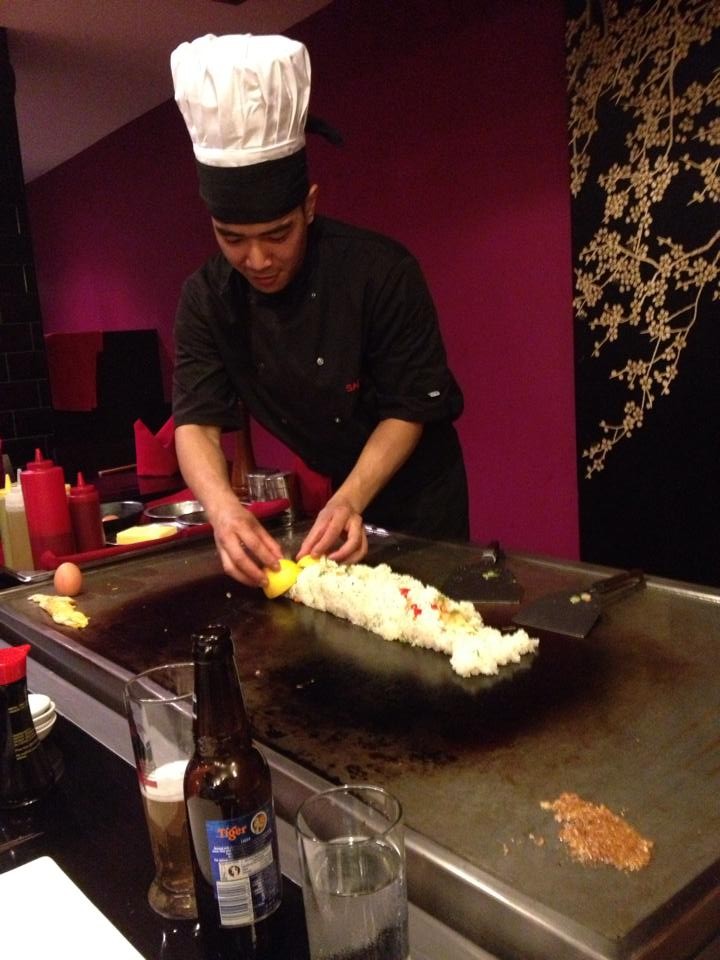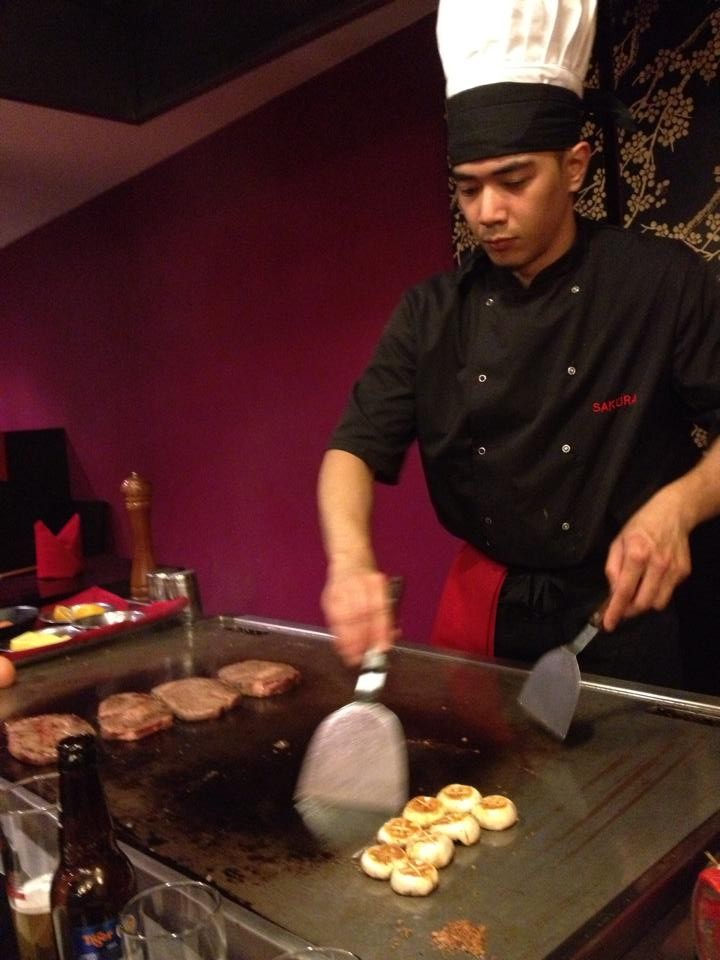 At this point, we were introduced to Michael, our teppayaki chef for the evening. He began by cooking onion, rice and stir fried vegetables on the sizzling hot plate in front of us, throwing palate knifes and vegetables up in the air around us. We were asked how we'd like our steak cooked, which after the Benihana cubed steak debacle, I was delighted about. Sam and I went for rare and the wagyu was placed on the hot plate and sliced into thin pieces before being put on our plates. We were asked which sauces we would like for the steak and as this requires decision making, neither Sam or I could decide so ended up being presented with four small dishes of all the sauces.
Unfortunately by the time Micheal had come back with the pots for the sauce (our fault for being so fussy), the cold plates had meant our meat and vegetables had gone cold. However, this would probably be my only criticism as the beef was cooked perfectly and the fat had marbled in with the meat, creating a completely new texture and flavour. After our steaks, Michael gave Sam a lesson as a teppayaki chef, showing him how to play with the knifes and toss things up in the air (albeit plastic wrapped balls, not the eggs that Michael used!). Unlike how I would've probably been, Sam turned out to be pretty good at it and was throwing things into his chef's hat left, right and centre!
We ended the meal with the set menu's pudding of what appeared to be battered bananas and ice cream. Neither of which I particularly enjoyed, but that wasn't helped by the fact that I was very full and don't really like bananas warmed up at the best of times. All in all, we had a brilliant evening and we'd both definitely recommend it. Unlike Benihana, the food was just as good as the show and it was great to be able to do something different outside of London.
 Recommendation
(4.5 / 5)
It's unusual for things like this to be found outside of London, so if you fancy something different and yummy, definitely go to Sakura. It'd be perfect for a date, family meal out or even a fun meal with friends.
Extra Information:
Address: 2B Jewry St, Winchester SO23 8RY
Phone: 01962 864178
Website: http://www.sakurajapanese.co.uk/
NTK: If you're reading this now, go on Groupon for a great deal! If not, when asked for how you'd like the wagyu cooked (providing you go with that option), don't be scared to get it cooked rare – due to the marbling of its fat, you don't get the blood as you would with normal steak but you do get all the texture and flavour.