| | |
| --- | --- |
| Ambiance: | (3.5 / 5) |
| Service: | (3 / 5) |
| Value for money: | (3.5 / 5) |
| Toilets: | (3.5 / 5) |
I've always wanted to go to Hugh FW's (can't say his name properly so won't pretend I know how to spell it!) River Cottage in Devon but have yet to have the opportunity. So, when Sam and I were invited for lunch at one of his canteen chains, I was pretty excited!
The problem with having a celebrity name attached to a place, automatically brings an added degree of expectation, and in Hugh's case, this was no exception. Given the hype and reputation of his original restaurant, I was looking forward to some pretty phenomenal British grub. Our first difficulty (as always) was finding the place; turns out we weren't alone in our search as we bumped into our lunch dates, Lucy & Matthew, who with their phones set to Google Maps, looked equally lost! However, tucked away behind the Guild Hall and opposite a children's park (interesting), we soon found the impressive building that contained the River Cottage.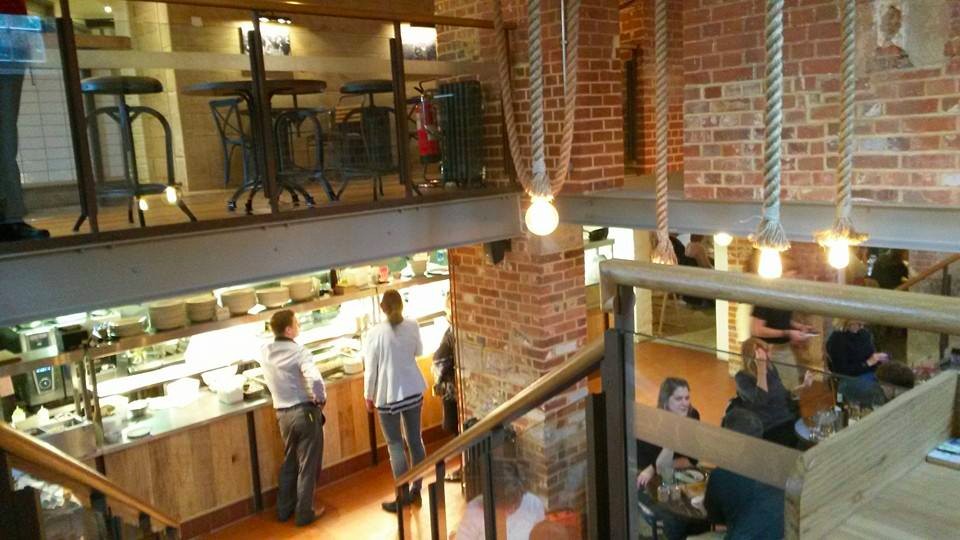 On first impressions, I liked it. The atmosphere felt relaxed, and the theme seemed to take on a more rustic feel, with wooden tables and chairs and large bulbs hanging off thick rope, to provide quite a nice lighting. The restaurant is divided over two floors and the open plan kitchen is on full view to those eating on the ground floor. Unfortunately (I love seeing the action!), we were sat upstairs but were immediately greeted with a jug of tap water and our menus. We all commented on how much we appreciated this little touch – so, big points Hugh! The menus were A4 recycled card and were stamped with the day's date; implying that a new menu is produced on a daily basis and hopefully contained the freshest produce!
I really liked the drinks menu. It offered a great selection of local ales and wines (at not bad prices) and I was torn between several great sounding options. In the end, I went for a Sangiovese wine (take me back to Italy!) and Sam had a local elderflower cider. Both proved delicious and I'd highly recommend. However, go easy on the cider as it tasted just like a presse!
Despite quite a small food menu (Gordon would be impressed), Sam and I both struggled to decide (as usual) what to have. Lucy & Matthew were pescaterians, making their options slightly easier, although saying that, we were all impressed with the amount of fish and veggie options on the menu. We asked the waitress a couple of questions as we were unsure what certain items on the menu were, to which she didn't look entirely happy, which struck us all as a bit odd. Never mind, we researched for descriptions ourselves (thanks google!) and in the end, Sam and I decided to share the carrot and beetroot humous, off the kid's menu, and the ham terrine crumble, off the starter menu. Lucy and Matthew went for the veggie mezze board.
We were soon presented with complimentary bread, served with rape seed oil. If you read many of my reviews, you'll have realised how much I love being given free bread! This also took me back to Italy for a moment – Ah, memories of so much bread! Obviously gluten hater Sam didn't have his share so didn't appreciate the soda sourness of the dough. On bread alone, Hugh would have gotten a strong 4 star. Sorry, I didn't manage to get a photo, the bread was grabbed away before I could get a chance 😉
Starters took quite a while to arrive, but I'd say were well worth the wait, and the bread kept us going for a while anyway. The humous, despite looking beautiful with its strong colours, didn't seem to have a massive amount of taste but I enjoyed the crunchy texture of the chickpeas. The mezze board looked delicious, filled with humous, pitta, New Forest mushrooms and mozzarella, topped with walnuts. However, the star of the starter show was definitely the ham crumble. Served piping hot (great for me, bad for Sam), it had buckets of flavour and the strings of ham complemented the crunchy crumble topping perfectly.
Our plates were cleared before I'd finished eating, however, I imagine, like in many decent restaurants, the chefs would've started prepping our main courses once the starters had been delivered, meaning the waitress was probably being hastened to tidy away the starter. Sure enough, pretty much as soon as I put my fork down, the mains arrived and did all look very attractive. I went for the kids sirloin beef as I don't like massive meals for lunch, and was hoping to have space for pudding. In hindsight, I'm even gladder I went for this as it was still very reasonably sized and I received a gigantic portion of vegetables which I was unable to finish.
The roast itself was good, but nowhere near as good as the waitress had made out. Like many quality restaurants, there wasn't enough sauce and unfortunately the roast potatoes weren't as good as you get at home! The beef was well cooked and the home-made horseradish sauce carried quite a kick, so it was still very enjoyable! Sam had the cuttlefish and Lucy and Matthew both had the Gurnard with smoked garlic mash. I managed to steal a couple of forkfuls of Sam's cuttlefish mixture and secretly admitted food envy. However, we both agreed that it did need slightly more seasoning. The gurnard was given an average of 7.5/10 so I'm assuming that could've been a nice option too.
We all finished off our mains and said "yes" to the pudding menu. Despite the selection sounding delicious, unfortunately (or maybe fortunately for my tummy), there was nothing with custard so much to Lucy's disappointment, we said no.
The bill came and totalled around £25 a head, including a tip. For a main course, drink and a shared starter, it wasn't bad but I just felt something was lacking to justify that cost. I'm just yet to put my finger on it!
Recommendation
(3.5 / 5)
I'd recommend the River Cottage for its rustic feel, lovely location and relaxed atmosphere. I'd probably lean towards going on a different day, rather than a Sunday as I'd like to see more non-roast options.
Extra Information:
Address: Abbey Mill, Winchester SO23 9GH
Phone: 01962 457747
Website: http://www.rivercottage.net/canteens/winchester/
NTK: Make sure you book, and if you like seeing the kitchen, ask for a table downstairs!