| | |
| --- | --- |
| Ambiance: | (4 / 5) |
| Service: | (2.5 / 5) |
| Value for money: | (3 / 5) |
| Toilets: | (3 / 5) |
We'd been encouraged to eat at the Pharmacia by my parents, so it was always on my list of restaurants to go to whilst we were holidaying in (the not so sunny) Lisbon. Amazingly, whilst getting lost finding our apartment in Santa Catarina, we literally stumbled across the giant "Museu de Farmacia", encompassing the restaurant in question.
Deciding to give it a preliminary scout, we walked inside and were slightly wowed by the magnitude of the place. Initially built as a pharmacy, the restaurant takes on that theme, with quirky artefacts dotted around. We booked a table for the Saturday evening and continued our search for our 'lost' apartment. On the day in question, we both felt a little worse for wear (we blamed it on too much of the seemingly dangerous Portugese wine!) so I made the call to postpone our booking to the Sunday, when we'd both most likely enjoy it more.
Interestingly, when Sam went to swap our booking, there was no trace of it in their diary; so note to anyone looking to eat at the Pharmacia during high season, make sure you double check that you're actually booked in! Before our 8pm booking, Sam suggested we go and have a drink at one of the bars opposite, overlooking what we liked to call the Golden Gate Bridge, and the statue of Jesus. This possibly turned out to be the best part of my evening as the background music, albeit being English, was perfect for the surrounding, it wasn't too cold and the view was spectacular. It also felt like we were completely immersed in Lisbon life, with the locals and students sitting out on the steps, playing music and singing.
At 8pm (pretty much on the dot), we were seated at a really nice table at the Pharmacia and presented with our menus. This caused instant confusion as you could either get a selection of dishes from the a la carte option, or just go in blind and choose their 'surprise menu' for 28 euros. Luckily, both Sam and I share similar views with ordering; in that we don't like ordering the same dishes, as we think it's better to share, as not only do you get to try more of the menu, but it lessens the potential food envy! However, this approach took us a while. However, meanwhile I ordered the house wine, for 14.50 euros and we snacked on the bread. Even gluten hater Sam couldn't resist the bread! It was served with oil, black olive butter and rock salt and was delicious. We even asked for seconds.
After about twenty minutes of intense decision making, we opted for one surprise menu and we ordered individual things of the a la carte; opting for meat croquettes with an orange mayonnaise, the soup of the day, deep fried sardines and cuttlefish and the quail and grouse salad. The wine was served alongside our first item of the surprise menu: a shot of Portugese gazpacho. Obviously emulating the chemistry/pharmacy theme, the soup was served in a 50ml test tube. I wasn't overly keen so left Sam to enjoy the 30 or so millilitres he had left! Next came the croquettes, which I'd definitely recommend – we'd eaten a lot of croquettes during our time in Lisbon and we would both safely say, these were the best.
Three 'surprise' starters arrived on a rectangular plate, made up of octopus salad, a mushroom and mint spring roll and asparagus wrapped with ham. Nothing was overly spectacular and again, Sam enjoyed the majority. The soup was served very hot, and it was nice enough but we both agreed that it tasted very similar to a supermarket bought Covent Garden butternut squash and carrot soup. Despite this, neither of us like waste so we ate it all.
Expecting the fish course to arrive next, I was presented with a metal bowl constituting of the quail and grouse salad. This actually turned out to be a stew with chips; not so salad-y after all, but it proved deliciously rich and tender. I made sure I had my fair share of this one! Meanwhile, the surprise menu's main course of roast lamb and potato came; of which not only looked disappointing, but also tasted it. The whole dish didn't really have much flavour, so I saved myself the calories on that one too. Somewhat annoyingly, after a few bites of both our meat dishes, our fish course arrived, to which I asked the waitress whether we could have it once we'd finished our meat dishes. Despite seeming a little put out, she took the fish back and I dreaded what might come back, given as I'd complained about the second bottle of wine I'd ordered too.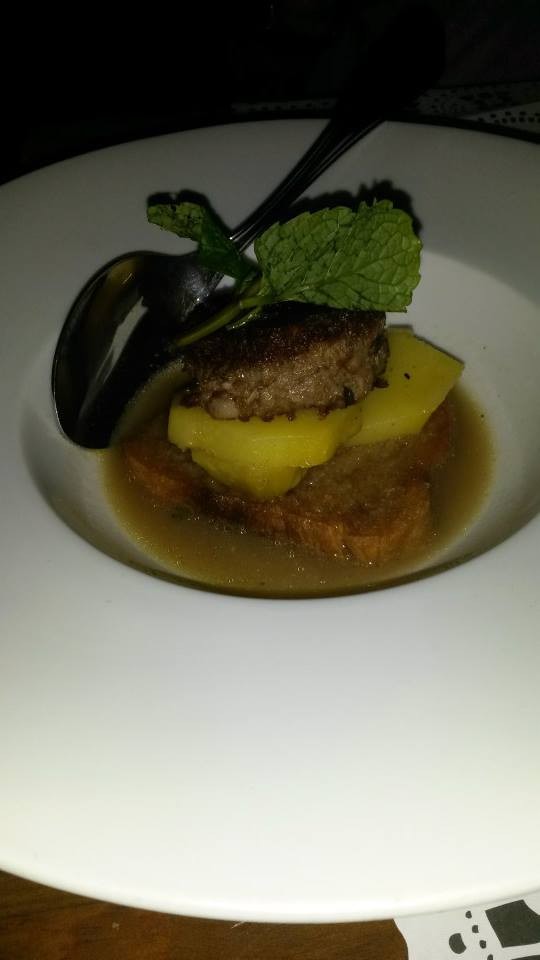 The fish was served to us again, once our meat dishes had been cleared. I'm not sure whether I should have just embraced this culture of sporadically getting food but I'm not sure if anyone would have been happy with the prospect of being presented with an onslaught of main sized dishes being presented simultaneously. Also, I quite like to enjoy my food at the temperature its designed to be served at… anyway, as it turned out, the fish (second time round) was rubbery, over-cooked and looked like it'd just faced the deep fat fryer for the tenth time that night. In short, neither of us could eat it (Sam wouldn't even try it) and I sent it back; facing death stares from the waitress. I was beginning to fear for our lives.
Our final course of the surprise menu was three puddings, presented again on a rectangular plate. As Sam's not the biggest pudding eater, I got the lions share of this course. Despite its presentation being slightly messy, all three tasted delicious. From memory, I believe there was a combination of pear crumble, cheesecake and fresh fruits. Don't hold me on that though – you'll have to go try for yourself!
Recommendation
(3.5 / 5)
In all honesty, Sam and I didn't have much luck with the Portugese cuisine (and we ate out a lot!) so in comparison to the other eateries we tried, the Pharmacia was definitely up there in the best. It's also a great experience, and building (with an awesome view), so I'd definitely recommend it.