Ciao! I thought it'd been a while since my last update and as quite a lot has happened, here's the latest… I've officially hit London – I was lucky enough to find a brilliant venue in Balham which was more than happy to host me. Café by day, like Henderson's it has all the equipment and utilities that I need. I've also secured another venue in Bath and am in the process of finalising one in Newbury so it shouldn't be long until "An Evening with MYO" is national! Haha, all jokes aside – it's pretty hard going but I'm enjoying the learning experience so far!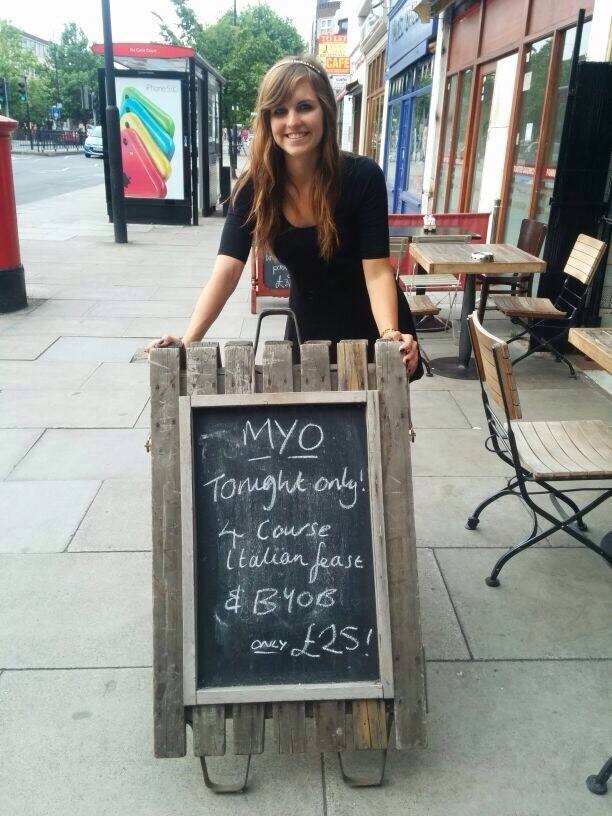 In all honesty, I was slightly apprehensive about my first London supper club. My first concern was getting people there, so being me, I hit every angle going – Time Out, any supper club and 'what's on' websites that I could find, and I did a lot of leafleting and talking to people. There's nothing worse than an empty restaurant after all. Despite this, I thought opening my doors to London would supply me with an overwhelming amount of people who'd want to try something new, but it seems, like Salisbury, I may have to rely more on word of mouth. However, we were booked out and the event did go ahead, mainly glitch free! I've now decided to scrap the pizza idea and give guests a 'Taste of Italy' through my experiences and after going to another supper club, I realised I quite like hearing about the food, so I now give my guests a bit of a cultural/educational experience too by explaining where the dishes are from etc.
The night started with an aperitivo of tomato and basil soup with a wedge of focaccia, bruschetta and other nibbles. We sat everyone by 8.30pm and served capriata, pesto dip, pane fritto and focaccia for primo. This was followed by piada (which I ate a lot of in Italy) and insalata caprese (as this seems to be a big hit in England and so easy to knock up!). The main course, being pollo cacciatore (hunter's chicken) proved to show the first glitch in that we started off serving far too big portions, so ended up with not enough for our last guest. After a slight panic, we ended up whipping something yummy together – there's no way someone's going home from one of my evenings hungry or unsatisfied! The evening ended with a chocolate and dulce de leche tort (Recipe here), balsamic strawberries, biscotti and crème fraiche. All in all, I think people were pretty happy, with one guest even saying 'she'd walk to the end of the world to come back' – I think she may have been slightly merry…. But I'll still take it!
So, next in the world of supper clubs – I have an event next Saturday in Salisbury which is almost fully booked, but if you'd like a ticket, click here to guarantee one of the remaining few. I also have an event coming up on 1st August in Bath and as mentioned, am securing a venue in Newbury. In terms of competitor supper clubs, I went to an Argentinian Pizza Club last week to assess a similar priced to MYO event. It gave me a lot of inspiration, and also saw me leaving with a 1kg tub of dulce de leche, which inspired my latest creation – a chocolate and dulce de leche torte.
Moving on, I know you're all wondering how Theodore is doing. In short, he's looking good. Yes, we should have been on the road by now and I'm fully aware of all the festivals I'm missing. It makes me sad when I see street food and realise how great Theo would look next to all the burger and Mexican vans. But, we're getting there – slowly and surely. He's been painted inside, has his stainless steel box fitted and panelling ordered. I've also secured an electrician who's helping source the parts (big job taken away from me!) and I'm meeting a graphic designer next week to talk aesthetics. He's suggested putting Theodore's name on the van, which I hadn't even considered but I LOVE. So watch out world, Theodore will soon be on the road! However, we're going to be holding off on the gelato and replacing it with dangerously delicious Italian hot chocolate and soup, mainly because it's England and we don't have much of the summer left.
In other news, I've taken to gardening and DIY. I love using local and seasonal ingredients and what could be better than growing my own ingredients?! Having never done any gardening before, besides growing those cress heads as a kid, I was shocked at tiring it is! It definitely put any gym work out to shame! Anyway, after a lot of puffing, I now have beetroot, celery, tomatoes and rocket growing! I'm also converting a shed into a potential kitchen for MYO. Who knew I could be such a handy Andy hey?!
I should probably sign off now before I waffle on and start boring you. I hope you enjoyed my update. Hopefully the next time I write a diary entry, I'll be holding twice weekly supper clubs and will have pictures of a finished Theodore!