You may have read this dish title and thought 'I've never heard of that before' and you're right, I made it up. We're in Florence, home to many delicious foods, with parmesan being one of them so we wanted to find a recipe to use with it. However, we wanted something a little different to the simple carbonara, so I suggested adding broccoli– and wow, did it work! And all whipped up and hot on the table within 10 minutes!
Ingredients (serves 4)
1tbsp olive oil
250g cubed pancetta
3 cloves garlic – thinly sliced
1 medium broccoli – thinly chopped
300g linguine
2 eggs – use 2 yolks and one whole
250g parmesan
Seasoning
Method
1. Boil the water and cook the broccoli, leaving to simmer for up to ten minutes or until the broccoli has turned into a bright green colour, but retains a slight bite to it.
2. Meanwhile, in a bowl, mix the eggs and parmesan. Season.
3. Boil the pasta (remember to salt the water) and drain the water from the broccoli. If cooked from fresh, leave this until step 5. If dry, this should take about 6 – 8 minutes.
4. In a pan, heat the oil and add the pancetta and garlic until the pancetta is cooked through. Add in the broccoli and mix together.
5. Mix the broccoli with the pancettaWhen the pasta is cooked, stir in the egg mixture and stir over a very low heat for 30 seconds. Add in the broccoli and pancetta mixture and stir together until everything is evenly coated.
6. Serve with some thinly sliced shards of parmesan.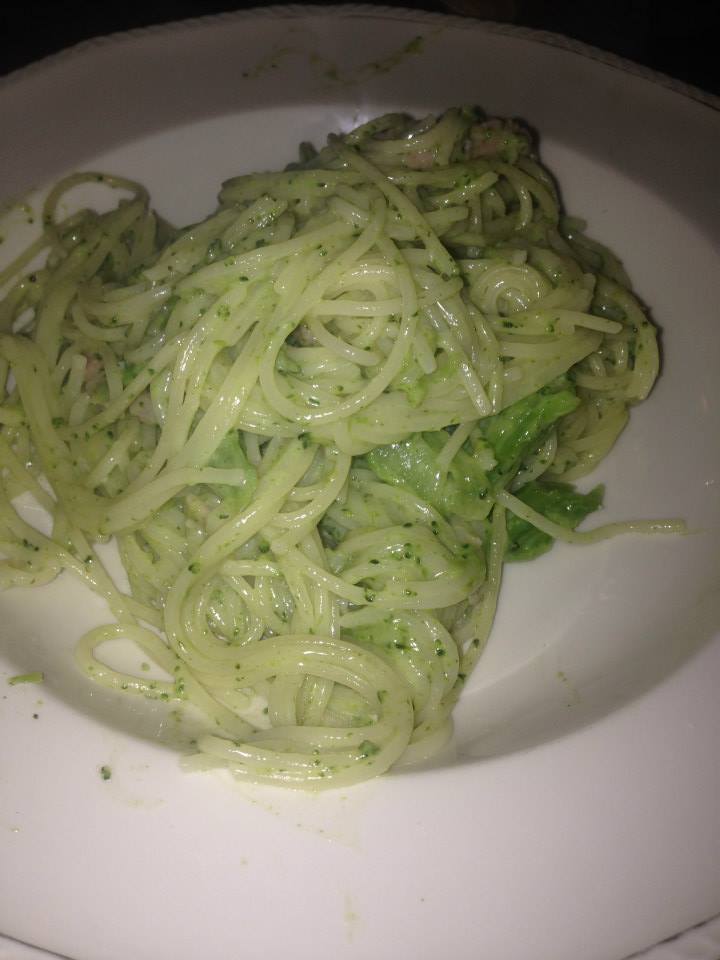 I'd recommend serving this with a drizzle of oil as authentic Italian carbonaras aren't overly saucy and I think the oil gives it that finished effect. Also, a glass of Chianti or Sangiovese works well with the cheese in this pasta.
Verdict?
(4 / 5)
For something so quick and easy to knock up, it deserves points just on those merits. Also, it allows you to really taste the ingredients – the richness of the cheese, the saltiness of the pancetta and the soft freshness of the broccoli. Yum.