| | |
| --- | --- |
| Ambiance: | (3 / 5) |
| Service: | (4.5 / 5) |
| Value for money: | (4.5 / 5) |
| Pizza: | (4 / 5) |
| Toilets: | (3.5 / 5) |
Mum had told me about a new Italian in town that had replaced a previous one. With about seven Italian restaurants and 5 Indians, Salisbury seems saturated in these cuisines, so I was keen to see how yet another Italian would pan out. And after a raving review from my mum, I was even keener to give it a visit.
After a drink at a family favourite Quodos, we arrived at La Grillado at 8.45pm, pretty late for a Wednesday night. Given how empty Quodos was, I was a little wary about how busy the restaurant would be, but on arrival, we were greeted with a nice gentle buzz of activity, with a restaurant half full of customers. La Grillado is owned by an Italian family from Sicily and the service throughout the evening proved to be second to none. They even spoke to me in Italian and advised me about where to go during my upcoming trip to Italy. Anyway, back to the décor: the restaurant occupies a small, narrow space, allowing it to create quite an intimate atmosphere, however, I feel they could have done more to create a better ambiance. There wasn't anything overly exciting about the lighting and I can't remember there being any candles or music in place to create that night-time romantic atmosphere. But the smells flooding throughout the restaurant smelt incredible and the food that I eyed up on neighbouring tables looked delicious so my then, ravenous tummy was super keen to give it a try.
The menu aesthetics were slightly disappointing, a narrow A4 card, coloured in red and white was generally, quite uninspiring. The dishes on the menu were heavily meat based so if you're a veggie, you may find some limitations. Although saying that, I suppose you wouldn't opt for a rotisserie if you didn't eat meat. Everything on the menu was very reasonably priced; with both the steak dishes being under £15 and the pasta dishes mainly being around £10, I was quite surprised, considering how expensive La Grillada's predecessor was.  I was interested to see only 2 pizzas on the menu too, as if you're going to make the effort to make the dough, why not offer more choice? Saying that, after making pizza on Tuesday I was in no mood for one anyway, but needing to give it a try, we decided to share one as a starter between the five of us. And wow am I glad we did, it was so tasty! Topped with goats cheese, red onions and artichoke hearts, it tasted just lovely. The dough was fluffy, soft and had the consistency that I personally like the most. We also ordered a bottle of Sauvingnon Blanc and Montepulciano d'Abruzzo to go with our meals.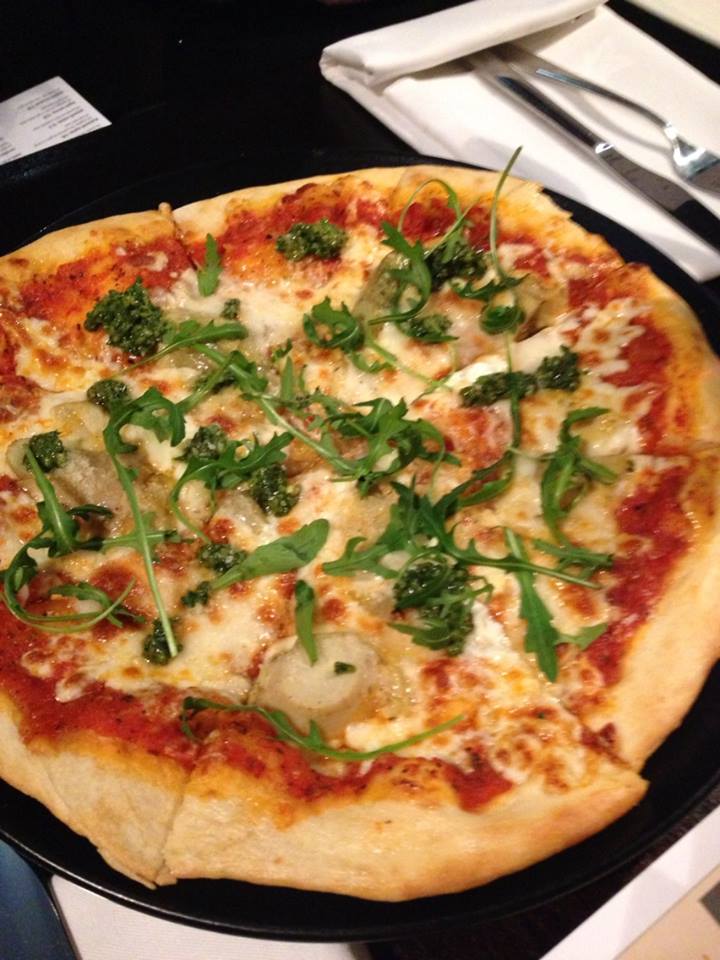 For my main course, I ordered the bistecca al manzo (sirloin steak) cooked medium rare. I was asked if I'd like vegetables or fries and I cheekily asked for both, to which our friendly Italian waiter told me no but I was delighted when my steak arrived with both vegetables and fries! Mum ordered the house special 'half rotisserie chicken', Dad the lasagne (Standard) and Sara had the linguine putanesca ('affectionally' known as slut's pasta in Italy). My steak looked delicious, covered in a rich and plentiful mushroom sauce and was served with salad and roasted vine tomatoes, on the side. I couldn't wait to get stuck in. You know that feeling you get when you taste something so good? Almost like your whole body warms and your mouth salivates? I got that. It was cooked perfectly, and the accompanying sauce was just amazing. I gave everyone a taste and despite them not fully understanding the whole body experience, they all equally loved it.
All in all, everyone's meals were pretty spectacular. The only meal I didn't try was Mum's rotisserie chicken but that's only because I took the noises and appreciative comments coming from her and Dad to be enough proof that it was pretty darn good. We didn't go for puddings as the portions were pretty generous so we were all pretty full, so we paid up. And, for such a good meal – it was such a bargain! For only £20 per head, for a delicious, freshly cooked main meal and half a bottle of wine, oh and a slice of pizza thrown in, it seems almost too good to be true!
Recommendation
(4.5 / 5)
If you live in Salisbury or are within local proximity, definitely go to La Gorillado. Owned by an Italian family, it's authentic, friendly and most importantly, super yummy.