| | |
| --- | --- |
| Ambiance: | (4 / 5) |
| Service: | (3.5 / 5) |
| Value for money: | (3 / 5) |
| Toilets: | (3.5 / 5) |
I've never been a fan of chains, and Jamie's Italian would usually be pushed aside in favour of an independent. However, as Saturday's booking was out of my control, Jamie's Italian it was.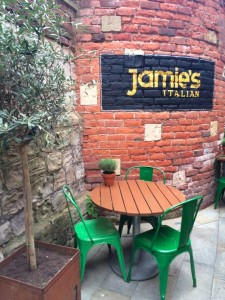 Situated in a beautiful position, underneath an arch, the restaurant looked lovely. Walking inside, the interior didn't disappoint either. There was a lovely hubbub of noise; with different groups either enjoying a glass of wine, cup of coffee or being served delicious plates of food. I was beginning to get excited.
The booking had been made for 1pm and  within minutes, we were seated at a table for six, near the open plan kitchen, which made me even happier, as I love seeing the food being made.
Luckily I'd looked at the menu ahead of time, so I vaguely knew what I wanted. Filled with delicious looking delicious – ranging from snacking dishes, pasta and risotto dishes and Italian specialities, there was a lot to choose from. However, as Jamie's Italian known for making its own pasta, I knew I had to try a pasta dish. Deliberating between the sausage one and squid ink spaghetti, I eventually settled on a half portion of squid ink spaghetti with mussels and octopus, and a half portion of the special – pulled pork risotto. Oh, and I threw a half portion of caprese salad into the mix too. Everyone else was ordering big, so I decided to go crazy too – and they were all half portions to be fair!
The alcohol was pretty pricey; for a house glass of wine, you're talking £4 – 5, so I saved my liver, and the pennies by sticking with some fizzy pop (diet coke). The starters took a while to come, but when they did, wow did they look delicious! My squid ink was beautiful – perfect sized portion, topped with a perfect mix of yummy seafood. The others had crispy squid, Italian Nachos (Deep fried ravioli) and pork scratchings. I managed to sneak a taste of each and yep, I can happily say – Jamie, you did well on the starter front!
Like the starters, the mains took a while to come and when they did, things weren't quite so impressive. My risotto didn't seem to have an ounce of pork in it and the caprese salad's tomatoes tasted so watery, and almost like they'd just picked them out of a can of 'peeled plum tomatoes'. After a few more disappointing mouthfuls, I complained about the risotto and had it replaced with my initial choice – sausage parpadelle.
My second main course arrived within minutes and was such a great choice, proven by the evidence – it was devoured in minutes! One of the couples in the group shared a huge sharing plank, filled with Italian meats and crudités. Others went for the main meat dishes and seemed pretty happy.
Plates were cleared and we were asked about pudding. I laughed. I'd probably eaten my entire calorie intake for the day and if I had any chance of remaining awake for the rest of the day, then that's a NO to pudding. However, ten minutes later, when the menus came and people started murmuring about 'chocolate brownie' and 'almond tart', my tummy actually grumbled. Yes, it really did. So… to cut a long story short, I went for the chocolate brownie, topped with caramelisd popcorn and ice cream. I mainly chose this because I live by Jamie's recipe for chocolate brownies when cooking at home and oh wow, they  are INCREDIBLE. I also swapped the ice cream to salted caramel, because I'm crazy like that.
Ten minutes later, puddings arrived, looking absolutely delicious. Taking a bite of the brownie, I was immediately disappointed. It tasted way undercooked, and didn't have any chewiness or crunch – it seemed to taste more like a super thick mousse. The popcorn didn't really work either – it just went chewy rather than crunchy, so all in all, yes – I make Jamie's brownies better at home. The accompanying coffee was good though!
We left Jamie's two and a half hours later, and probably a stone heavier. I really enjoyed my first Jamie's Italian experience – the majority of the food was brilliant, the atmosphere was great and I'd probably go back.
Recommendation
(3.5 / 5)
I'm only giving this a 3.5 as I personally think I'd only go here for lunch, as I think it's a good shout for a leisurely midday catch-up. I've also heard from friends and family that their experiences haven't been great so I don't want you going in with false expectations! However, if you experience anything like what I enjoyed today, you'll finish your lunch with a big smile on your face