| | |
| --- | --- |
| Ambiance: | (4 / 5) |
| Service: | (4 / 5) |
| Value for money: | (4 / 5) |
| Toilets: | (1.5 / 5) |
I've wanted to go to Inamo for such a long time and I honestly don't know why it took me so long to get round to it. The thought of ordering everything from an interactive table, changing your table pattern and playing games was a pretty novel idea to me.  So, when I bumped into Victoria at the Entrepeneur's Event who wanted to go equally as much as me, it was a given – it was a date! We booked a table for 18:30 and despite our booking not actually being in the system, we still managed to get a table. Inamo is pretty cool, the interior design reminded me of something you'd see in a sci-fi film and the atmosphere was buzzy, with seats full of people.
We were immediately shown how to operate the table by an incredibly smiley, enthusiastic waiter. It was all very exciting, almost too exciting as it was pretty easy to ignore the other person while you were playing around with the functions of the table. It took a long time for us to order our food, which when browsing the menu, visually appeared on your plate as it'd be presented to you if you'd have ordered it. We ended up settling on the 2 course set menu. Although the options were pretty limited, with only 3 starters to choose from and 2 mains, we were happy with their selections and it did make decision making easier. We settled on the chicken satay, vegetable urasaki, red thai curry, miso and yuzo salmon and a glass of white wine each.
While we waited, we played about with the table – changing the patterns and seeing what games they had on offer. They also had an interactive map of their restaurant which was pretty cool, and made finding the toilets a lot easier! You could also find out more about the chefs which I thought was a brilliant touch, as I personally like to know more about who's behind the scenes cooking the food.
The food came within minutes and looked amazing. I was actually quite surprised because I thought the gimmicky nature of Inamo would mean that the quality of the food would almost be sacrificed, but I was wrong. The chicken satay was delicious, and definitely didn't taste like the cheap watery meat which you find in a lot of Asian take-aways and restaurants. The sushi, served with pickled ginger and wasabi tasted fresh and delicious. My wine selection wasn't so great, but when washing down burning hot wasabi, it ended up tasting like water anyway so I'm glad I chose the house selection in this case!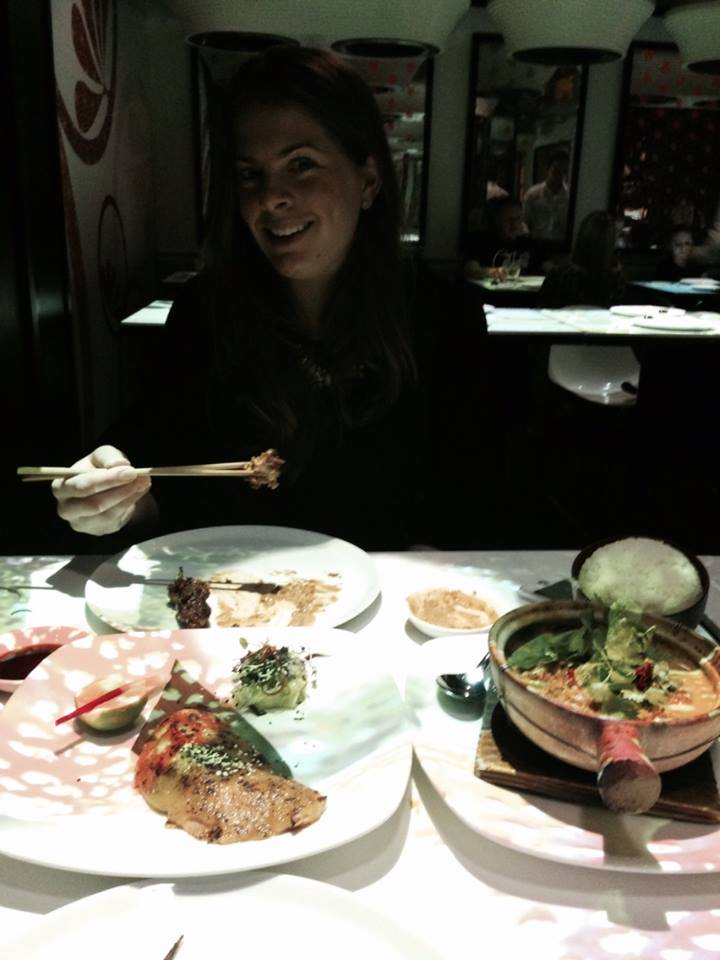 The mains were equally impressive. The salmon was another total surprise – I never like ordering salmon in restaurants because I think I can cook it better at home but this one was so much lighter and fresher than any salmon dish I've tried before. It also went well with the red thai curry, which although being vegetable based, was very tasty. It could have done with a little more spice, but I'm definitely not complaining. It was served with sticky rice too, which is another of my favourites.
Despite being thoroughly impressed with our food and all-round experience, we were most impressed with the constant food consumption of the two Japanese guys sitting next to us. Plate after plate of enviously delicious food came out, with each one, Victoria and I raised our eyebrows thinking 'there's no way they can get through that…' but sure enough they did. Saying this, with every dish they ordered, I was very tempted to sneak a forkful but unfortunately we only had chopsticks, so I think my cheeky food minesweep may have resulted in a definite embarrassment so I managed to reign myself in!
Recommendation
(4.5 / 5)
I'd absolutely recommend Inamo as you don't just get the experience, you get amazing food and service too. The prices are similar to other Thai and Japanese restaurants but the quality of the food really does exceed initial expectations.
Extra Information:
Address: 134-136 Wardour St, London W1F 8ZP
Phone: 020 7851 7051
Website: http://www.inamo-restaurant.com/
NTK: Share! Don't be a Joey and open up to the possibilities of trying a whole range of delicious food. Also the food comes as and when it is ready so you may be left with an empty plate unless you open up to the idea of sharing!