| | |
| --- | --- |
| Ambiance: | (2.5 / 5) |
| Service: | (3.5 / 5) |
| Value for money: | (3.5 / 5) |
| Pizza: | (3 / 5) |
As some of you may be aware, Rimini is one of the destinations Ryan Air flies to, implying that it is bargain holiday central. However, when looking for restaurants, there definitely weren't any bargains to be found. So after stubbornly seeking out near enough every restaurant Rimini had to offer, I eventually gave up my search and did the next best thing and asked for a recommendation, and was directed to Il Logge.
Il Logge could almost be seen as a hidden gem as it wasn't in a central location and it would've been easily missed if I hadn't known about it. It was near the beach though so wasn't far to get to. For a Thursday evening, it wasn't overly busy but with a pizza oven (gas) and pizzaoili in the centre of the large rectangular restaurant, it looked very welcoming. There wasn't any background music though, which was quite disappointing as I was quite looking forward to some authentic Italian tunes!
They gave us our menus in English and Italian, which automatically implied that it did get busy with tourists during peak season. We decided to share two half litres of the locally produced house wine – one Sangiovese (red) and the other a chardonnay. Neither were overly good, but for only 5 euros each, you can't really expect much more, and they were drinkable at least! Il Logge was the first time I've gone out for dinner and not been given a basket of bread, it's quite bad that I now expect it isn't it?!
I loved my dinner companions this evening as they suggested sharing everything. Nope, it wasn't me being the pain in the arse for once! So, as I had to try the pizza, we opted for a margherita to start with and then ordered the insalata di mare (As we are on the coast) and taglione di gamberri (thinner version of taghliatelle with prawns).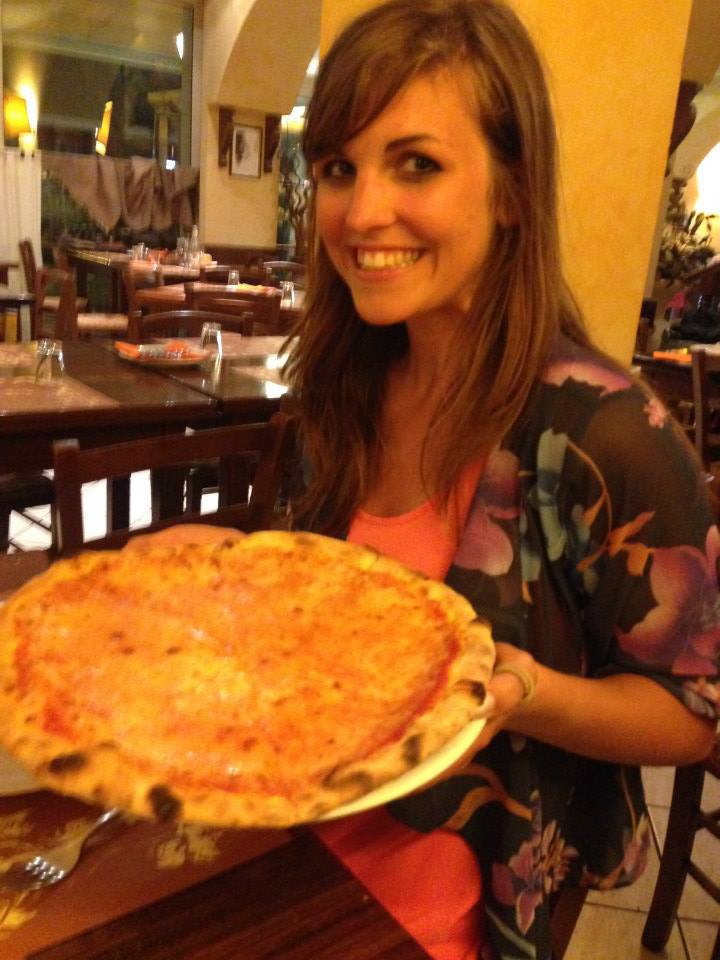 The pizza came, and didn't look the tastiest. It resembled a frozen pizza you could buy from a supermarket and cook at home. The cheese had probably been grated beforehand as it had all merged into one even coating and certainly didn't come as patches of mozzarella like you'd usually find at an authentic pizzeria. The actual taste was nice enough, although we were all pretty hungry and things always tend to taste better when you're ravenous. The base was quite crispy, with a flour like taste to it – not the best, but certainly not the worst I've eaten. I asked the pizzaoili for the recipe and he listed exactly the same ingredients as you'd find in a Neapolitan pizza – 00 flour, yeast, salt, water and oil. This really proved to me the momentous difference between a wood fired oven and a gas one. It's just incomparable.
The insalata di mare wasn't really big enough to share, mainly because it was so good! The fish all tasted fresh and there was a great variety of mussels, clams, prawns, calamari and crab. I just wish there was more, or I should have just ordered my own!
The taglione was ridiculously simple but absolutely delicious. The pasta had been freshly made and had been tossed in a butter, garlic and parsley sauce and for something so basic, it surprises me that I could have so easily eaten that dish again, and again. The prawns had been perfectly cooked, and were fresh and of decent size too.
We left Il Logge very content, albeit a little merry and only 12 euros each down. Oh, and on the hunt for chocolate…
Recommendation
(3.5 / 5)
Maybe helped by the company and wine, but Il Logge served great, fresh food, served by happy and welcoming staff. If you go to Rimini and don't want to spend ridiculous amounts and don't mind not being on the seafront, I'd definitely pay this restaurant a visit.
Extra Information:
Address: Viale Trieste, 5, 47921 Rimini, Italy
Phone: +39 0541 55978
Website: No website
NTK: Perhaps order the next price bracket up on the wine stakes as the house wine isn't that great. Also, don't expect one pizza to fill you up.