This morning I'd arranged to go to the local pizzeria and learn how to 'properly' stretch pizza with the well-trained Sicilian pizza chefs. Annoyingly I didn't take a camera to take a picture of me dressed in chef whites and 'expertly' stretching the dough but it was immensely beneficial. I was taught how to prod the dough with your fingers until it expanded twice its size, and whilst continuously coating it in flour, how to stretch it out, rotating it as you go. He then taught me how to toss the dough back and forth over your arms, but we didn't think I was advanced enough to start playing with it in the air. Next time maybe. Saying this, he said for the first time, I was pretty good and that with a little more practise, I could get a job there – see, I'll be a pro in no time ha!
So, as I needed to try out a new recipe this week and now I wanted to experiment more with the stretching, I created a new recipe, freestyle. Using just a soup spoon to weigh things out, I didn't bother with measurement and scales this time. Risky you might say, but amazingly it did work out.
Ingredients:
(about) 500g plain flour
1 spoon maple syrup
1 spoon olive oil
1 spoon salt
1 spoon pepper
3 spoons milk
250ml warm water
1 spoon fast active dried yeast
As you can see, I wanted to experiment with new flavourings this week so I opted for pepper and maple syrup. I thought the sweet and savoury flavourings could work nicely together. So, using my standard approach – I mixed all the ingredients, bar the water and yeast together and then stirred the yeast into the water, pouring it in a little at a time to ensure the flour isn't saturated by water.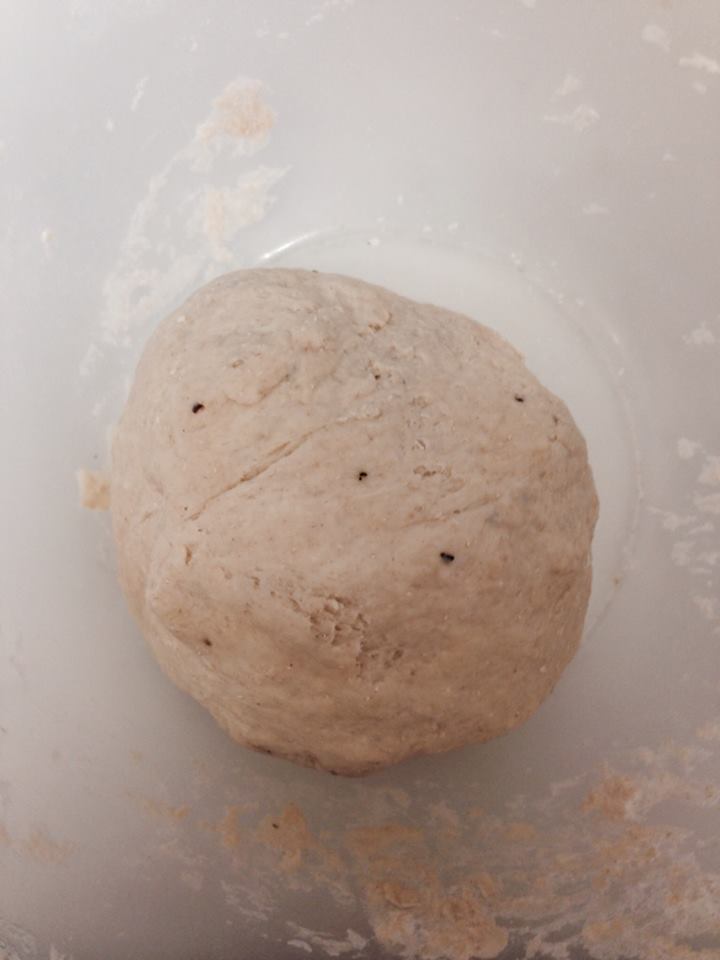 Moulding it into a dough, the mixture came together very easily and I only had to knead it for 3-4 minutes before it became smooth and elasticky in my hands. I coated it in a thin layer of oil, covered it with clingfilm and left it in a warm place to prove for a couple of hours. This was one of the few doughs that I've left and have had a really good feeling about so I was excited about returning to it.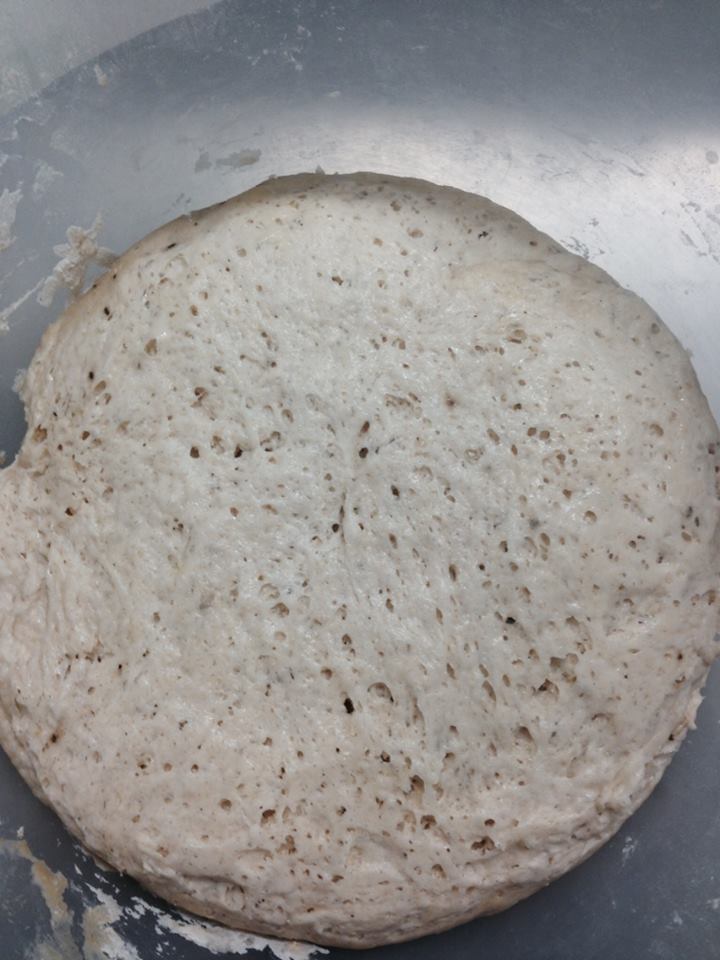 Sure enough, it had risen spectacularly – to three times its size! I was chuffed. I didn't bother knocking it back today so just went straight into the stretching. And, wow – what an improvement! Bar the one hole (probably caused by my nails), the dough was thin, evenly stretched and most importantly, circular. I covered it in ragu, chopped tomatoes, salt beef, onions and cheddar cheese (and a quick, cheeky drizzle of truffle oil) and with much fear, attempted to move it on to my pizza stone.
And that's where it all went wrong

Because I don't yet have a pizza paddle (note to self: must buy), it makes it near impossible to move a super thin pizza onto a burning hot pizza stone. So, my pizza resulted in third pizza, third calzone, third complete mess. But, with dampened spirits, I let it sizzle away and 3 minutes later, I cut it up.
I guess the most important thing, perhaps after aesthetics, is taste. And, it did taste pretty good! The crust was that lovely dough-like consistency and it was crispy on the outside. The maple syrup also gave it a slightly sweeter taste, but the pepper finished it off with a little kick. I'd definitely recommend these two flavours as a combination now though.
Verdict?
(4 / 5)