| | |
| --- | --- |
| Ambiance: | (4.5 / 5) |
| Service: | (5 / 5) |
| Value for money: | (4.5 / 5) |
| Toilet: | (4 / 5) |
A new Thai chain has opened in Salisbury: Giggling Squid. I've always been funny about chains and would always opt for an independent, any day. However, it's a new restaurant – so I had to give it a go! Also, Sam loves Thai food; making it even more of a deal clencher.
Located next to the library, by the market square, it's easy to find and has a great position. We hadn't booked, which was risky for a new restaurant opening and on 8pm on A Friday night, but we luckily ended up with a lovely table for 2. It looked identical to how Strada was set up, however, the beautiful Thai smells showed a clear difference.
We were presented with our menus and I chose a lovely, amazingly priced bottle of Sicilian white wine to start the night off with. We ordered prawn crackers, pork dumplings and Thai steamed mussels to start and a stuffed squid red curry, fishing village salad and sticky rice for main.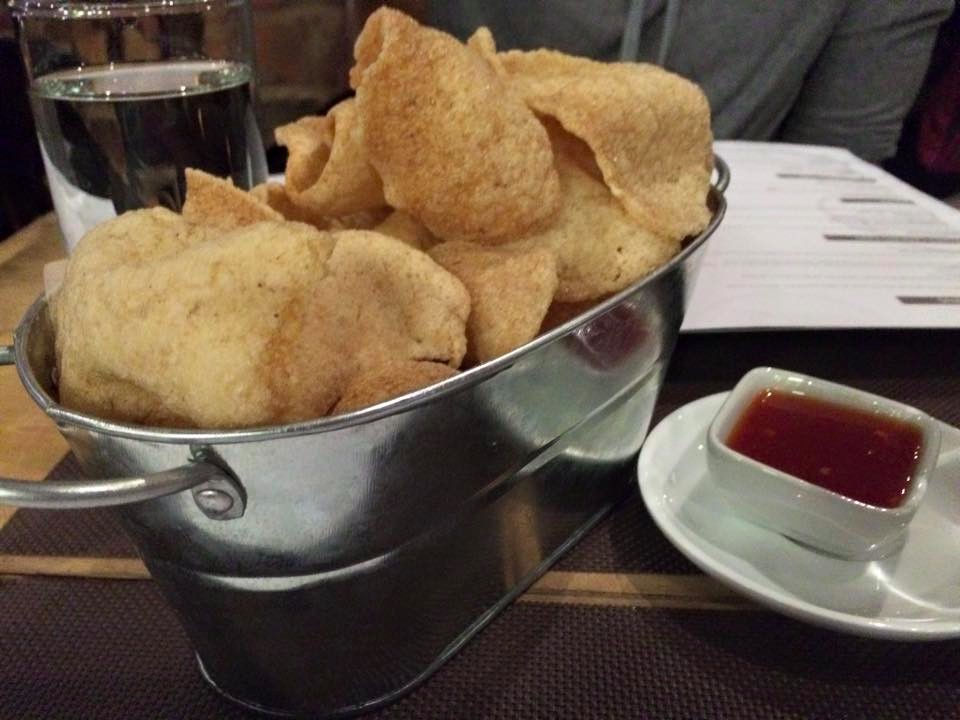 The prawn crackers were okay – a massive upgrade on the ones you'd find in a Chinese takeaway but not as good as you'd find at Thai Orchid and other restaurants Ive been to. But wow, the starters were incredible! Presented beautifully, they didn't let us down on taste either. Perfectly spiced, both dishes were eaten with absolute joy.
The main courses arrived fifteen minutes later and were presented with a smile. The stuffed squid looked awesome and the fishing village salad was pretty much a plate of fresh fish (squid, mussels, scallops and king prawns). The sticky rice was the only thing we had slight issues with as it was rock hard.
All in all, we were pretty happy with the mains. The squid dish was a lovely concept but it was quite chewy which meant I ended up only having one of the six available and Sam was left with the lions share. The red curry sauce was lovely though, as was the fishing village salad. We did find the idea of raw scallops slightly intimidating but as a whole, the salad dish was beautiful. Not sure about it being the ideal hangover cure though (as it said on the menu).
It should probably be noted that the service was impeccable throughout. They didn't rush us to order, they didn't get annoyed by the fact that I didn't want to sit at the first table they presented to us, they were funny and so accommodating. All in all, we had an awesome first experience at the GIggling Squid and I can honestly say, I just want to go back.
The bill came to £56 for a bottle of wine and 2 courses each. Not bad at all really. The only thing I'd say is, the obligatory 10 % service charge on the bill… As long as our lovely waiters actually got it, that's fine but I'm always wary of obligatory service charges being put on the bill.
Recommendation –
(4.5 / 5)
Probably good for any occasion, The Giggling Squid is well priced and has a great atmosphere. Most importantly, everything (at least what we ate) was yummy! I just hope this isn't just opening week glory and it continues to impress!