Happy Friday! It's been a while so I figured it was about time for an update on my latest shenanigans. So, let's talk business. Despite it feeling a little slow, I guess a lot has happened. I've held my first Supper Club, which for a first attempt, couldn't have gone better. Well, other than the next day leaving me feeling like I'd been knocked out by Mike Tyson! I hit the jackpot with the location as well – a lovely bakery in the market square, complete with 2 floors and 4 big dough ovens, it's allowed me to not only convert it into a lovely restaurant space but has also enabled me to try out the 'make your own' pizza aspect. One of my biggest issues in 'starting small' as opposed to opening the whole £300K shebang was that I didn't know how I'd be able to test my concept 'make your own' pizza but in my supper club, guests get to virtually top their pizza. My next event is tomorrow, and every Saturday following (For June anyway) and are proving pretty popular. If you'd like to come, or get more info, click here.
Moving onto a more touchy subject – Theodore. In short, it's taking forever. Mechanics (the ones I'm working with anyway) seem to have a different meaning of the word deadline. Or maybe I was just silly for thinking Theo would be ready by 1st July. In other words, I've had to grin and bear it and find other business related things to do while I wait. Oh well, at least he has the hatch built in now and is beginning to look a little more like a catering van. And he's being taken to Newbury where a different company will be getting to work on it – full throttle please guys!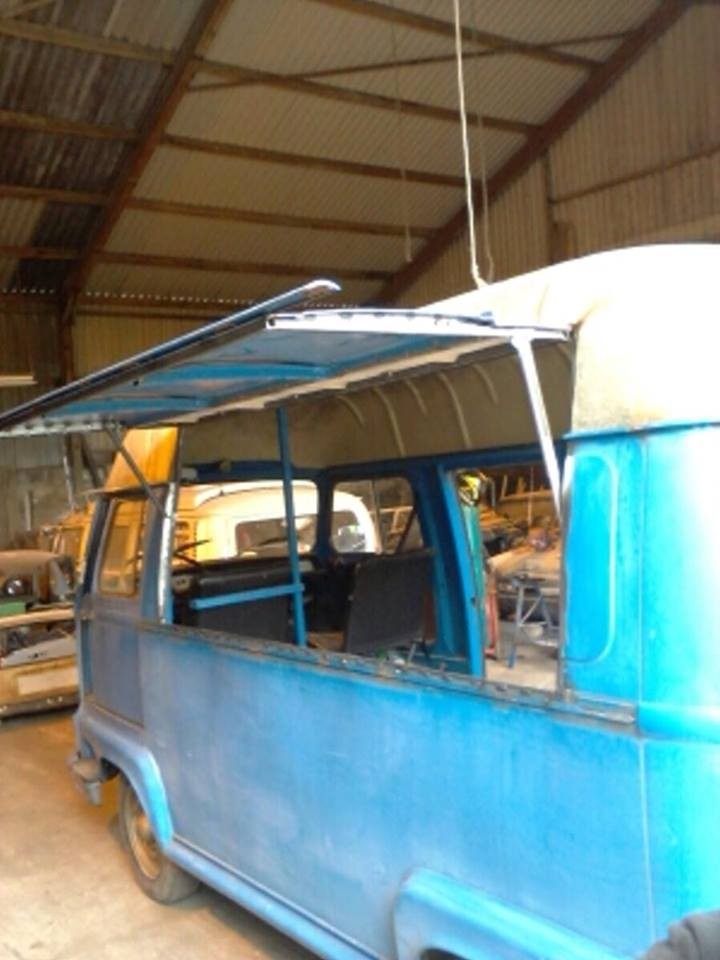 So, what are these other 'business related things?' I'm now selling my arancini to local delis and they're already proving very popular with the public. I've also printed out flyers which I'll be taking around local businesses, offering lunchtime catering and I've visited a couple of auctions to seek out catering supplies. I need a commercial 20 litre dough mixer, a pizza oven, fridges, freezers, display units and more so if anyone reading this knows of anyone/place which could help me out, please comment or email me on pizza.myo@gmail.com Ooh! Most excitedly I went gelato sampling! As I was in London, I figured I'd make the trip to Essex to visit Gelato Italia. I hadn't intended for them to be so generous, opening up huge tubs of vanilla, pistachio, chocolate orange gelato and more. We ended up eating so much that we left not feeling our best! They also allowed me to go 'backstage' and see the gelato in production, so as long as I can find out a cheaper way to deliver it, I'm sold.
My social life has been as active as always. I haven't had to say no to anyone as of yet, mainly because I've had the money due to my job at the restaurant and my evenings are generally clear. Also, getting up at 5.20am every day definitely allows you to fit more into your day, so by 3pm I've pretty much completed my to do list. I've been to London a couple of times and was taken to Hampstead Heath for the first time for a picnic. Ended up getting quuuuuite burnt so had to run for cover under a tree. Such a Granny. Ah well, at least it's turned to tan now! London also allowed me to discover a cute little Italian restaurant called 500 but you can read all about it here. I've been getting myself back in shape at the gym, although it's not really having the desired effect (losing weight) as I end up getting super hungry and eat treble as much as I usually would and I'm not convinced that entirely balances out…
Working at the restaurant has been as fun as always. They've been so supportive of my supper club and I now have some regular customers that like to be kept updated with my love life! I feel like I disappoint every time, but one day, one day! I'm still being fed delicious food, however, I've been hinting for healthier options so I'm more likely to be seen with a salad or chicken dish rather than a colossal calzone or pasta. Although to be honest, it doesn't seem to make a difference as I reward myself for healthy eating with a cake or chocolate bar. I'm hopeless, I know.
I'm going to stop now – I hope you enjoyed this update and if you'd like to come to a future supper club or would like any private catering or supplying, please email me on pizza.myo@gmail.com or click on the appropriate links!