Wow, what a summer! The last few months have been utterly exhausting… but so totally rewarding.
I always knew (well, hoped) that as MYO grew and word of mouth expanded, that it would get tougher. However, I was never fully prepared for how challenging it became! From April until the end of September, we were booked every weekend, and often during the week. Sometimes we'd have treble, or even quadruple bookings. I had several "head in your hands" moments and "ahhh, how am I going to be able to manage this", but now that the summer is over, I can look back and give myself a big pat on the back. I survived. But boy, was it hard.
The accident with Bella took a lot out of me… more than I think many realised. I'd dreamt of owning a catering business since the age of 11 and having Theo on the road was one of my proudest achievements to date. I loved the feeling of having something that was all mine, and I really felt that so much of my personality was in the van, and in what I did. So, it was only natural that I wanted to expand.. With all the profits from year one, I bought Bella and had her professionally converted. A lot of money later, she was on the road, catering at public events and quickly secured bookings for a couple of weddings and 21st parties. Two months later, we had the horrific accident in which the brakes failed and she was written off.
With a LOT of resilience, I carried on and focused on getting through the summer with one van and a gazebo; whilst sorting out Bella's recovery at the same time. I had a lot of unhappy customers; all wanting Bella, as that's why they booked MYO rather than another caterer… let's just say Theo had a fair bit of action this summer. We also had a fair amount of upsets; flat batteries, keys getting stuck in the ignition, failed starter motor, leaks… you name it; we had it all! We also saw a lot of our friend Abacus (recovery truck hire). So yeah, I think it's just been too much for Theo as he's now been in the garage for nearly a month. He's having problems with his electrics, carburetor and goodness knows what else. I just wish parts weren't so hard to come by! I will never hear the end of "why didn't you chose a modern van?!" I like a challenge, what can I say?!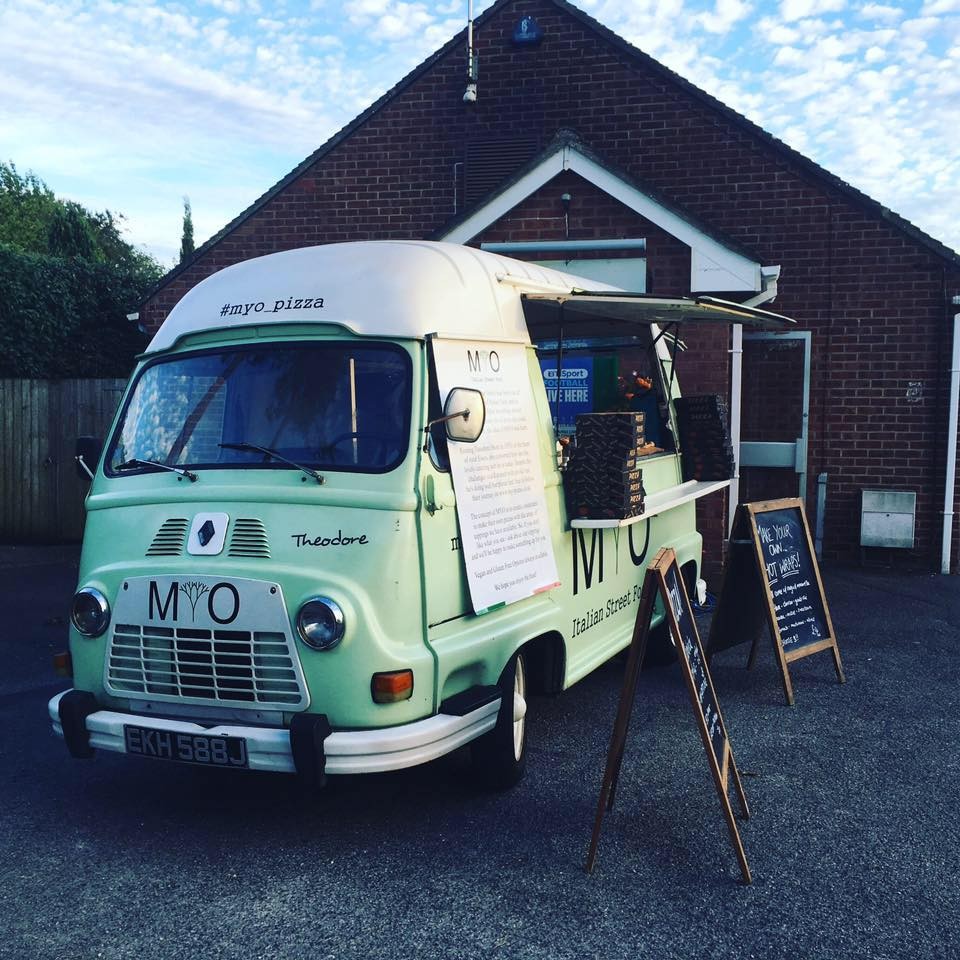 Bella is back on the road now; so at least I have one van! I just long for the day when both vans are sitting on my drive… I don't ask for much..! It's a good job the season is winding down now really. It's amazing the effects stopping has on the mind and body. For me, it wasn't positive; I got bronchitis and lost a lot of motivation. I thought life was unfair; why did the accident have to happen to me, and why can't life be easy.. yes, I know – get your violins out.
Then… Pinewood Studios came along and asked for Bella to cater their crew on the Transformers movie. It was such a good feeling to have little MYO being found by such a prolific company… and even better to be on set with them. It gave me such a confidence boost and really made me realise that what I'm doing is good enough for the likes of a multi-billion dollar company. What a way to end the season

So, I guess this blog was just an update on how owning a business isn't always easy, however, I would never change what I'm doing for anything. I would hate to go back into an office job, or to do anything but food. It has its bad days, for sure – but it has so, so many more awesome days. Like today; I'm spending it eating ice cream, watching TV and doing sporadic bits of MYO admin. Because of the cold and early evenings, it's now quietening down on the mobile catering front so I'm having some much needed rest and a chance to work on how to expand other aspects of MYO. Watch this space!