| | |
| --- | --- |
| Ambiance: | (4.5 / 5) |
| Service: | (4.5 / 5) |
| Value for money: | (4.5 / 5) |
| Toilets: | (3.5 / 5) |
Venice – famous for it's wine, fish and pasta. First time round I wasn't overly impressed with the cuisine, however, I realise this was largely due to being sucked into all the tourist traps and set menus, so I'm now making it my mission to only eat well whilst here, and having company makes it all the more necessary. For our first evening, we'd intended to go to an Osteria that Andrew had been recommended, but on arrival, at a very Italian time of 9, there was a queue out of the door and a wait time of an hour. And I'm afraid I'm not that Italian yet… So this led us to uncovering Enoiteca Mascareta, only two doors down. Don't worry we made a reservation at Mascaron for Monday night so keep your eyes peeled for that review!
Enoiteca Mascareta oozed "local" in it's loud Italian chatter, simple rustic design and exposed brick walls. It's one of those places you automatically warm to, and I speak for both Andrew and I on that one. As it was so busy and after saying no to us having a reservation, I was getting increasingly nervous that we would never eat, but after some pleading, we were rewarded with a table for 2, tucked away in the back of the restaurant.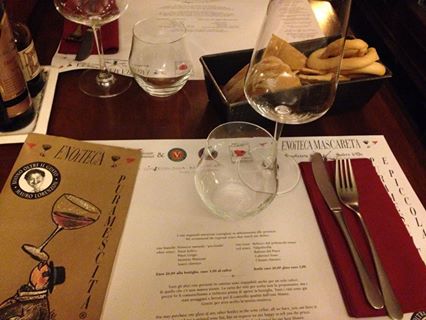 Our place settings were novel in that they were simple pieces of A3 white paper but explained the history of the osteria and recommended a selection of locally produced white and red wines to go with the food. For 3 euros a glass and 26 for a bottle, I decided to take us on a bit of a wine tasting and started us off with a glass of Soave (for me) and Pinot Grigio (for Andrew). Along with our glasses of wine, which were poured very casually at the table with the guy just "finishing off both the bottles", we were presented with bread and oils. Woohoo, finally a place which gives you bread straight away and oil that you don't need to ask for! The bread was pretty good too, Andrew had the grissini and I opted for the bread to soak in the oils.
We wanted to enjoy the whole Italian 4 course dining experience but neither of us realistically thought we'd manage it so opted to share each course. I still can't understand how a) Italians can manage such a huge eating extravaganza and b) how they're not fat. We ordered the carpaccio of fish antipasti to start, which proved tough going having to convince meat lover Andrew to try something different! We are in water locked Venice after all! so the fish must be decent, right?! And, I'm glad I won the debate as everything from it's presentation, fresh smells and taste was delicious. We were given a sizeable platter of smoked swordfish, salmon, cured tuna and octopus, covered in a colourful salad and dressing. I loved it and it's definitely up there with one of the best dishes I've eaten since being in Italy. Andrew even surprised himself with realising he quite liked swordfish.
For our primi, I opted for the linguine con vongole (clams) with a glass of Inscrocio marzini (a mixture of Riesling and Pinot Blanc grapes). With it's soft, almost honey like sweetness, it surprisingly (given I usually hate Riesling) proved both of our favourites. We'd asked the waitor it we could share, to which he had absolutely no issue and said he could absolutely divide it into two half portions, so I wasn't expecting such a reasonable sized portion to appear in front of me. Topped with so many clams, the linguine was simply delicious. Sorry to use the word again, but it's justified. The simple flavours and uncomplicated of the dish really enhanced the freshness of the clams and real taste of the homemade pasta.
For our secondo, we had Andrews choice (yes, it does happen!) of roast rack of lamb. Again, divided into two (the waitors suggestion) and still great sized portions. It was well presented and despite the size of the lamb being among the smallest I'd ever seen, looked awesome. And, as you can imagine, it was. Cooked medium (usually I'd opt for rare), it tasted fresh and I devoured mine within minutes. We also washed it down with a glass of a very decent, fruity Chianti.
We turned down "dolci" and ended the night on a bit of a drunken high, setting ourself the challenge of getting home without getting too lost or falling into a canal.
Recommendation
(4.5 / 5)
Everything from the service, atmosphere, food and wine selection was spot on and made for an amazing evening. I'd definitely recommend Mascareta, and for any occasion.
Extra Information: