I decided after five attempts of following other peoples recipes that I could now consider myself a dough connoiseur (hmm, eyeballs raise) so I 'doughed' it alone and invented my own recipe. I've also never been a fan of following instructions so in the kitchen I take on a more  'naked chef' approach – who needs scales?! We'll see…
So, using what I learnt, I decided to mix up my favourite recipe (BBC Good Food) with Jamie Oliver's carefree, get your hands messy approach. My ingredients were: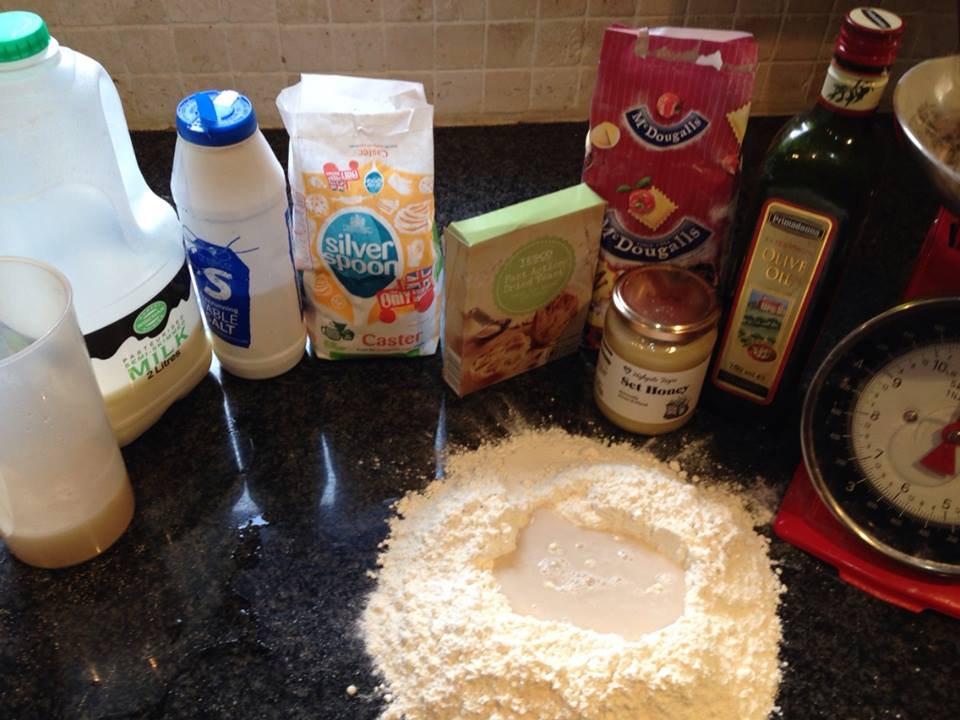 500g 00 Flour
1 tsp salt
1 tsp caster sugar
1 tsp honey
1 tbsp olive oil
7g sachet active yeast
250ml warm water
50 ml milk
I wanted to try out the honey flavour as after I tried it at Beau Jo's (Colarado) I've been reminiscing at its deliciousness so I thought now was a perfect attempt to try it out in one of my own recipes. I also prefer using 00 flour because everything about it is just nicer – the smell, the texture, the taste, the colour. All of it really. Anyway, let's talk recipe:
Onto a clean surface, tip out the flour, salt and sugar and using your hands, give it a quick mix. Now, make a well in the centre and pour in the mixed yeast, honey, oil and sugar. You have to be very careful here or you might have an erupting volcano type problem on your hands, with your hands chasing the runaway water across your surface. Mix it all together until you can form a ball with it.
Knead for a good 5 – 10 minutes. This dough may feel a little tighter than the usual dough recipes, but keep kneading away and eventually you'll result in a smooth, elastic-y, near perfect (yes I'd go that far) dough.
Leave in a warm place for 1 – 2 hours, or for however long it takes to double in size.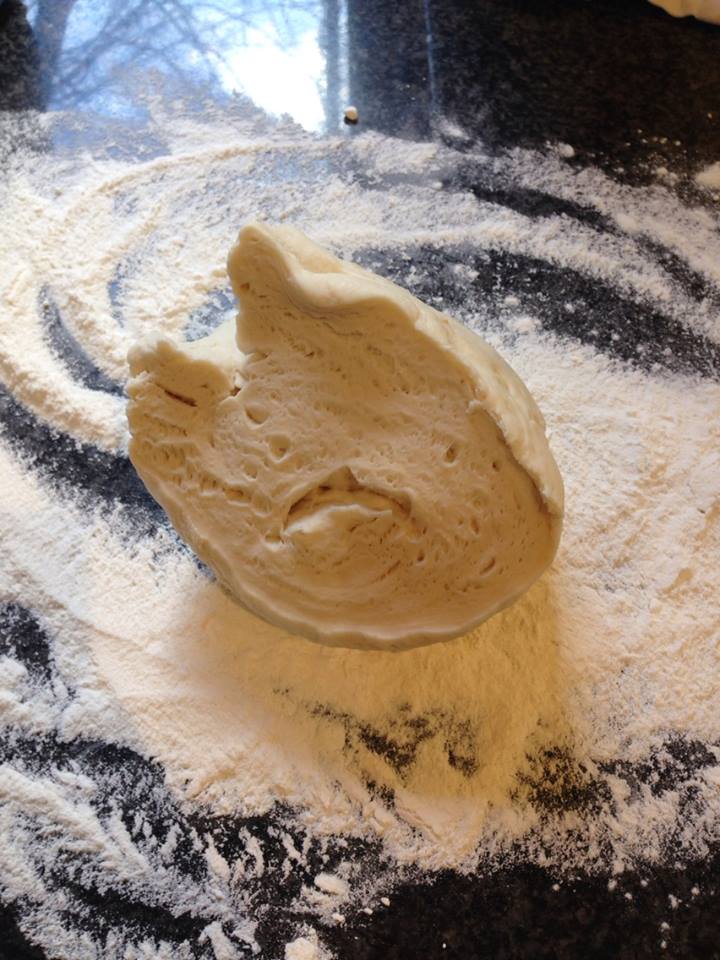 A lot of recipes will tell you to 'knock it back' or give the dough a quick knead, and to leave it for another 30 minutes before using. I didn't bother so I gave it a 30 second knead and divided the dough into 2. Now, making the pizza like shape…. well I'm not going to give lessons on how to stretch, as all connoiseur jokes aside, I definitely don't think anyone should listen to my advice on how to stretch dough at this stage. One day though – I'm sure I'll be a pro and then I'll be found lecturing away all over the shop. So, stretch how you like, just please don't use a rolling pin with this dough!
While heating my pizza stone for 20 minutes in the oven (At maximum setting), I topped the pizza with salami, chestnut mushrooms and mozzarella over a salsa base. I drizzled it with black truffle oil – ah, if you follow me in this blog you'll realise I have a slight addiction to the stuff.
When the oven's practically smoking with heat,  put the pizza in and leave for 6 – 8 minutes (check after 6, it might need a little longer). Take it out, sprinkle with fresh basil and a drizzle of oil. In my case, dried basil and black truffle oil… and serve!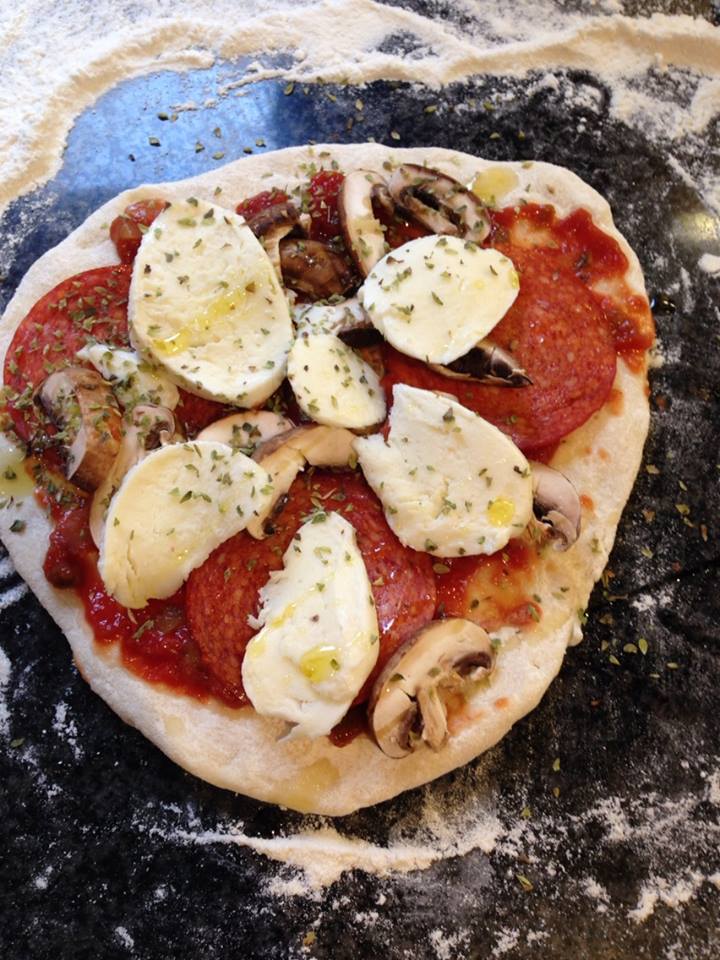 Pizza Taste Test Verdict?
(4 / 5)
Wow, it was actually surprisingly scrummy! The base had that lovely springy, doughy look and texture, and the honey really sweetened the pizza, but in no way did it overpower the dough. The only thing letting it down was the colour – even though I used a pizza stone and the highest setting, it didn't char or brown in the way I would have hoped. However, this might forever prove problematic if I continue to use non-wood fired ovens.
With the other half of the dough, I made my first sweet pizza – Nutella, peanut butter, caramelised banana and white chocolate coins: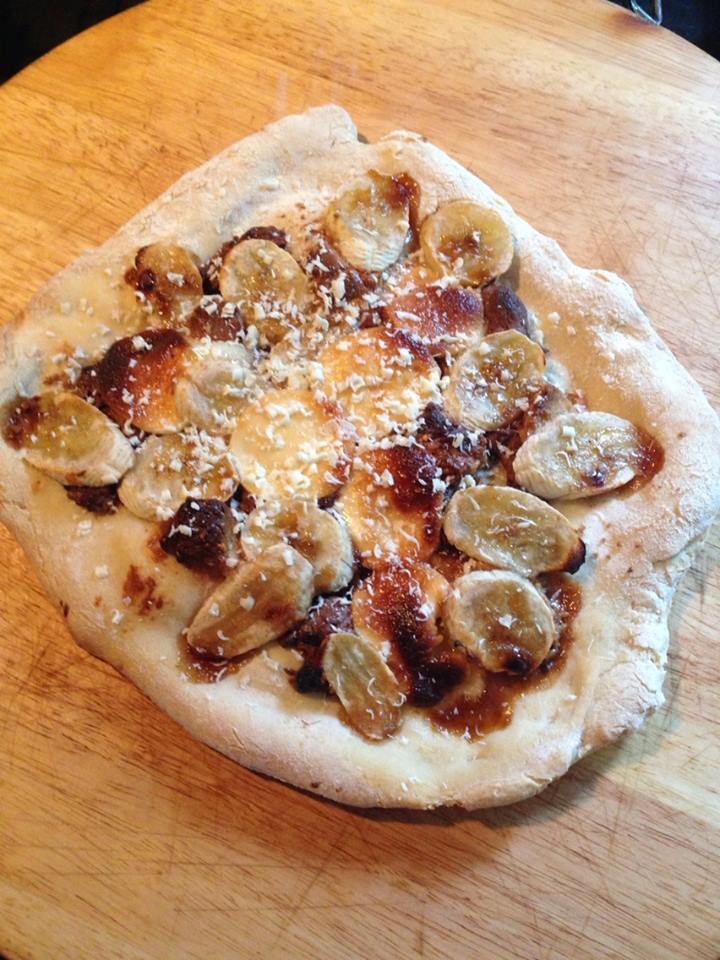 Verdict?
(3 / 5) Could probably do with more of a sauce, to make it a little less dry… Next time, I'll make some sort of chocolate ganache maybe