Week 2 into the New Year saw my fourth attempt at making dough. Recipe of choice this time? I typed 'best pizza recipe UK' into Google and found Katherine Martinelli's recipe for the 'best homemade pizza ever'. Quite a claim I thought, and considering her background is in food and travel writing, I believed her claims to be valid so gave it a go.
Katherine Martinelli's Best Homemade Pizza Recipe Ever (with some small adaptations)
INGREDIENTS
500 grams (17 ½ ounces or about 3 ¾ cups) all-purpose flour
2 grams (1/2 teaspoon) active dry yeast (can do 1 gram or ¼ teaspoon if you have time for a longer ferment)
16 grams (2 teaspoons) fine table salt (you need more if you use course or kosher salt)
350 grams (1 ½ cups) water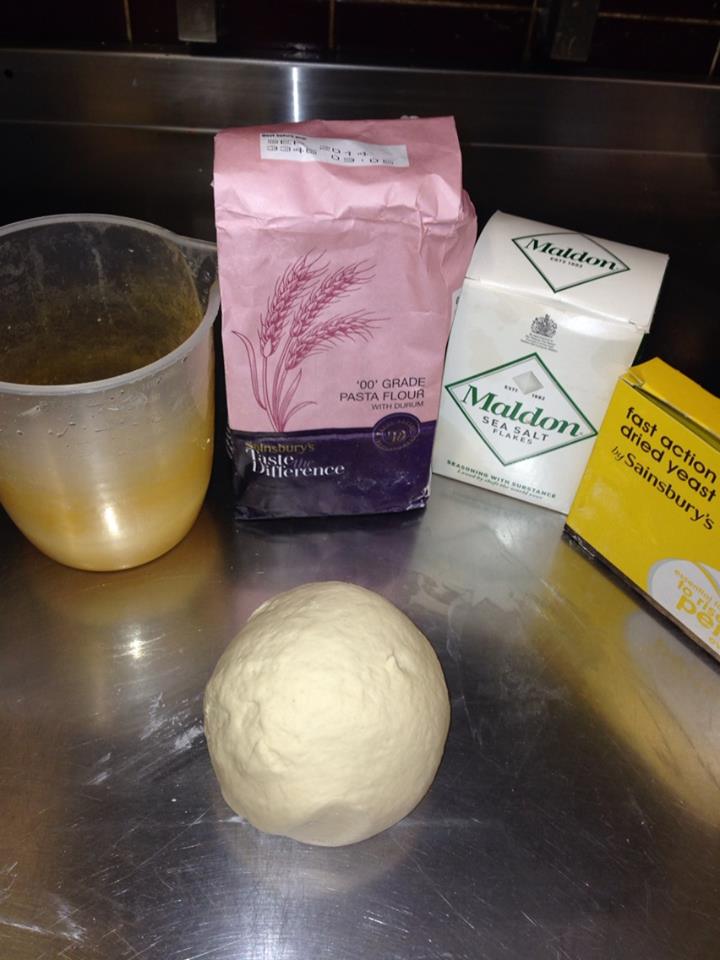 As you can see, this recipe called for the least amount of ingredients used to date so I was half hoping that it'd prove to be the most successful as it'd make my margins even bigger if I took this particular recipe to the commercial level. However, I did opt for 00 flour instead of strong white bread flour as in my perhaps limited experience, I massively prefer it.
This recipe instructed you to knead the dough for a good 10 – 15 minutes which gave my wrists and forearms a bit of a workout, both areas which Insanity doesn't seem to have reached yet as my endurance was not great. But, it was worth it  – the dough ended up feeling like a very silky version of playdough. I left it for an hour and 'knocked it back' by kneading it for 30 seconds.
Now, on for the stretching. We opted for the semolina again and whacked the oven up to its maximum setting – 290C, and heated up a tray as suggested by Katherine. Matt took charge as I'm sure that I ruin the dough when I hack at it. But you could tell this was a stronger dough as it didn't fall apart or end up looking like an holey cheese so we were hopeful. I topped it with mushrooms, dried basil and mozzarella and popped it in the oven.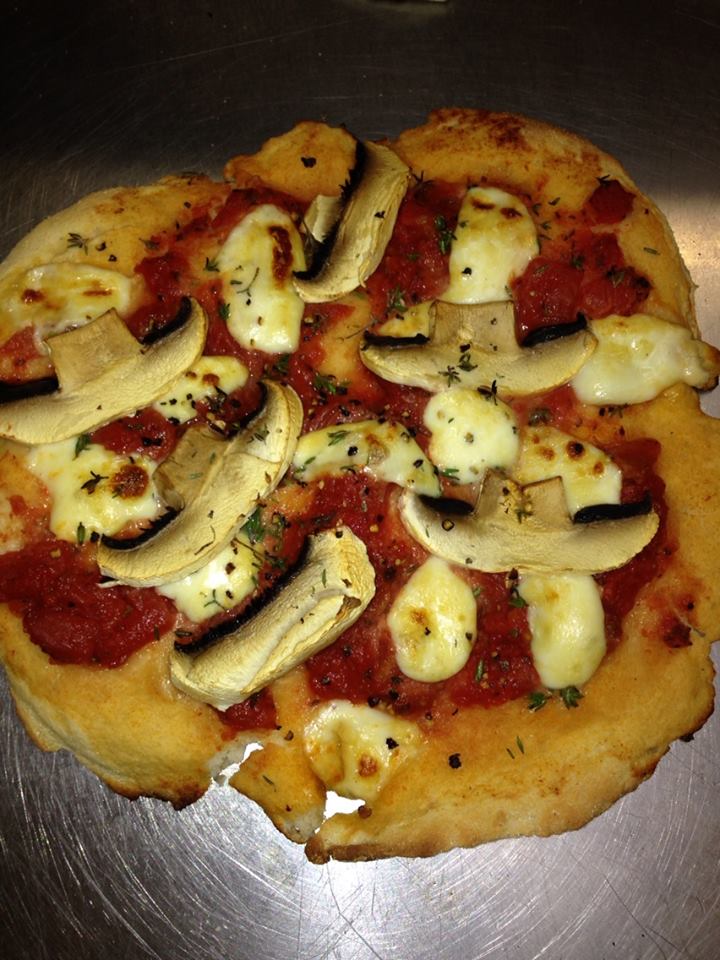 Six minutes later, the pizza came out of the oven and was up for assessment. On looks alone, and ignoring the scrappy edges, it looked pretty good. The crust had gone a nice golden amber colour and the toppings selected looked pretty scrummy. Slicing it into tapas sized pieces (I'm wary of over-feeding people pizza) I asked Matt, Ben and Theresa to do the taste test. Verdict? See below:
Taste: 3.5 – It was perfectly seasoned with the added semolina giving it a slightly sweeter crust. All in all everyone was quite impressed.
Texture: 3 – This was simply a result of having a distinct inability to hand-stretch dough as it was just too thick and uneven in various places. I think I need to go on a course.
Chew: 3.5 – It did have a slight chew but it mainly had the soft floury doughy texture which I prefer to the chew.
Colour: 2.5 – This needs the most work as an authentic thin crust pizza is meant to be charred but I think this is a result of the oven not being hot enough. And I still need to bring that pizza stone to London.
Verdict?
(3.5 / 5)