| | |
| --- | --- |
| Ambiance: | (4.5 / 5) |
| Service: | (3.5 / 5) |
| Value for money: | (4 / 5) |
We were looking forward to a night of dim sum, frog soup (not really) and noodles in China Town but I fancied having a drink and a few nibbles somewhere I hadn't been before in Soho first. But, on a Friday night, that's definitely easier said than done. We went into about three places, only to find there was next to no chance of getting a table but then we stumbled across Damson & Co and got extremely lucky, with two girls paying up just as we entered. The interior was really cool – small and intimate with as many tables packed in as they could manage. The music was inviting too, almost classical in nature but with a few jazzy beats, it just seemed to exude elegance.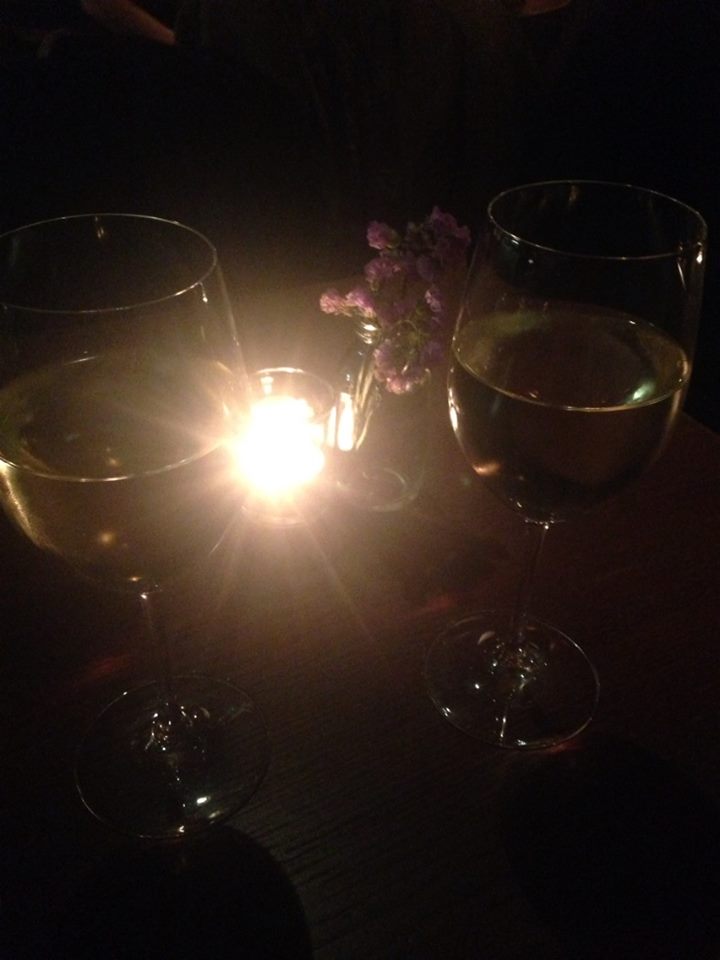 The whole place seemed a perfect date venue, as there was minimal lighting, with the small tea-light candles being the main light of the evening. We had to read our menus over candle-light which was pretty romantic I suppose! The menus were simply sheets of corrugated A4 paper hung up using clipboard pegs on strings throughout the restaurant but somehow still seemed to exude class. And, it only got better, the wines were all from English vineyards and by the glass! I love English wine, and you rarely get it anywhere you go so this was a definite bonus. There's also a selection of English gins on the menu, but we were in a wine mood so settled on two different glasses, a 'crisp dry' white from Kent and a 'punchy, medium' one Gloucestershire. The food menu was pretty exceptional too, and it delivered more than I'd initially wanted from our first stop of the evening. There were meat and cheese boards, of which you could either have the chef's random selection or 'pick n mix' your own. We chose a buffalo blue cheese, truffle and venison salami and cured mutton.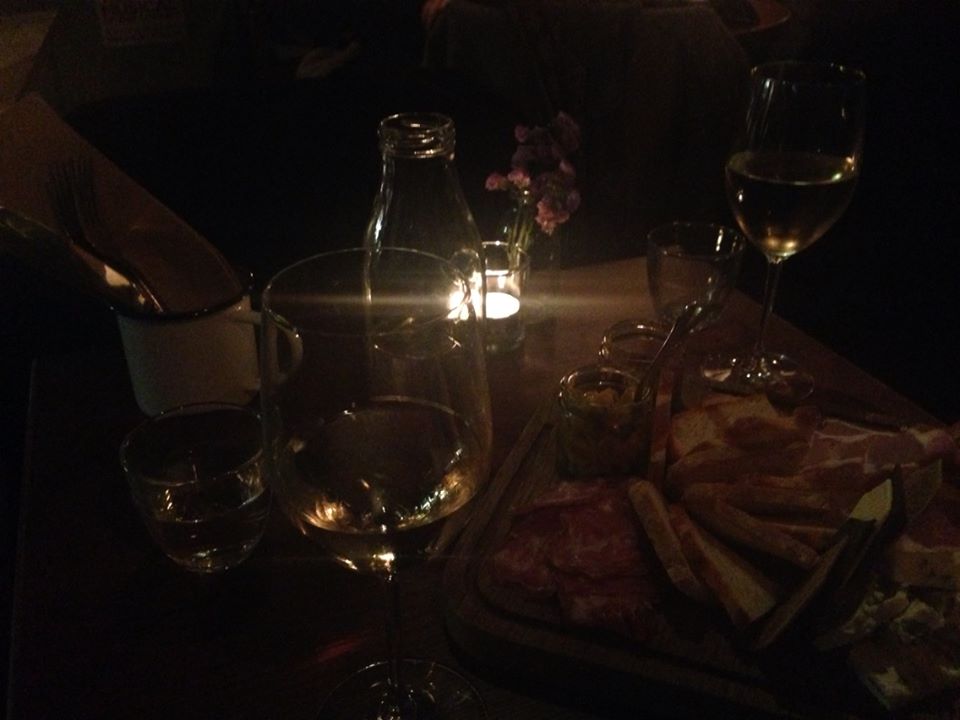 Ten minutes later, after a few sips of absolutely delicious English wine, our mixed board arrived and looked amazing. I'm afraid my photo just didn't do it justice, for £16, Damson & Co definitely can't be considered stingy as there were sizable amounts of cured meats and cheese, served with bread, crackers, piccalilli and chutney. I loved the presentation of the board – especially enjoying the small jars for the condiments. The taste turned out just as good as the looks, the salami had that gorgeous, lingering truffle back-drop and the cured mutton almost melted in your mouth. My date could have probably write an essay about the blue cheese with the amount he was going on about it. He even gave it a 10/10, to which I said he wasn't allowed because that means you can't get better, right?! So all in all, we were both pretty happy!
We paid up, and for £34 for 2 glasses of wine and a delicious mixed board of fine meats and cheese, we were pretty satisfied, both agreeing that we'd happily pay more for that board (something you'll rarely hear me say!).
Recommendation
(4.5 / 5)
Such a find! Even if you're not in the area, I'd make an effort to go to Damson & Co. You don't get the chance to drink English wine in many places and the choices of meats and cheeses on offer could be compared to something you'd find at Harrod's Food Court, and for more reasonable prices.
Extra Information:
Address: 21 Brewer Street | Soho, London W1F 0RL, England
Phone: 020 3697 2499
No website!
NTK: Check if you can book as I can imagine it's always quite busy given how few covers it has.