| | |
| --- | --- |
| Ambiance: | (3.5 / 5) |
| Service: | (3.5 / 5) |
| Value for money: | (3.5 / 5) |
We'd intended to cook for Marco to say thank you for letting us stay in his apartment but him and his friend were having none of it, and took us to a local seafood restaurant by the port. And, considering as I'd heard so much about the amazing fish that Liguria had to offer, I didn't put up much of a fight.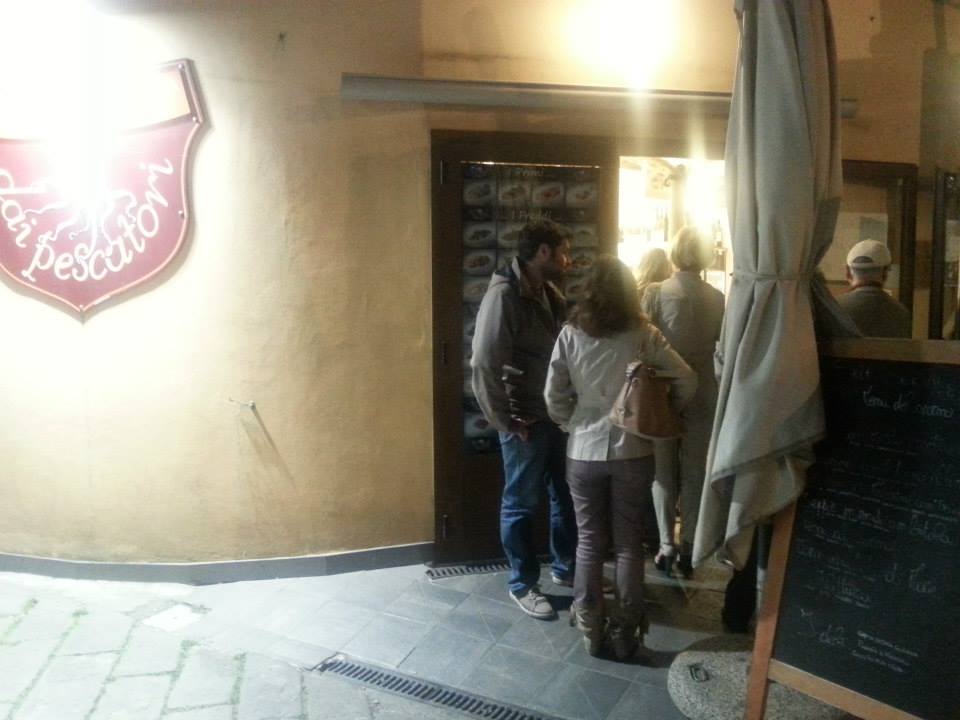 Given its proximity (literally about 50m) to the port and the long queue coming out of the door, you couldn't question the quality of the food they must have on offer. It's funny isn't it, how people tend to translate 'queue' with 'good', but generally it is – and the fact that I didn't hear a word of English during my fifteen minute wait, implied that it was a local hangout, and it MUST be good if the locals were happy to queue…
From the outside, it looked pretty standard – it had a plastic canapé encompassing the outside eating area, and the ordering process was self-serve with two ladies spooning out plastic plates full of fresh fish. I was disappointed to hear that mussels and clams weren't on offer, but I settled for an insalata di mare and shared a plate of deep fried calamari and prawns. If you've been reading my blog, you'll probably have realised I seem to have a bit of a 'thing' for insalata di mare, and yep, I can't argue – I do. And, this one was up there in the best I've had, the only thing missing was the actual 'insalata'.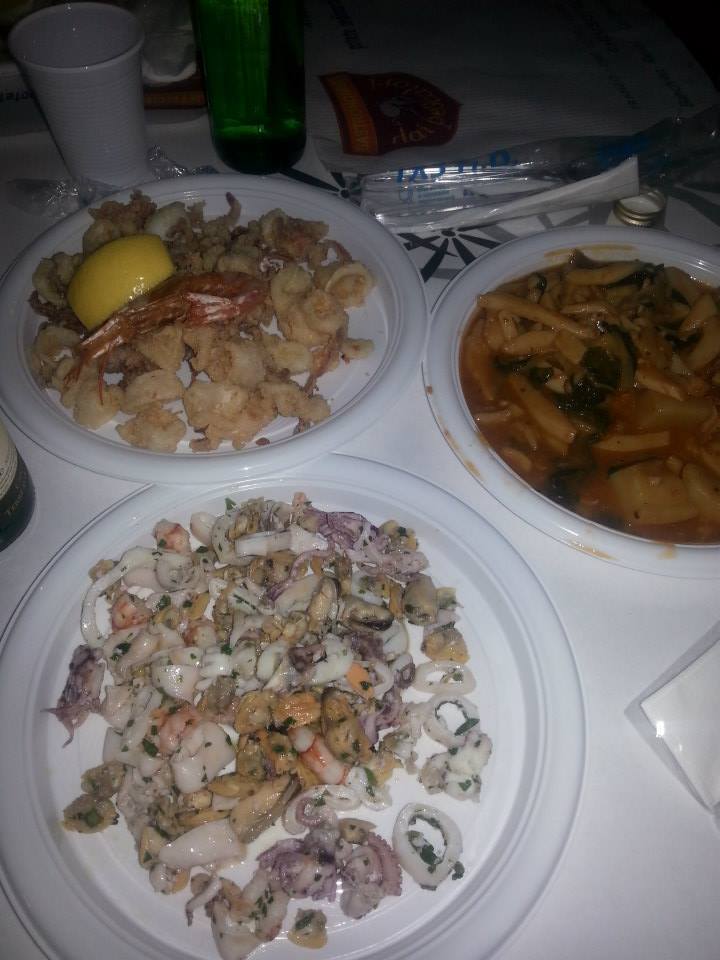 We each selected a small 250ml bottle of wine, white of course (given the fish) and sat down on one of the outside tables. You're given free bread with your meal which was perfect to mop up the juices with. Kristine ordered the seppie con pomodoro (cuttlefish in a tomato sauce) and although the moist and subtle texture of the fish (which you could liken to squid) was nice enough – the dish didn't really taste of much. The insalata di mare and deep fried calamari made up for it though, as both tasted incredibly fresh and I was even happy to eat cold food! I'm always wary about ordering the calamari in England as it is so often over-cooked, chewy or dry but the calamari that I've had since being in Italy is the opposite – always soft, moist and delicious no matter what temperature you eat it at. So, in terms of squid – congratulations Italy, you've won that competition!
Despite there being no carbs (besides the bread), I couldn't manage all of the fish so with half a plate of deep fried calamari left, I called it a day and patted a very happy tummy.
Recommendation 
(3.5 / 5)
For only 6 – 7 euros for a dish of incredibly fresh fish and for lovely views of the port, I'd definitely recommend Dai Pescatori as a lunch-time destination. However, for an evening meal I'd rather be served at the table and have the option to eat inside to avoid the chillier spring-time air.