| | |
| --- | --- |
| Ambiance: | (4 / 5) |
| Service: | (3 / 5) |
| Value for money: | (3 / 5) |
| Toilet: | (3 / 5) |
Sam and I love our burgers. In fact, they'd probably make it onto my Death Row Meal… Just. I also make a pretty scrummy Burger for MYO Street Food, so am always keen to try out the competition! Sam had discovered a fully organic, grass fed burger place on London Road, Southampton and suggested it as our lunch-time eating spot on Saturday.
Located on a busy main road and opposite a Mexican place (another favourite of mine), the outside branding and design did exude a certain appeal. Green and white in colour, it did stand out from the surrounding shops and eateries. We walked inside, and immediately I warmed to the place. Rustic in design, with simple wooden tables and chairs dotted around, it was pretty busy for 2.30pm.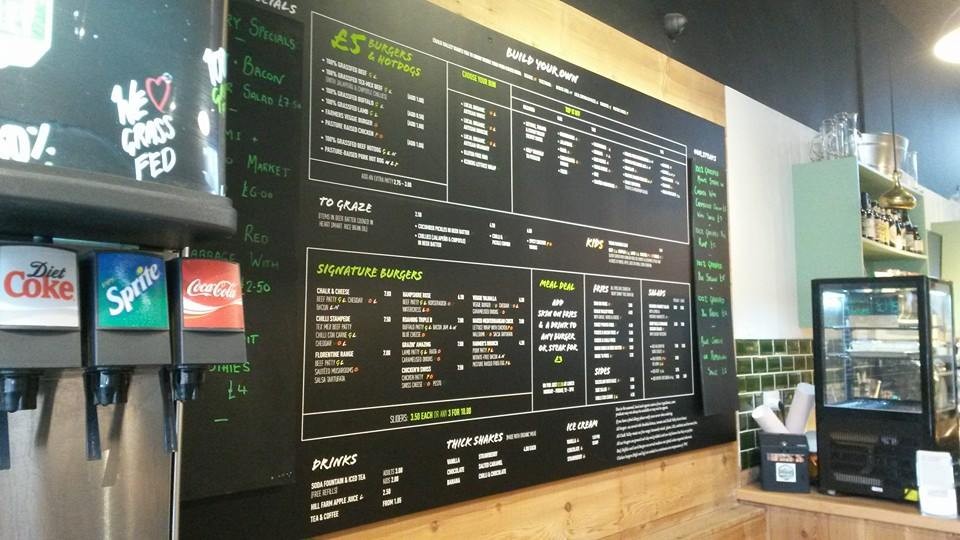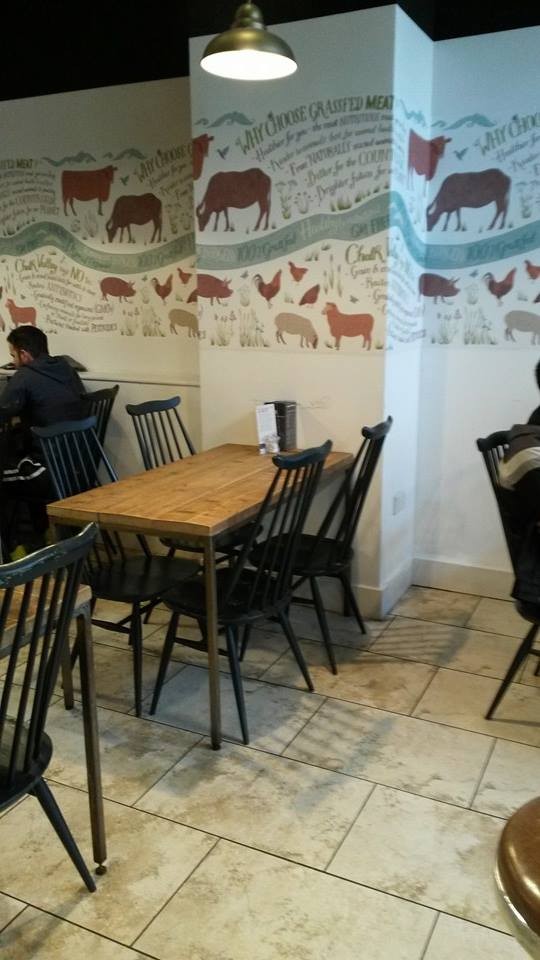 The concept is 'build your own'. You can have a standard beef patty, with bun and lettuce and tomato for £5. However, Sam and I were thinking bigger. We were also sharing, as we'd treated ourselves to Ikea finest for our starter (I'm jesting about the finest!). We went for the buffalo meat upgrade, on an artisan brioche bun, with smoked bacon. We also went for the meal deal, which included unlimited fizzy pop and skin on fries, for £3 extra. Considering the drink alone costs £3, this seemed like a bargain.
We helped ourselves to the soda fountain, which soon impressed me as it actually served Diet Coke, rather than the standard offering of Pepsi Max. It also offered complimentary gherkins, organic condiments and Ice Tea. The napkins were also created out of recycled material. In all honesty, I loved the concept and couldn't wait to get a bite of the burger.
Our buffalo arrived within minutes and on first impressions, looked tiny! They'd also forgotten about the bacon, which was slightly annoying as they didn't take the burger away while they cooked the forgotten meat. Note to all burger, or food establishments – if you forget something, take the food away (Especially if it's miniscule) as it doesn't stand a chance of surviving the wait. Well, it did for Sam. He has more self-control, evidently. By the time the bacon came, I had a measly bite left.
The burger itself was very well seasoned and tasted fresh, however, it wasn't as juicy as I'd have hoped and could have been bigger. The bacon was overly oily and to be honest, in hindsight, we should've gone without. Unfortunately the skin on fries were incredibly oily too, and we both agreed could've done with an oil change. However, I did make the most out of the unlimited Diet Coke and yummy condiments.
Recommendation
(4 / 5)
Although the food wasn't amazing, I loved the concept and would definitely recommend it. The only thing I'd say is, don't share and have your own burger – they're really not that big!