I've wanted to go to the Big Easy for so, so long. The thought of ribs, frozen margheritas, lobster and more, just screamed "come to me!" However, it wasn't until Friday night, (my sister's birthday) that I got my opportunity. Thanks Sara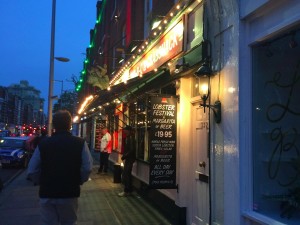 Despite the horrible journey getting there (two failed Ubers, walking with too many bags and changing tubes twice), we eventually stumbled into the Big Easy at 9pm. As we weren't 100% sure whether the younger sister would be joining us (she has a social life, yknow!), we'd booked a table for four. However, a last minute change of plan meant that we were now a five. I was certain that we could easily squeeze the lot of us around a table for four as we're all small enough (despite what the above photo might imply!), however, the Big Easy maître d' was not so at ease with this plan. I suppose she does know a little about health and safety… usually I would too, but hungry, slightly merry Victoria was not so bothered!
Despite me desperately wanting to be sat, and to eat – Dad and I went to order drinks and me, being me (the raging alcoholic), asked the bartender what the alcohol percentage of the huge vats of frozen margherita was. When he replied with "around 4 – 5%", I was a little shocked. I expected it to be low, but wow – at £6 a pop, you may as well order a shot of tequila, and a load of ice and make your own margherita! Saying that, I was told (by the mother) that they were pretty tasty though!
We eventually settled on a bottle of Prosecco and a bottle of Muscadet. When I say eventually, it took Dad and I about fifteen minutes to make this decision. Indecisiveness for me, and having the inability to see (due to the dull light) for Dad.
As soon as drinks were served, our table was ready and the rest of the group showed up. Perfect timing! We were led downstairs into a packed restaurant, with a live band on stage. Despite not being able to hear any of my family talk, I could not have been happier! There's few things better than a restaurant with live music. The décor of the restaurant was very simple – chequered, plastic tablecloths and seating, which got you pretty up close with your neighbours. I liked this style though – informal, cosy and signifying messy eating!
The menu was up there in one of the best I've seen. Stacks of meat, lobster, crab and general yumminess. Our neighbours had also just been served their food, which was possibly the best selling point of the night. It all looked delicious and we essentially just copied what they ordered. We chose a sharing platter to start, and I went for the rib and chicken combo for main. Sara opted for the whole crab, and Mum chose the 'Friday Festival' deal of a whole 1lb lobster, with one of the crazy 4% margheritas.
The sharing platter came within twenty minutes, and oh wow! There was an amazing selection of calamari, nachos, chicken wings, deep fried chicken goujons  and potato wedges with a selection of sauces. Note to anyone reading – order the sharing platter for 2 as this served the 5 of us, and we still had nachos leftover. I'd love to see how big the platter for 4 – 6 was. I'm wondering whether it could even be made into a Man vs. Food challenge, especially considering the size of the platter for 2!
Mains followed, accompanied by some plastic bibs (for some reason, plastic bibs majorly excite me as it shouts out "it's okay to get messy!") My meal came, and I knew straight away that I'd be defeated. It was huge! A half rack of ribs, half a chicken, coleslaw and barbecued beans – yea, there was no chance. Mum's lobster looked really good too, which she seemed to enjoy while obliviously flicking little bits of lobster at me throughout.
My rib and chicken combo was lovely. The ribs were meaty and smoky, and the coleslaw and beans were delicious accompaniments. The chicken was slightly on the dry side but I had so much food, I didn't really care. The bib didn't seem to help though, as I somehow ended up with food all down my dress. Maybe the Big Easy should consider all in one plastic lab coat things for people like me?!
As predicted, I was truly defeated by the food and asked to take it home as I hate waste, and I was convinced I'd have it for breakfast (which I did, by the way). We concluded the night with a few requests to the live band – Bon Jovi and Oasis and ended the night with a family caterwaul of Wonderwall. I'll spare you the video!
Recommendation
(4.5 / 5)
I'd recommend the Big Easy for any occasion. It's well priced, the service was good and if you time it in with the live music, you're in for an awesome night.