| | |
| --- | --- |
| Ambiance: | (4 / 5) |
| Service: | (4.5 / 5) |
| Value for money: | (4 / 5) |
| Toilet: | (4 / 5) |
On our mammoth day of walking, taking in the sites of Lisbon, we felt worthy of a nice lunch. However, seeking out "nice" wasn't quite as easy as we'd hoped. Being me, I'd fully researched the local specialities of the city, and where was best to visit. In my findings, I found cod fish, grilled pork and shellfish were among Lisbon's best dishes. I also noticed that Mercado di Riberia was mentioned as a must see in multiple guides and blogs. So, for our first lunch of the holiday, we tracked down the Mercado to see what was on offer.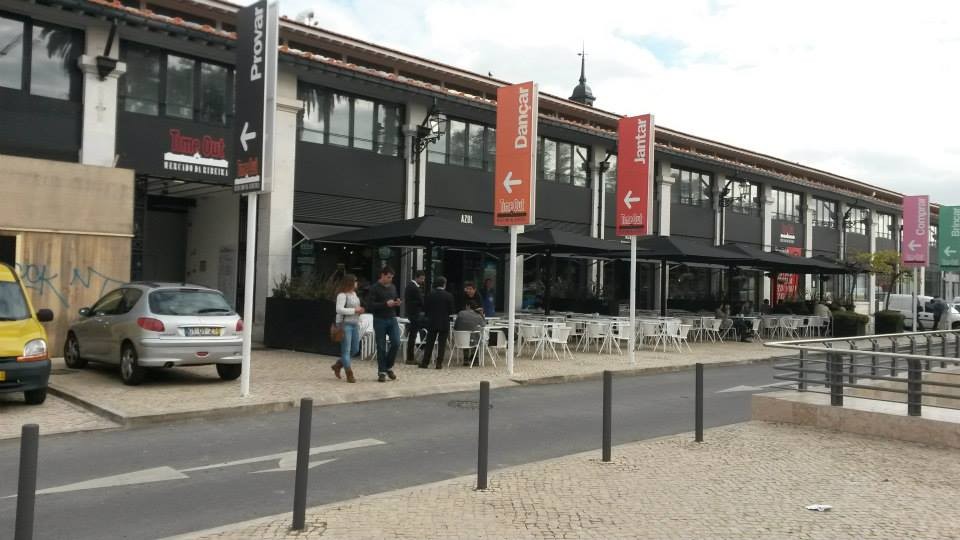 To start with, in all honesty, I was slightly disappointed. The market didn't have the authentic charm of those I'd encountered in southern Italy, and it just seemed so stylish and all the stalls/eateries were in the same brand. Also, it reminded me largely of a food hall in a shopping centre, with a wide range of cuisines on offer. You could get sushi, pizza, Portugese, noodles and a whole host of other nationalities. About to call it a day, we walked out into the still warm November air, and noticed Azul, a fish restaurant.
Looking at the menu, we both saw things that we fancied and, importantly, the drinks were cheap! We sat down and ordered Lisbon's famous Super Bock beer and decided to share the octopus salad, Portugese fried squid and Portugese style razor clams.
The octopus salad arrived first. I've never been able to work out how I feel about octopus. Slightly slimey and covered in tentacles, I can understand why it'd be a fussy eater's worse nightmare. This particular octopus was served in a ceviche type style, with fresh lime, spring onion, chilli and oil. We had a fair few bites before arising at the decision that we both quite liked it. I just got a little scared of the tentacle bits, so sawed those pieces off before putting it in my mouth. Despite the weird texture, you could taste the freshness of the produce and it was something you did want more of.
The squid was served next, in a brown cone and for me, won star of the show. Delicate pieces of squid were deep fried in thin breadcrumbs and served with fresh lemon (which Sam kept moaning about because apparently it had no flavour!). If anything, I'd say the squid was slightly oily but I enjoyed it nevertheless.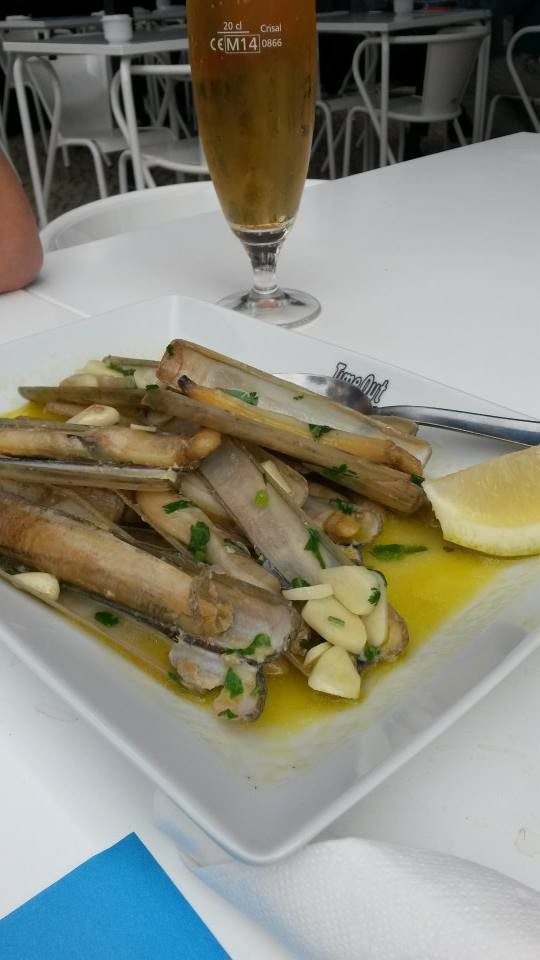 Finally, the razor clams! Wow, again – any fussy eaters out there, don't even think about ordering these! I was very impressed with both Sam and I for tackling those bizarre looking creatures. Almost like fingers with black tips, they took on a completely different texture and tasted pretty much of the sea. Like the octopus salad, I couldn't fully work out what I thought of them as they were such a unique taste and texture, but Sam eventually decided he did quite like them, so I let him have the lions share.
All in all, we enjoyed our lunch at Azul purely because it tasted fresh, felt local and we both tried completely new things. The atmosphere and being able to sit in the winter air possibly helped to our enjoyment too. Oh, and the service is definitely worth a mention – the lady, despite not speaking much English was absolutely lovely and we came out speaking more Portugese than we went in!
Recommendation
(4 / 5)
I'd definitely recommend going to the Mercado for a quick look around, but if you like fish and want to try something fresh and local, then do make a visit to Azul.