Weeks of carb overload is never good for anyone, so I decided to make a 'lighter' dinner and craving something spicy and fresh, I settled on a Prawn Ramen Soup. I ended up adding so many things to the initial recipe that we resulted in something completely different, but completely delicious and most importantly, guilt free.
Ingredients: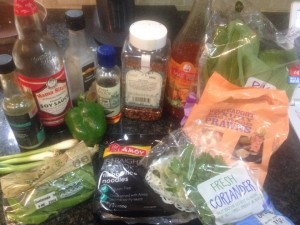 For the stock:
500ml stock (vegetable or chicken)
3 garlic cloves (crushed)
2 tsp chilli flakes
1tbsp sweet chilli sauce
1 tbsp soy sauce
1 tbsp oyster sauce
1 tbsp fish sauce
Seasoning (to taste)
For the soup:
2 sticks celery (thinly chopped)
1 pepper (chopped into 2cm pieces)
100g super snap peas (chopped in half)
250g prawns
300g Ready to Wok Noodles (your choice)
2 pak choi (roughly chopped)
½ bunch coriander (torn)
3 spring onions (thinly sliced)
Method:
Place all stock ingredients in a pan, with the celery, pepper and peas and leave to simmer for 15 – 20 minutes (Depending on how crunchy you like your vegetables). Season to taste, and add more spice, if necessary.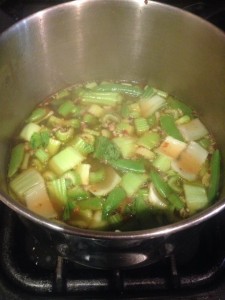 2. Add the prawns and noodles and cook for 2 minutes.
3. Add the pak choi and cook for a further minute, and serve in pre-heated bowls. Top with coriander and spring onions.
For such an easy dinner, this recipe impresses in both taste and presentation. If you're thinking this meal is slightly TOO healthy (like me), soak up the remaining juices with some bread!